Red Sox Opening Day roster close to being finalized
Young right-hander Kelly to open season on DL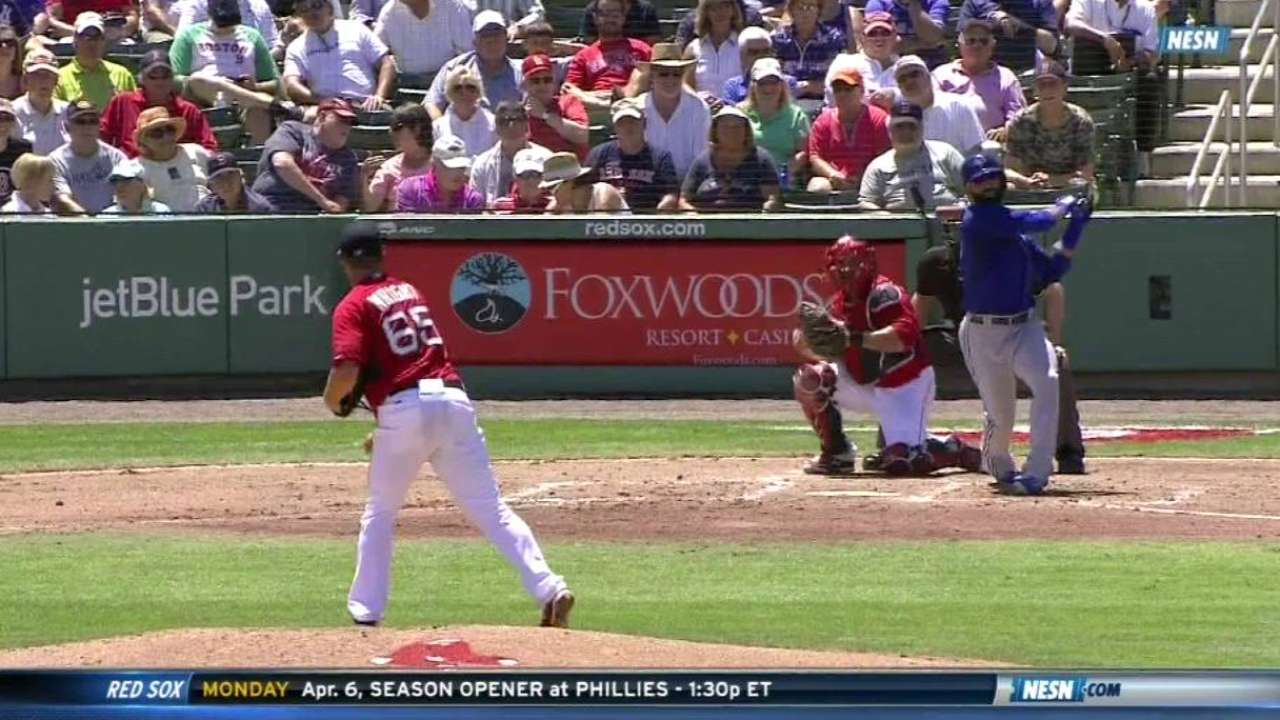 FORT MYERS, Fla. -- Red Sox manager John Farrell announced Friday afternoon that the organization has nearly finalized its Opening Day roster.
Here is the team that will start the season for Boston:
Starting Pitchers (4): RHP Clay Buchholz, RHP Rick Porcello, RHP Justin Masterson, LHP Wade Miley,
Relief Pitchers (8): RHP Edward Mujica, RHP Alexi Ogando, RHP Junichi Tazawa, RHP Anthony Varvaro, LHP Craig Breslow, LHP Tommy Layne, LHP Robbie Ross Jr., RHP Steven Wright
Catchers (2): Ryan Hannigan, Sandy Leon
Infielders (5): 1B Mike Napoli, 2B Dustin Pedroia, 3B Pablo Sandoval, SS Xander Bogaerts, Brock Holt (utility)
Outfielders (5): CF Mookie Betts, LF Hanley Ramirez, RF Shane Victorino, LF/RF Allen Craig, LF/RF Daniel Nava
Designated Hitter (1): David Ortiz
Starting pitcher Joe Kelly (elbow) has been placed on the disabled list retroactively to March 27th and closer Koji Uehara (hamstring) is expected to be placed on the DL as well.
Kelly would be eligible to play in the Red Sox's April 11 game against the Yankees in New York, with him and Wright both being candidates for the starting assignment. Kelly will throw a five-inning, 85-pitch simulated game in Fort Myers on Monday.
Wright will also throw in that game, and then immediately join the Red Sox in Philadelphia.
Farrell also announced that the Red Sox have optioned pitchers Brandon Workman and Matt Barnes to Triple-A Pawtucket. Barnes will return to a starting role for the PawSox, while Workman will continue as a reliever.
Barnes, who has been used in relief throughout spring training, will stretch out by throwing a three-to-four inning simulated game in Fort Myers next Tuesday before joining Pawtucket, according to Farrell.
Michael Kolligian is a contributor to MLB.com This story was not subject to the approval of Major League Baseball or its clubs.