MLB suspends Ervin Santana 80 games for PED use
Newly signed to four-year deal, righty 'never knowingly took anything illegal'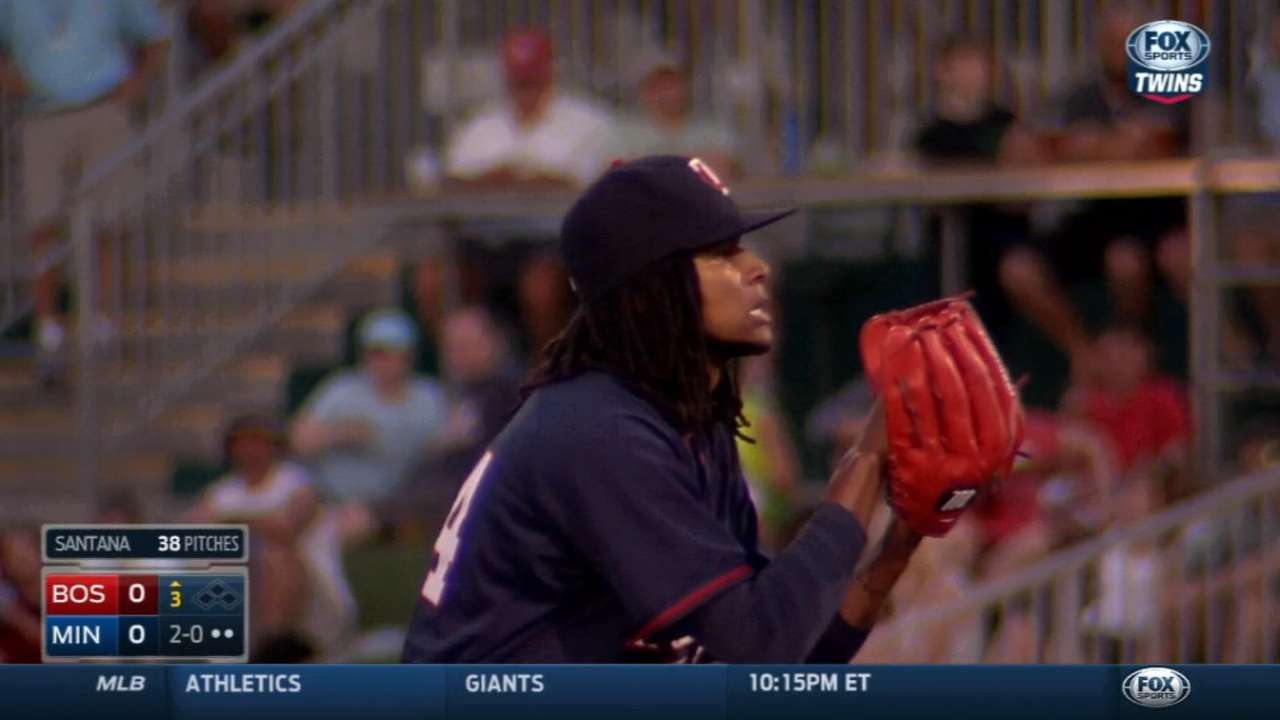 Twins right-hander Ervin Santana, who signed the richest free-agent deal in club history this past offseason, has received an 80-game suspension without pay after testing positive for Stanozolol, a performance-enhancing substance, Major League Baseball announced on Friday.
The Twins signed Santana to a four-year deal worth $55 million to help bolster their rotation, which posted the highest ERA in the Majors last year. But the club will be without Santana for nearly half the season because of his use of a synthetic anabolic steroid in violation of MLB's Joint Drug Prevention and Treatment Program.
Shortly after the announcement, Santana issued a statement in which he expressed confusion over the origin of the substance but accepted his suspension.
"This is unexpected news for me and my family," Santana's statement read. "I am issuing this statement so the public knows where I stand. First, my deepest apologies to my family, fans, colleagues, teammates and my current employer, the Minnesota Twins. I am very disappointed that I tested positive for a performance-enhancing drug. I am frustrated that I can't pinpoint how the substance in question entered my body. I would never knowingly take anything illegal to enhance my performance. What I can guarantee is I never knowingly took anything illegal to enhance my performance. That's just not me, never has been and never will."
The Twins also issued a brief statement following MLB's press release.
"We were disappointed to learn of the suspension of Ervin Santana for violating Major League Baseball's Joint Drug Prevention and Treatment Program," the Twins said in a statement. "We fully support Major League Baseball's policy and its efforts to eliminate performance enhancing substances from our game. Per the protocol outlined in the Joint Drug Program, the Minnesota Twins will not comment further on this matter."
Santana, 32, was lined up to be the club's No. 2 starter after right-hander Phil Hughes and start the home opener at Target Field on April 13 against the Royals.
With Santana out, right-hander Mike Pelfrey will take the veteran's spot in the rotation after losing out to left-hander Tommy Milone in the competition to serve as the club's fifth starter. To replace Santana on the active roster, the Twins recalled left-handed reliever Aaron Thompson from Triple-A Rochester.
"It's disappointing news but the bottom line is that, we talked about it this winter, we only have 25 men to work with here and as of today it's going to be a different 25 than it was yesterday," said Twins manager Paul Molitor, who met with reporters late Friday afternoon before the Twins game with the Red Sox.
"We're going to focus on trying to compete with the people that we have and we'll go from there."
As for the workout regimen Santana will observe while he's suspended, it's still in the planning stages, according to Twins general manager Terry Ryan.

"We'll formulate a plan for Santana as we go here in the next short amount of time. There are rules and specifications for guys on the restricted list so we'll ultimately ramp him back up here as we go forward," said Ryan.

"There's not a whole lot I can say about this situation other than it's disappointing, and it's difficult. We had a fairly decent spring and now we've got to regroup a little bit and hopefully it won't affect us as we move forward."
Santana has a career 4.17 ERA in 10 seasons with the Angels, Royals and Braves. He's made at least 30 starts in five straight years, and seven of the last nine. Last year, he went 14-10 with a 3.95 ERA in 31 starts with the Braves, striking out 179 and walking 63 in 196 innings. He has averaged 199 innings per season over the last seven years.
"Ever since I was a child I always had to work harder than everyone," Santana's statement continued. "Not too many people believed I could become a Major Leaguer. I worked hard to achieve everything I accomplished and I take pride in proving that through hard work dreams can come true.
"I serve as a role model for many kids in my home country who dream of playing at the highest level. I would never put baseball, my family, or my country in a position where its integrity is jeopardized. I preach hard work, and don't believe in short cuts.
"Moving forward, I need to be more careful on what I consume in my home country. I will be more vigilant of medications I take so that I don't commit another mistake. Having said that, I believe it is best to move forward and accept the punishment as set forth in Joint Drug Agreement. All I can do now is continue to work hard, and when the suspension is up, come back to doing what I love."
Rhett Bollinger is a reporter for MLB.com. Read his blog, Bollinger Beat, and follow him on Twitter @RhettBollinger. This story was not subject to the approval of Major League Baseball or its clubs.