MLB.com Columnist
Bernie Pleskoff
Pleskoff: Rangers' Rua provides power, versatility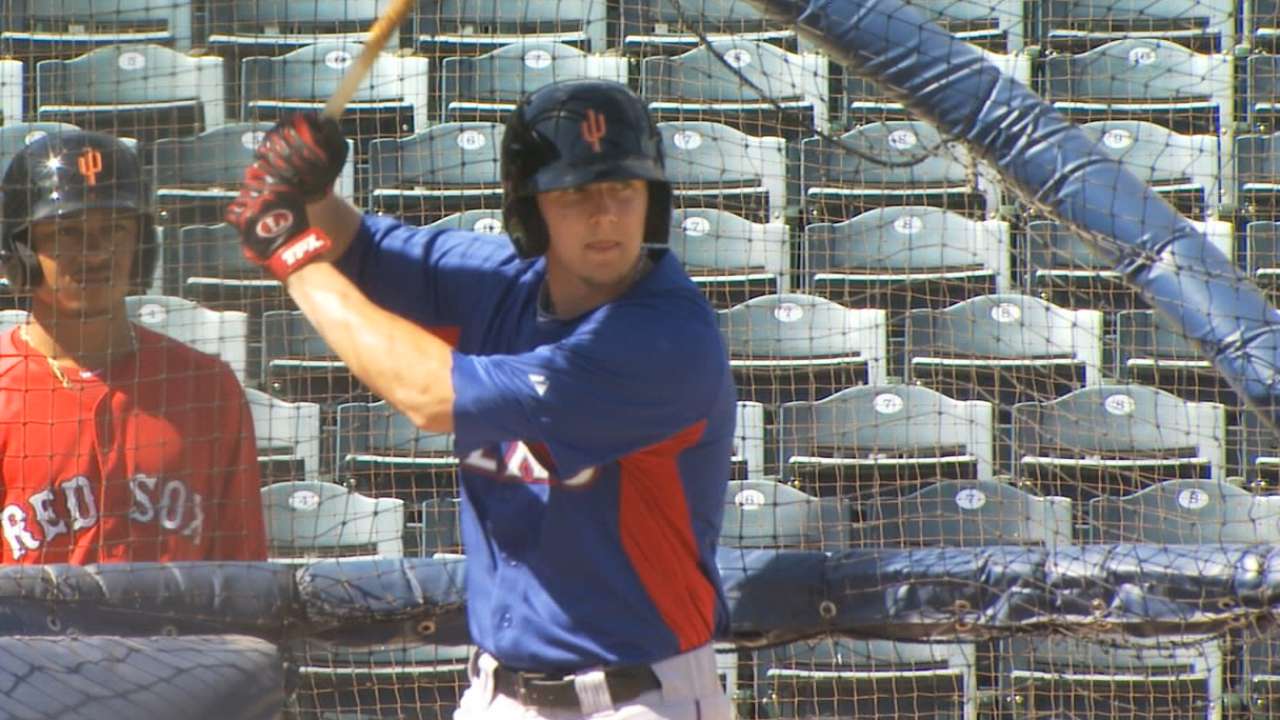 Along with Jake Smolinski, Texas Rangers outfielder Ryan Rua was a bit of a surprise for the club last season. Both players seemed to come out of nowhere to become part of the team's plans. Rua retained his rookie status because he has only 109 Major League plate appearances.
Rua was a pitcher and an infielder at Amherst Steele High School in Ohio. A star athlete, he earned statewide recognition in both baseball and basketball.
Rua went to Lake Erie College in Painesville, Ohio, where he continued as a pitcher and infielder, playing mostly at shortstop. He played for the Storm from 2009-11, compiling a career .374 batting average that included 27 home runs and 131 RBIs in 139 games. Like his high school days, Rua earned accolades and awards for his hitting and overall play.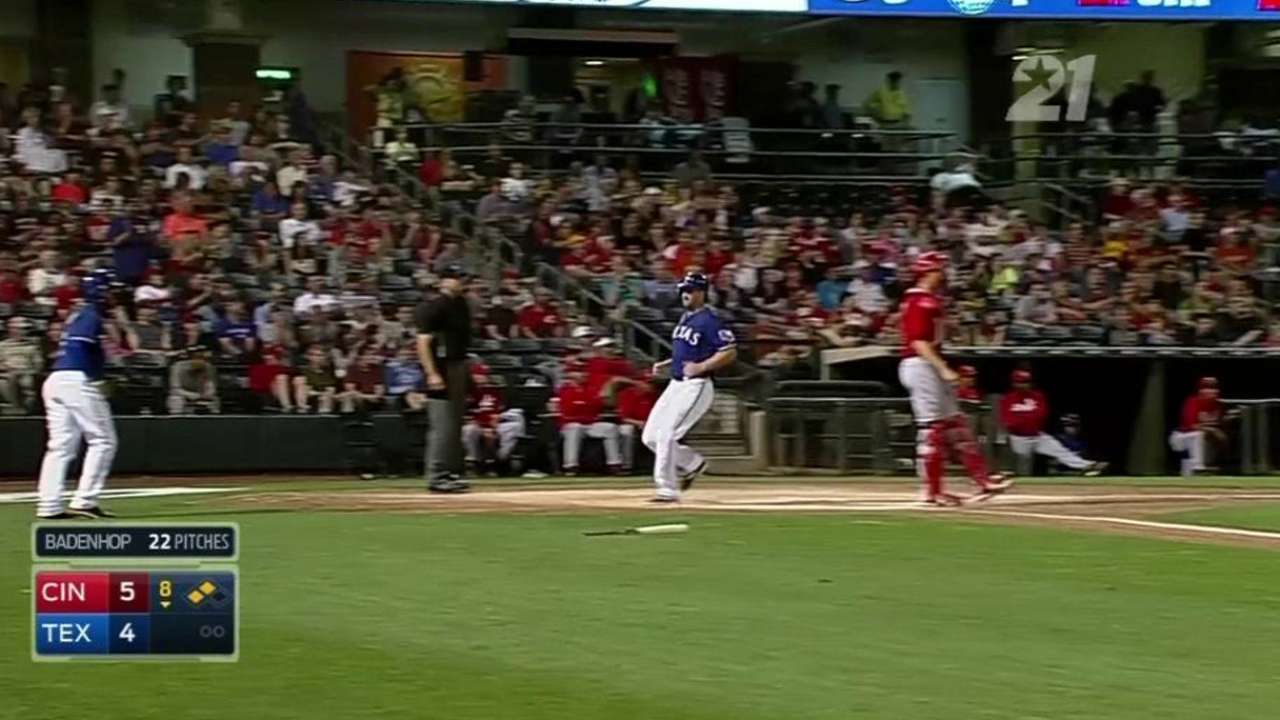 Rua's versatility as well as his excellent overall athletic ability led him to be selected by the Rangers in the 17th round of the 2011 First-Year Player Draft.
The right-handed-hitting Rua is listed at 6-foot-2, 180 pounds. He looks bigger than that. Rua has played in Texas' system for parts of four seasons. Remarkably, he has played first base, second base, third base, shortstop and left field in the Minor Leagues. Rua has skyrocketed through the system, having played last year at Double-A Frisco and Triple-A Round Rock before making his Major League debut on Aug. 29, 2014.
In 1,588 plate appearances covering 382 games, Rua has compiled a .284 Minor League average. He has 61 home runs, 80 doubles and 11 triples. Rua has stolen 34 bases in 42 attempts. A good contact hitter, he has hit at every level of the Rangers organization, including his brief stint with the big league club.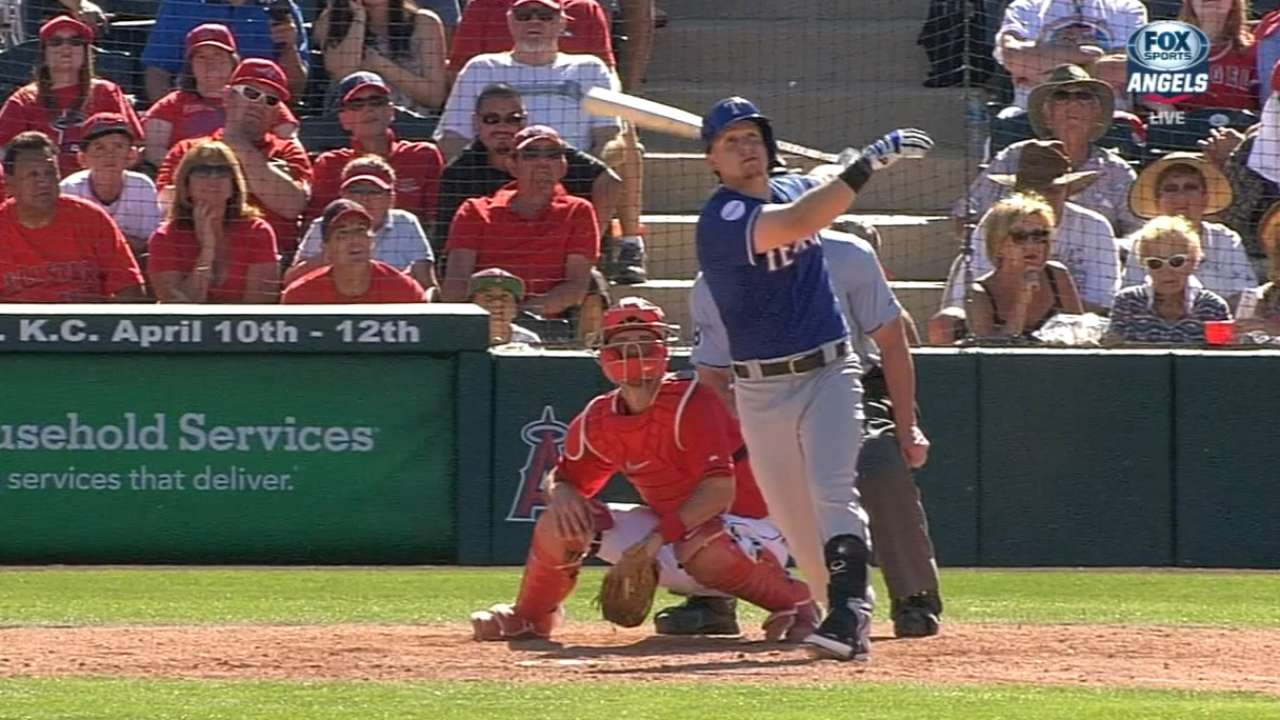 A natural hitter, Rua has shown some true power in his career to date. In 2013 playing at Class A Hickory, Rua blasted 29 home runs. He hit another three after being promoted to Double-A Frisco. Last season, he had 18 home runs playing for Frisco and Triple-A Round Rock before being promoted to the parent Rangers in August. Rua is No. 9 on Texas' Top 30 Prospects list.
Although Rua can hit the ball over the fence, he can also hit the gaps and get his share of doubles. Using the entire field, he has fluid and well-developed mechanics at the plate. Rua's eye-hand coordination is excellent and he is very selective in his overall approach. A tough out, he knows the strike zone well and won't leave his own comfort level to chase pitches. Rua has a bit of a leg kick in his approach. His bat speed is good, with the only hiccup coming when his swing gets a bit long. And Rua doesn't walk very often. But his batting average and ability to find holes in the defense are both welcome qualities to his offensive game. With a simple and uncomplicated approach at the plate, Rua gets loft on the ball. From what I have seen, he really likes the ball a bit inside. Rua crushes fastballs.
Defensively, Rua has the arm strength to play third base or either corner outfield position. He likely won't win any Gold Gloves, but he can hold his own regardless of where he plays. Rua's arm strength is well above-average, but his footwork and range have been issues in the past.
Rua has had an outstanding spring at the plate and was named the Rangers' starting left fielder. He has flashed his power and has hit for average. With Adrian Beltre a fixture at third, Rua's best chance for regular big league play will likely be in left field. He adds balance to the lineup hitting from the right side. Even if Rua doesn't stick as the starter in left, he should be able to remain with the club as a very competent utility player that can be used coming off the bench as a pinch-hitter, or playing defensively almost anywhere on the field.
Bernie Pleskoff has served as a professional scout for the Houston Astros and Seattle Mariners. Follow @BerniePleskoff on Twitter. This story was not subject to the approval of Major League Baseball or its clubs.