Home turf: Presidents Race takes to National Mall
Event is final stop on '10 Days of Thanks' campaign to celebrate Nationals' anniversary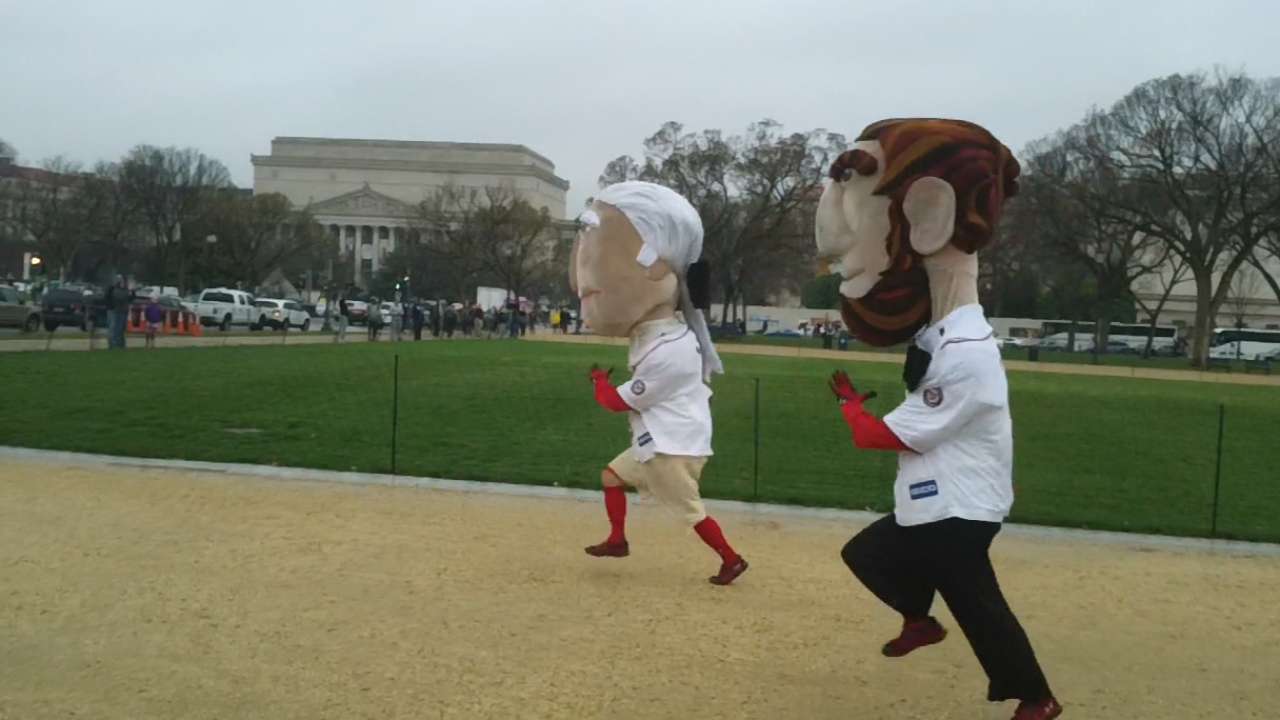 WASHINGTON -- There was a lot of presidential activity on the National Mall on Friday, but Barack Obama was nowhere to be found.
Instead, a group of his "predecessors" roamed around the area between the U.S. Capitol and the Washington Monument on a gray, rainy morning. George (Washington), Abe (Lincoln), Tom (Jefferson), Bill (Taft) and, of course, Teddy (Roosevelt) were there, along with mascot Screech and other Nationals staffers, dishing out free stuff and interacting with fans on the final stop of the team's "10 Days of Thanks" campaign.
The Nats are about to embark on their 10th anniversary season. To celebrate and show their appreciation to fans, a Nats contingent popped up at a different location in the region for each the past 10 days, offering free food, gifts and more.
"We wanted to do something to help build excitement leading up to the start of the season," said Valerie Camillo, the Nats' chief revenue and marketing officer. "And we said, 'How about a countdown for 10 days where we say thank you to the city and the fans that have made us the great franchise we are today?'"
Camillo remembers when there were doubts as to whether baseball could succeed in Washington, a question that has been answered with two division titles in the past three years and increasing fan interest.
"Here we are a decade later, and we've got a wonderful, supportive fan base, great support from the community and a great team on the field," she said. "So for us, we just said, 'Let's celebrate that and let's say thank you.'"
For the previous nine days, some combination of the Racing Presidents and/or Screech appeared at fast-food restaurants, a coffee shop, the National Harbor, a toll booth on the Dulles Toll Road and more.
On Friday, they hit the National Mall and quickly attracted a crowd of tourists, families and business people, some of them excited Nats fans and some curious out-of-town visitors. The presidents tossed free T-shirts through the windows of cars stopped at a traffic light on 7th Street and took countless pictures. Abe even jumped in with a group of people kicking around a soccer ball nearby and showed off his moves. And, of course, there was a version of the race the presidents do during every Nats home game, with George beating his competitors down a stretch of the Mall.
Two of the passers-by were District resident Tony McClain and his mom, Marcy Adams, who was in town visiting from Salina, Kan. They were on their way to a nearby museum, saw the presidents, and as Adams said, "had to come running over here" and get pictures with some of them. McClain has been coming to Nats games since their inaugural 2005 season and now has a 4-year-old son who gets "pretty fired up" about Teddy.
"I think they do a very good job," McClain said of the Nats. "Especially reaching out to families with younger kids."
Andrew Simon is a reporter for MLB.com. Follow him on Twitter @AndrewSimonMLB. This story was not subject to the approval of Major League Baseball or its clubs.