MLB.com Columnist
Phil Rogers
Black is synergizing Padres' talented mix
Skipper and staff did great job this spring of combining new talent with holdovers
PEORIA, Ariz. -- There's a silliness to talking about Manager of the Year Award favorites before a season has even begun, because baseball remains elusively unpredictable, no matter how scientific the analysis has become.
Consider the past 10 World Series. Only twice -- when the Cardinals beat the Rangers in 2011, and when the Yankees beat the Phillies in '09 -- were both the teams even preseason picks to win their divisions, let alone their league's pennant. That's one of the great things about the sport.
We're not going to look at this year's Padres as a truly surprising team if they win. They won't come out of nowhere; they'll come out of the Manchester Grand Hyatt in San Diego, a five-minute drive from the team's offices at Petco Park.
That's where rookie general manager A.J. Preller started the blitzkrieg of player acquisitions that culminated with his landing his Opening Day starter, James Shields, only a week before the start of Spring Training. But one of the reasons that Preller felt he could import so many veterans in such a hurry was that he trusted his manager, Bud Black.
Black has overseen preparations for the upcoming season that were remarkably smooth. He and his coaching staff (headed by bench coach Dave Roberts, pitching coach Darren Balsley and new hitting coach Mark Kotsay) worked on a daily basis to show new guys like Matt Kemp, Justin Upton, Wil Myers, Derek Norris and Will Middlebrooks how the Padres handle the details, while keeping an eye on how their most important holdover players were welcoming the newcomers.
Given that 35 of 60 players in camp were in their first Spring Training with the team, this was a huge consideration. And as Black prepared to fly back to San Diego for the start of the season, he almost let out a sigh of relief over how well the spring had gone.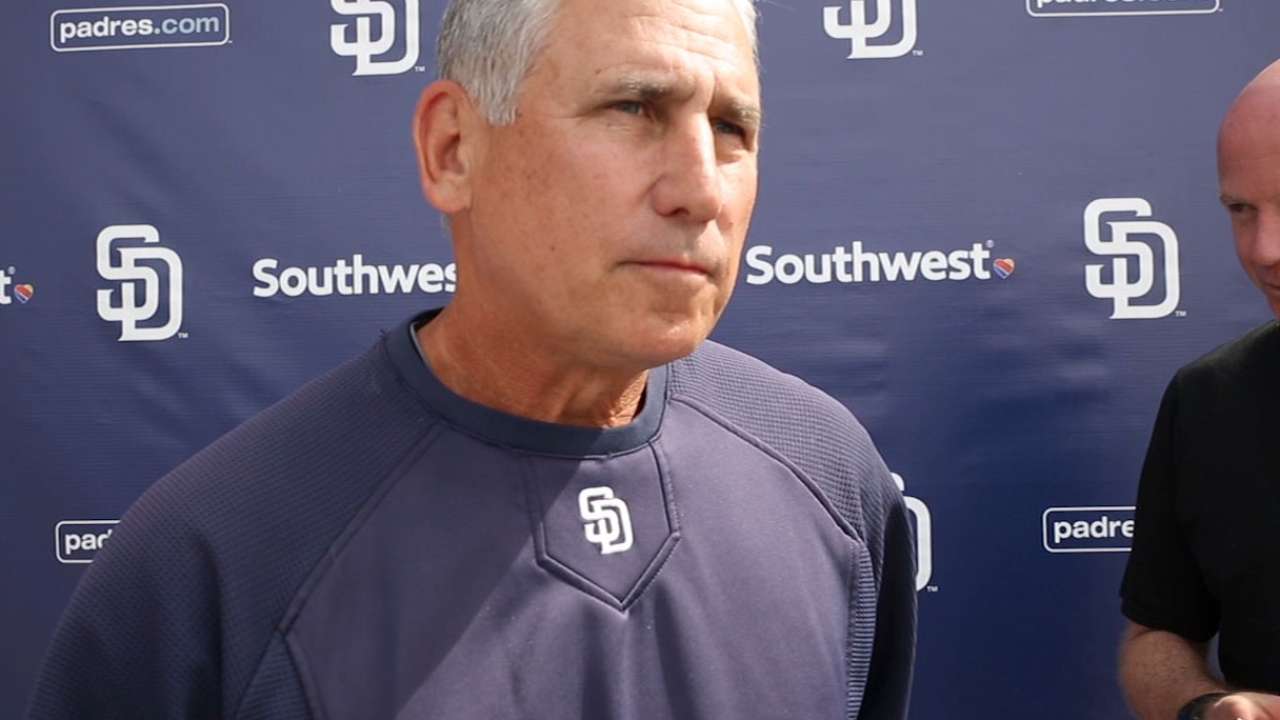 "Both groups -- new and holdovers -- they understand what it takes for a team to gel, and they took it on themselves to get to know each other," Black said. "The conversations, dialogue, have been great. [In] the clubhouse [and] on the field, the coaches have been great as far as the instruction and teaching, as far as getting the new guys on board to what we do fundamentally: bunt defenses, cutoffs and relays, pickoffs, rundowns, all those things. Guys have really done a nice job of being on point there."
With Seth Smith being the only holdover outfielder who was traded, the Padres' Opening Day roster will be a tight fit. Playing time seems uncertain for Will Venable, Cameron Maybin and Carlos Quentin, but Black says the infusion of talent has actually reinvigorated veteran players who were around for parts of the stretch in which San Diego had six losing seasons in the past seven years.
"All the guys who were new, down the line -- Kemp, Upton, Myers, Middlebrooks, Norris, [Brandon] Morrow, [Brandon] Maurer, [Shawn] Kelley -- these guys were excited to be Padres, really excited to be here," Black said. "The holdovers from last year's group -- Venable, [Jedd] Gyorko, [Yonder] Alonso, Maybin -- they're excited for the new guys to be here."
Winning always helps, and San Diego was 17-12-1 in the Cactus League. But Black is at least as happy that his team went through the spring unscathed.
For the first time in years, they experienced no injuries with major implications in camp, the biggest blow being the loss of backup catcher Tim Federowicz to knee surgery.
"Any manager will tell you that you want to be healthy," Black said. "That's a positive."
Lots of positives, but there are still some questions that only the season can answer. Among them:
• Will the Padres' bullpen be as strong as it was last season?
Black calls it "arguably one of the best in the league," and there's no arguing with the totals. San Diego was 60-1 when it had a lead after six innings last season. But Huston Street was traded at midseason in 2014, and Joaquin Benoit has only 48 career saves in his 13 seasons, most spent as a setup man. Black points to newcomers Kelley and Maurer for adding strength alongside holdovers Nick Vincent, Dale Thayer and Kevin Quackenbush.
The Padres can count on Black's handling of the bullpen, which has been the team's consistent strength since he arrived after a seven-season run as the Angels' pitching coach.
• Can Norris handle San Diego's high-end pitching staff?
Norris is only 26, and his career path shows he's coming into his own. But executives around baseball wondered if Billy Beane traded him because he's about to become expensive or because of how the Royals exposed his defensive shortcomings when they ran wild in the American League Wild Card Game last year.
Black and Preller have a safety blanket stashed away in Triple-A, as Austin Hedges, the Padres' second-best prospect, is regarded as the top defensive catcher in the Minor Leagues. But San Diego is intrigued by what Norris can do as a hitter.
Black says he was impressed by watching Norris get to know a new pitching staff.
"Good baseball mind, good feel for pitching," Black said of Norris. "But experience is the best teacher. When he's behind the plate and guys are in competition, throwing, they're talking in between innings, on mound visits. That's when you really get to know [your pitchers]."
• Will a steady diet of Petco Park dampen the enthusiasm of Kemp and the other newcomers?
"I think Petco is playing much different than it did when it opened," Black said. "There is no doubt about it. When I got there [in 2007], they had already made that one change out in right-center where they brought [the fence] in. The second change, where we brought right field in 20 feet, we've seen a difference there. Now, subtly even the fence in left has been brought in two feet. … With the guys we have, the raw power -- you look at Kemp, Upton, Middlebrooks, Norris and Gyorko, these guys have all-field power. When you're a home run hitter, you hit 'em everywhere."
• Can Myers handle center field at Petco?
He seemed comfortable from the start in Arizona, and he leaves without any notable carnage in his wake. That's significant given the difficulty of tracking fly balls in light blue skies during day games.
Like the question about hitters adjusting to Petco, the doubts about Myers having the range to play there are also influenced by old thinking. Since the fences were brought in, Petco has only 92,400 square feet of outfield space, putting it in the middle of the pack for Major League parks.
• Will the Padres get enough offense from an infield of Alonso, Gyorko, Middlebrooks and 160-pound shortstop Alexi Amarista?
Gyorko is coming off a horrible season at the plate. Both Alonso and Middlebrooks have failed to make the step from hyped prospects to All-Star candidates.
This is a big season for all four players. But who says that Preller is done making trades? He's put Black into position to be my early pick for the NL Manager of the Year Award, and rock stars don't generally turn down the energy when the stage lights come on.
Phil Rogers is a columnist for MLB.com. This story was not subject to the approval of Major League Baseball or its clubs.