Nova continues rehab with 45-pitch bullpen session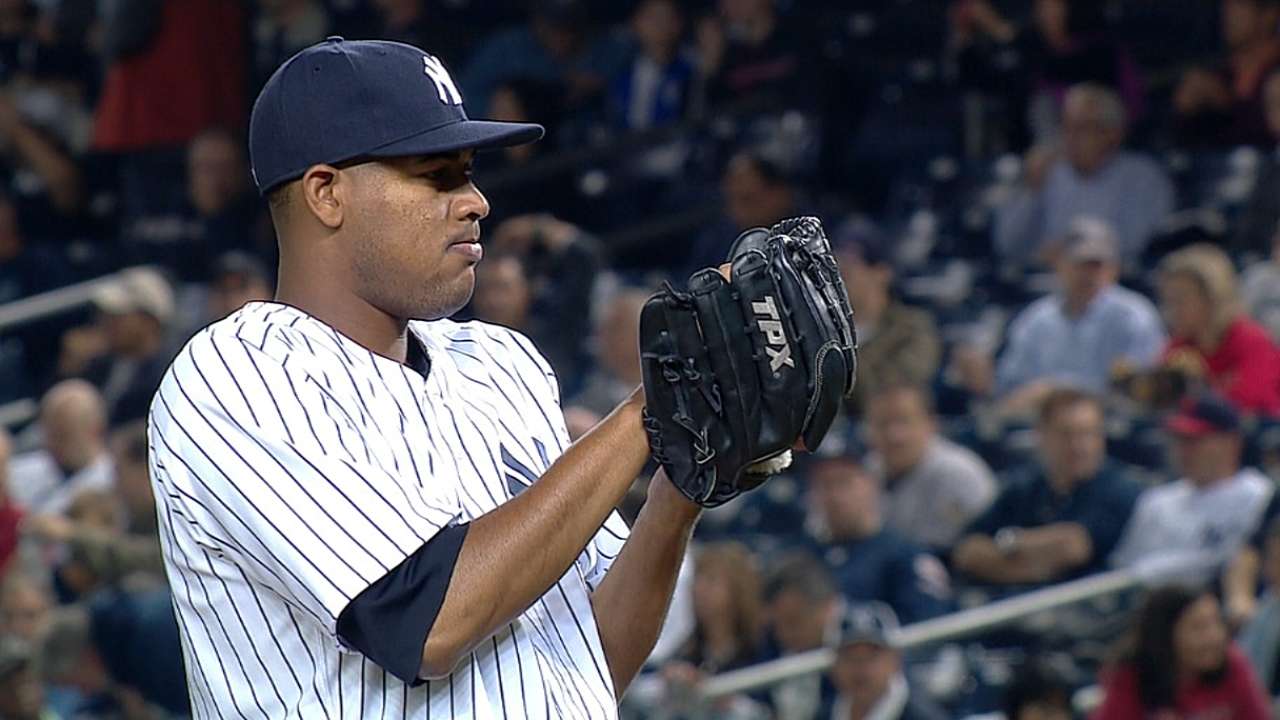 TAMPA, Fla. -- It was a bittersweet afternoon for Ivan Nova on Friday. The rehabbing Yankees right-hander threw another 45-pitch bullpen session without incident, but he returned to a clubhouse where his teammates were buzzing about heading north to begin the season.
Nova had no bags to pack as he recovers from Tommy John surgery. With a target return date of June, the 28-year-old will remain behind in Florida and work out at the Yankees' Minor League complex until he is ready to pitch in rehab games.
"I was thinking, 'I want to go today,'" Nova said. "It's always hard. It was hard when I got hurt in New York and I wasn't able to fly with the team. It's going to be the same thing now, but I'm happy that the season will finally start and we can play. I know that my time will come soon."
This marked Nova's second time throwing a 45-pitch bullpen, and he has been told that he will have another two such sessions next week before being cleared to pitch live batting practice against Minor Leaguers. It is a conservative approach intended to ward off setbacks, but Nova said it is moving slower than he would like.
"If you ask me, I would say yes," Nova said. "It's my first time going through this. They have their plan and they know how to take care of somebody who's coming back from Tommy John. I'm just trying to be patient, and hopefully it isn't too long before I'm able to pitch again."
Nova made just four starts last season before being removed from an April 19 start at Tropicana Field with what was later revealed to be a partially right torn ulnar collateral ligament. Nova said that the elbow had been bothering him in some fashion since 2012, but he now feels fully repaired.
"It feels great. I don't feel any pain or anything like that," Nova said. "I feel strong. I see some velocity coming out in the bullpen -- at the end, I'll throw three or four pitches and let it go a little bit. The other pitches are going great. I have no worries. I'm really happy the way everything is going so far."
In the meantime, Nova knows he will have some long days to fill while the Yankees begin the regular season. He invited two brothers to join him in Tampa, and his mother is scheduled to visit later in the month. He is thinking about planning a trip to Miami at some point, but for the most part, his home will be the Himes Avenue complex.
"Whenever they tell me it's time to go, it's time to go," Nova said. "I don't feel like I'm rushing myself or anything like that. I knew it was not going to be April, I knew it was not going to be May. Personally, I have in my mind for June, but it all depends how they take it."
Bryan Hoch is a reporter for MLB.com. Follow him on Twitter @bryanhoch and read his MLBlog, Bombers Beat. This story was not subject to the approval of Major League Baseball or its clubs.