First big assignment comes deserving Hutchison's way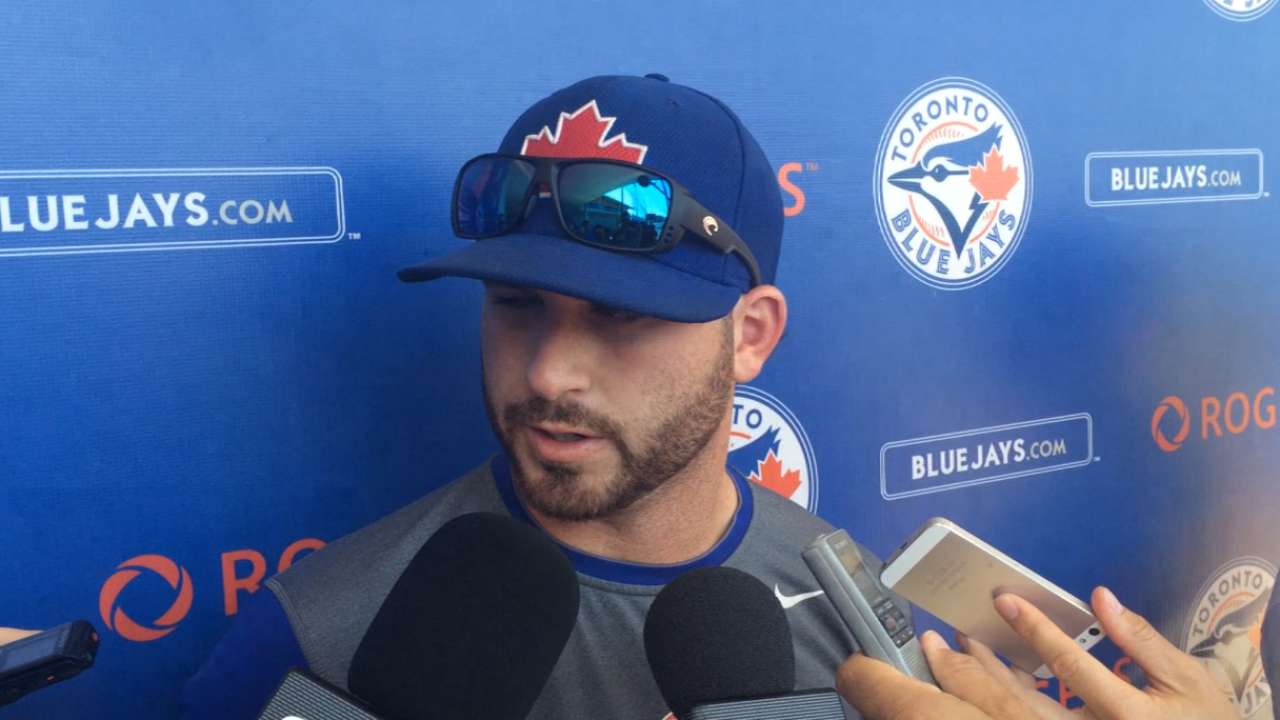 MONTREAL -- Two years ago, when Drew Hutchison was on the long road to recovery from Tommy John surgery, he never could have envisioned being on the mound for the Blue Jays as their Opening Day starter in 2015.
The fact that Hutchison will get the ball in New York on Monday afternoon is a testament to just how far he has come since those trying times. A year away from the game would be daunting for anybody, but especially someone who had all of 58 2/3 innings of big league experience under his belt.
At the time, Hutchison was almost an afterthought as the Blue Jays moved forward with a starting rotation of R.A. Dickey, Josh Johnson, Brandon Morrow, Mark Buehrle and J.A. Happ. Meanwhile, for Hutchison, every morning was Groundhog Day as he went through the monotonous daily routine of working out at the club's Minor League complex alongside fellow Tommy John patients Luis Perez and former Jay Kyle Drabek.
"I confirmed things that I knew about myself," Hutchison said when asked about what that experience taught him. "It's not a fun process, it's not something that you ever want to go through. I was lucky enough to get to go through it with Perez and Drabek; they made it easier. I think I just confirmed some things in my mind about myself and what I'm capable of."
While Perez and Drabek have since struggled to establish a place for themselves in the Majors, Hutchison has thrived. He returned at the start of 2014, recording an 11-13 record with a 4.48 ERA.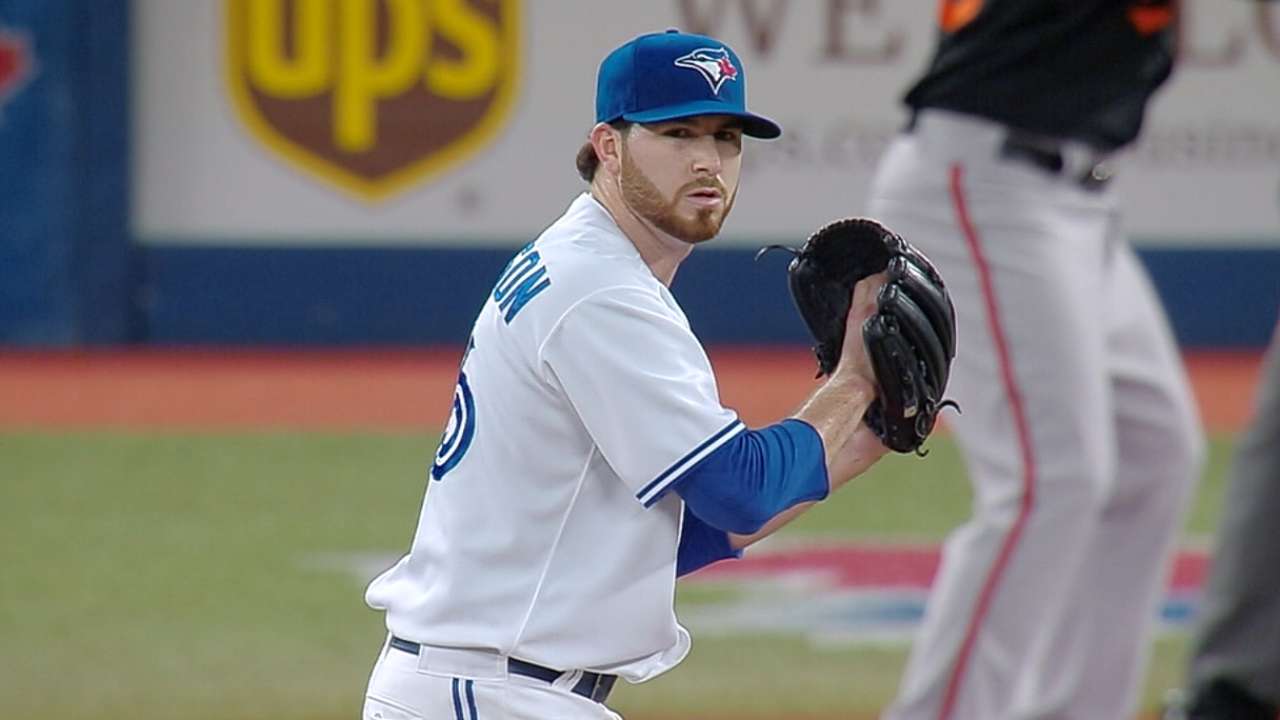 On the surface, those numbers might not seem impressive, but it masks a much bigger accomplishment. Hutchison didn't miss an outing and tossed 184 2/3 innings, despite his previous high being 149 1/3 in the Minors in 2011. Beyond the stats, there were also moments of greatness that provided a glimpse at what the future might have in store.
There was a shutout over the Rangers on May 16, when he outdueled one of the league's best pitchers in Yu Darvish. There was a victory over the division-rival Orioles on Aug. 6, when he came within one out of recording a complete game against the American League East champs. It may sound strange, but perhaps even more important, was an outing against the White Sox when he allowed six runs in the first inning, but battled back and pitched seven.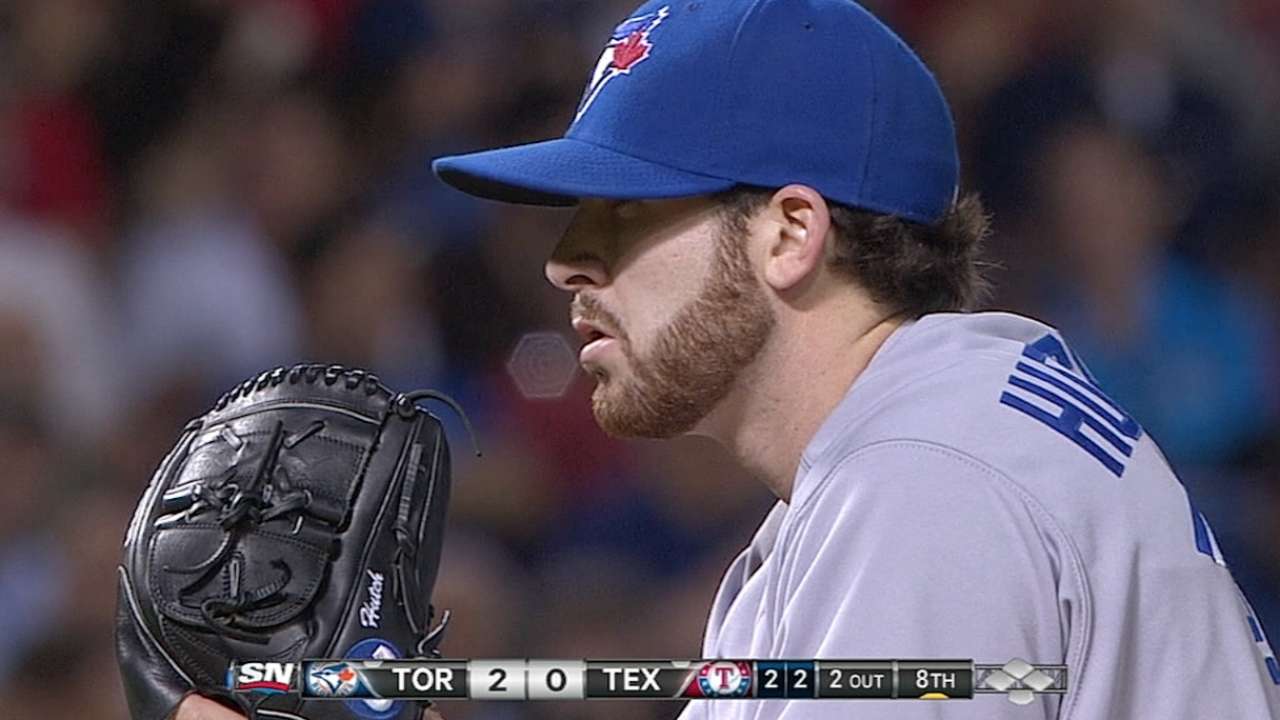 Those type of moments are why the Blue Jays have such high expectations for Hutchison this season. The club might not have a traditional "ace," but it's also possible that Hutchison is one in the making -- and a lot sooner than most people might think.
"I didn't know Hutch when I got here, but I heard a lot about him," said John Gibbons, who took over as Blue Jays manager in 2013, when Hutchison was going through his rehab. "First off, talent-wise, and then what kind of individual and competitor he is, I see it all.
"He answered the big question last year, coming off the surgery, 'Hey, he can do this.' He bounced back, and there's no looking back. It's a great honor for him [to start Opening Day], and I think he'll handle it well. He has a chance to be around for a real long time."
Hutchison's name always appeared on the list of the Blue Jays' top prospects when he was coming up through the club's system, but he was never at the forefront of the discussion. Most of the attention went to Drabek, first-round pick Deck McGuire and hot-shot arms like Aaron Sanchez, Noah Syndergaard and Justin Nicolino, who were taken one year after Hutchison.
One of the reasons Hutchison lacked the hype is because he doesn't hit upper-90s velocity with his fastball, and there wasn't an offspeed pitch that completely blew scouts away. But since that time Hutchison has become one of the most polished pitchers Toronto's system has produced in recent memory. He has exceptional control of his two-seam fastball, four-seam fastball and changeup, while the refinement of his slider took him to another level last year.
"I think I'm a winner to be honest with you," Hutchison said when asked about what his best attribute is. "You can take my stuff, it is what it is, say what you want about it. That's never really been why I've been successful or how I've gotten to this point. It has to do with other things that you can't grade out or you can't put into a computer and spit out something. That's the way I've always pitched, and that's the way I'll continue to pitch."
Gregor Chisholm is a reporter for MLB.com. Read his blog, North of the Border, and follow him on Twitter @gregorMLB. This story was not subject to the approval of Major League Baseball or its clubs.