MLB.com Columnist
Phil Rogers
Cueto's intense focus is solely on 2015 season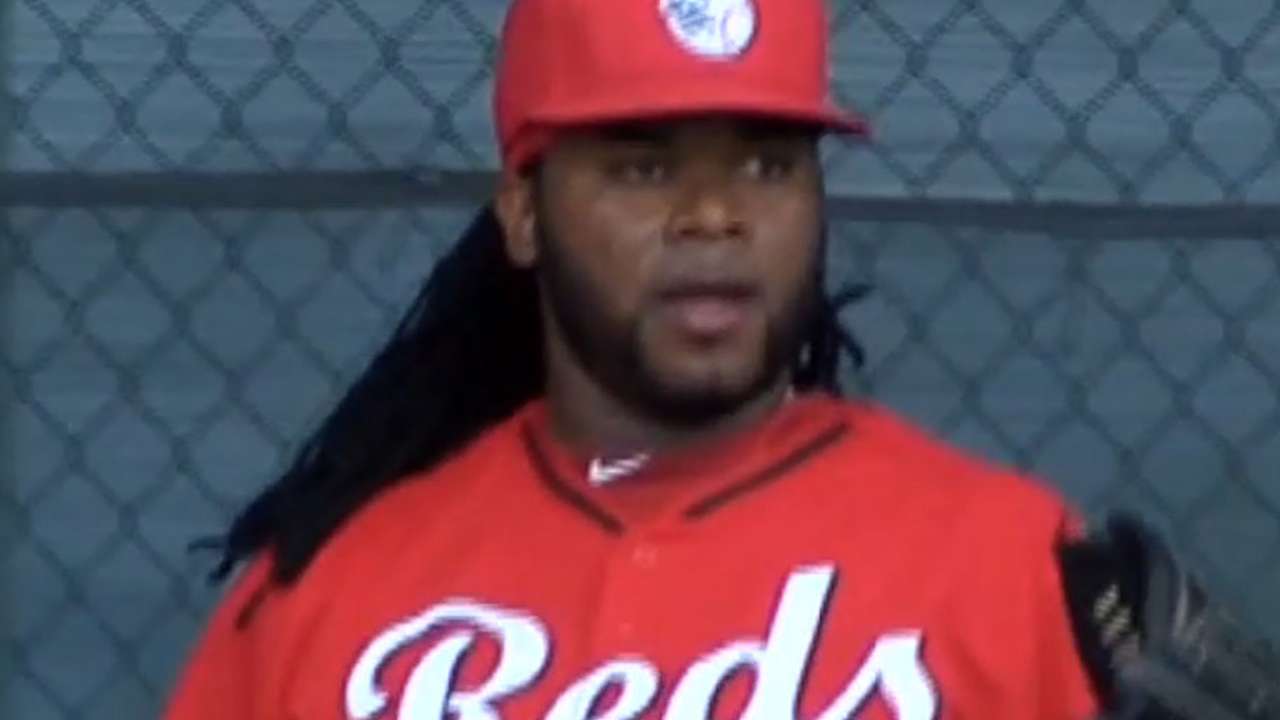 GOODYEAR, Ariz. -- Go ahead, Johnny Cueto. Take one last deep breath, then go get 'em.
Your canvas awaits.
We're not expecting much -- just a masterpiece.
Pitch the Reds into the postseason and rip the National League Cy Young Award out of Clayton Kershaw's hands, while you're doing it. Or maybe pitch well enough at the start of the season that you can win the American League Cy Young Award after being the best player traded in July.
Some things are out of a pitcher's control, as Cueto well knows. And some things aren't worth worrying about. One of those is whether this will be his last season in Cincinnati.
"You know what?" Cueto said the other day. "I don't think about those things. All I think about is to do my job, pitching, to take my team to the playoffs and finally take the team all the way up to where we have to go. I'm like those racehorses that have the blinders on. I don't think about those things. I just use those [blinders]. All I'm thinking about is my race in front of me."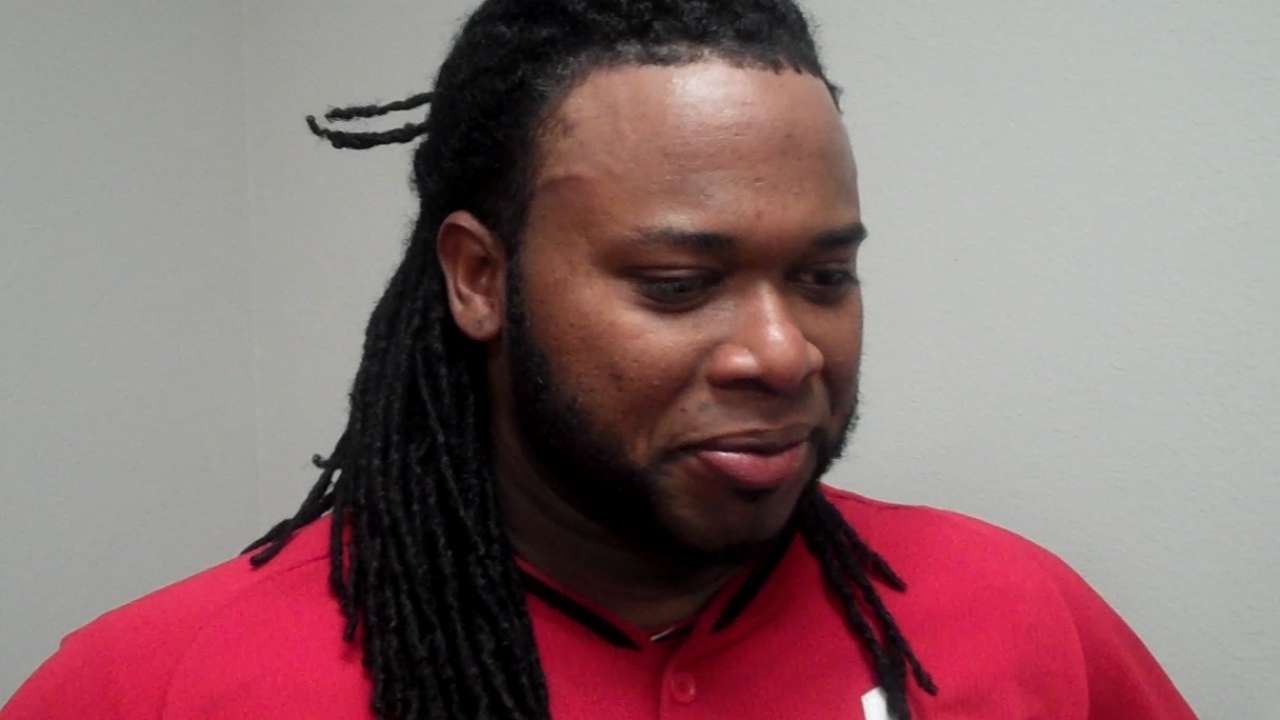 The good news for Cueto is that at age 29, after a seven-season education that has left him with a wealth of knowledge to go with one of the quickest arms on the planet, he's fully equipped for the race ahead of him.
It's time to go out on a limb here: This is going to be the Year of Johnny Cueto. He'll be the guy we'll be talking about in November, when it's time to hand out the hardware.
Although really, apologies to Cueto. It's really not that long of a limb to step out on.
All Cueto did last year was go 20-9 with a 2.25 ERA while leading the NL with 243 2/3 innings. That was 45 more innings than Kershaw, but how do you argue with 21-3 with a 1.77 ERA? Those were Kershaw's numbers en route to his third NL Cy Young Award.
And while Cueto took it to the house at the end of September, Madison Bumgarner took full advantage of the chance that the Giants gave him to dominate October. So the Reds' ace remained just another guy in that top tier of pitchers.
That said, there's a limited supply of those guys. That's why Cueto is positioned to be the Max Scherzer of next offseason's free-agent market.
Reds general manager Walt Jocketty could have gotten a nice collection of prospects for Cueto had he put him on the market last year. But he wasn't willing to concede the 2014 season in July, and he decided to deal Mat Latos and Alfredo Simon in December, while hanging onto Cueto for one last long ride alongside Joey Votto, Brandon Phillips, Jay Bruce and the fellows.
While the odds of signing Cueto to a contract extension remain stacked against Cincinnati, the thought of dealing Cueto is just too painful. He's about a whole lot more than just the physical talent he was given in his DNA back in San Pedro de Macoris, the Dominican Republic outpost known as "the cradle of shortstops."
"He competes every pitch, every minute he's on the field," Reds manager Bryan Price said. "That's what he does. It doesn't matter if he's ahead 1-0 or down 6-1. He competes. He's always worked to get better, and he's gotten better every year. You always admire guys who have had success but continue to hunt excellence. That's what he does."
Hunt excellence? Nice way to put it.
Cueto's ability to dominate might resonate with more baseball fans, had a couple of those hunts gone better. With him at the front of the rotation, Cincinnati has been the biggest tease in the NL the past five seasons.
The Reds won 433 regular-season games since 2010, only three fewer than the Giants. But while San Francisco turned two NL West titles and one Wild Card spot into three championships, Cincinnati went 2-7 in postseason games, failing to advance after winning the NL Central in '10 and '12 and falling to Pittsburgh after grabbing a Wild Card spot in '13.
Cueto made three starts in those postseason series, but he never won a game or lasted more than five innings. He threw only eight pitches before leaving Game 1 of the NL Division Series against the Giants with a strained back and was still dealing with the aftereffects of a lat injury when he got rocked in that NL Wild Card Game loss to the Pirates, with the PNC Park crowd loudly mocking him.
You could say Cueto is motivated to get the October monkey off his back. But all he'll really say is that he's feeling great -- "loose'' is his choice of words, speaking through a translator -- and looking forward to his Opening Day start against the Pirates on Monday afternoon in Pittsburgh.
Cueto says he's not worried about his contract or whether this is his last season in Cincinnati, because "I can't think about two things at the same time." Nobody respects hitters more than the best pitchers, and Cueto is always working his hardest to figure out ways to keep them from beating him.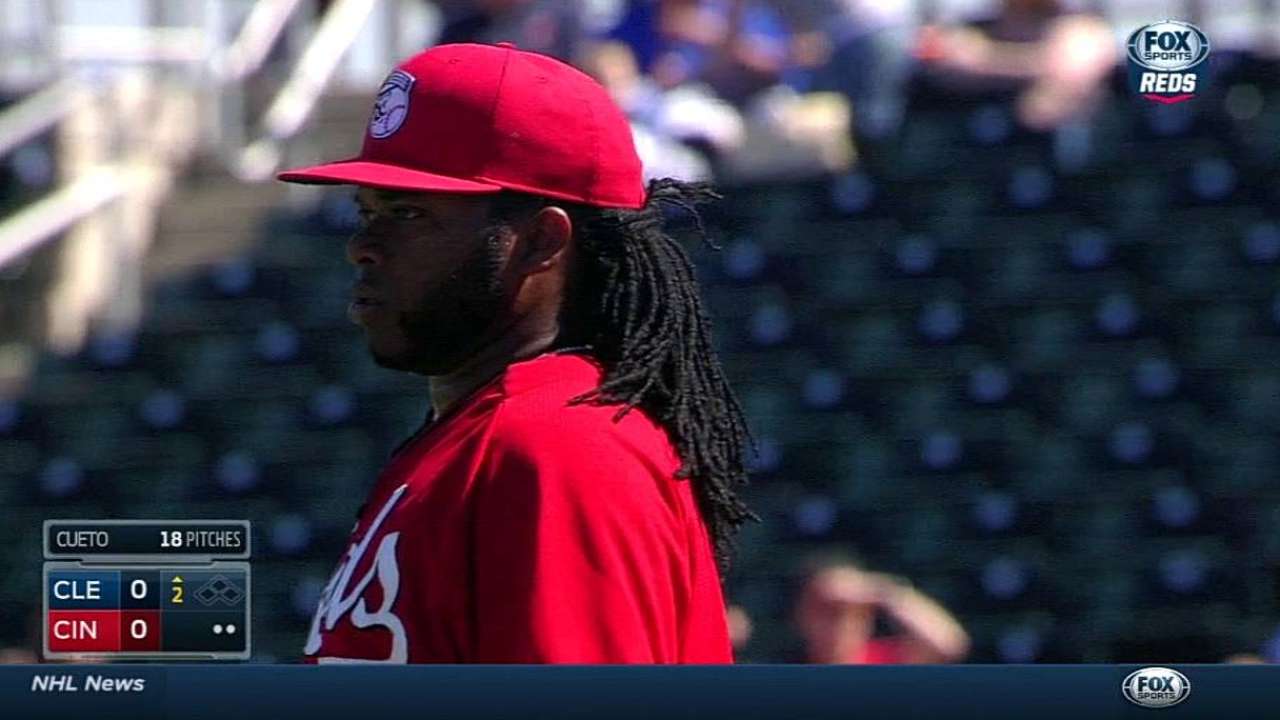 As well as he pitched last season, Cueto will start again at zero, like everyone else.
"You can't be comfortable and say I'm going to do it again," Cueto said. "Pitching is not that easy. Pitching is hard. You cannot go stand up on the mound and start throwing and think things are going to happen like that. You have to keep working. You never stop working. I feel relaxed, but I cannot feel comfortable."
Cueto seemed incredulous when he was asked if he had learned any new tricks for his regular starts against the Central opponents, who he faced a combined 13 times last season. Price stifled a chuckle too.
"I think he's already very polished," Price said. "The things he's working on to improve his game are just the finer points. Right now he's throwing five different pitches from an assortment of deliveries, and he commands all of them. He competes awfully hard. I don't really know where to go, except to keep on maturing as a pitcher through experience."
Price says he's seen no differences in Cueto this spring, because Cueto is in his walk year.
"We don't really get ourselves caught up in all the stuff with the contracts, free agency or arbitration years," Price said. "That hasn't been a point of discussion. He's certainly aware of the fact we lean on him quite a bit. He threw over 240 innings for us last year and was runner-up in the Cy Young Award. He knows what he means to our ballclub. Losing Simon and Latos puts him in a position where we need him to pitch well. We need all our guys to pitch well. I haven't seen any changes. He's working his butt off getting ready to have a great year."
Don't be surprised if it's such a great year we're all talking about it next spring. Cueto has his blinders on, intent on nothing else except winning the race in front of him.
Phil Rogers is a columnist for MLB.com. This story was not subject to the approval of Major League Baseball or its clubs.