Peavy pounded in Bay Bridge opener; Pagan, Belt go deep
Giants starter has second straight rough outing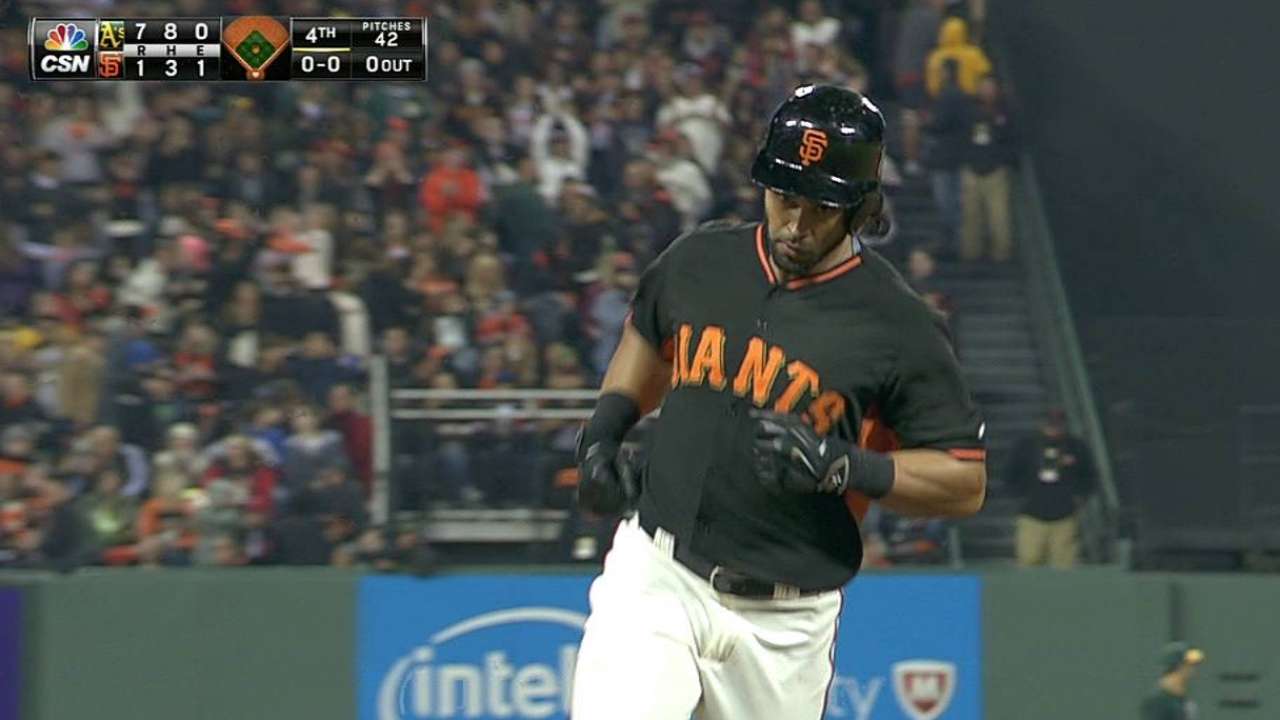 SAN FRANCISCO -- Left-hander Scott Kazmir allowed one run over six innings and the Oakland A's defeated the San Francisco Giants 8-2 in the opener of the Bay Bridge Series at AT&T Park on Thursday night.
Kazmir gave up four hits with zero walks and no strikeouts. He improved to 2-0 in four starts, and his spring ERA actually went up, from 0.75 to 1.00.
Designated hitter Billy Butler went 3-for-5 with a solo home run for the A's, and shortstop Marcus Semien finished 2-for-3 with his own solo shot. Third baseman Brett Lawrie and center fielder Sam Fuld each had two hits with a triple.
Giants right-hander Jake Peavy had his second straight rough outing, allowing seven runs, six earned, on seven hits over 3 1/3 innings. He gave up six runs, five earned, on seven hits over 3 1/3 innings against Seattle in his previous start.
"I'm not going to read too much into it," Peavy said of his outing. "I promise you I'm not going to get down on myself. ... I had a great spring last year and went 1-9 at the start. Maybe we're doing the opposite this year, making everybody panic."
Giants center fielder Angel Pagan hit his first home run of the exhibition season, a solo shot against Kazmir to lead off the fourth inning, and first baseman Brandon Belt started the ninth with a solo shot. Belt also doubled. Shortstop Brandon Crawford went 3-for-3 with a double.
The A's struck first, grabbing a 3-0 lead in the top of the second. Lawrie lined a leadoff triple to right-center off Peavy and scored on Stephen Vogt's sacrifice fly. Semien followed with a towering home run down the left field line. With two outs, Fuld tripled off the right-field wall and scored when Pagan bobbled the carom for an error.
The A's added four runs in the fourth, increasing their lead to 7-0. After Peavy issued back-to-back walks to Vogt and Semien, Billy Burns lined an RBI double down the right field line. Craig Gentry brought Semien home with a one-out single, making it 5-0 and ending Peavy's night.
Ben Zobrist drove in Burns with a sacrifice fly off left-hander Steven Okert, and Butler stroked an RBI single to left, scoring Gentry.
Up next: The Giants face the A's in Game 2 of the Bay Bridge Series on Friday night at AT&T Park. Giants right-hander Matt Cain will face A's rookie right-hander Kendall Graveman. Cain is 0-1 with an 8.22 ERA in three major-league starts over just 7 2/3 innings. Two of his past three starts were in Minor League games.
Eric Gilmore writes for MLB.com. This story was not subject to the approval of Major League Baseball or its clubs.