Kazmir cruises in six innings vs. Giants; lineup pounds Peavy
Butler, Semien homer as A's take Bay Bridge Series opener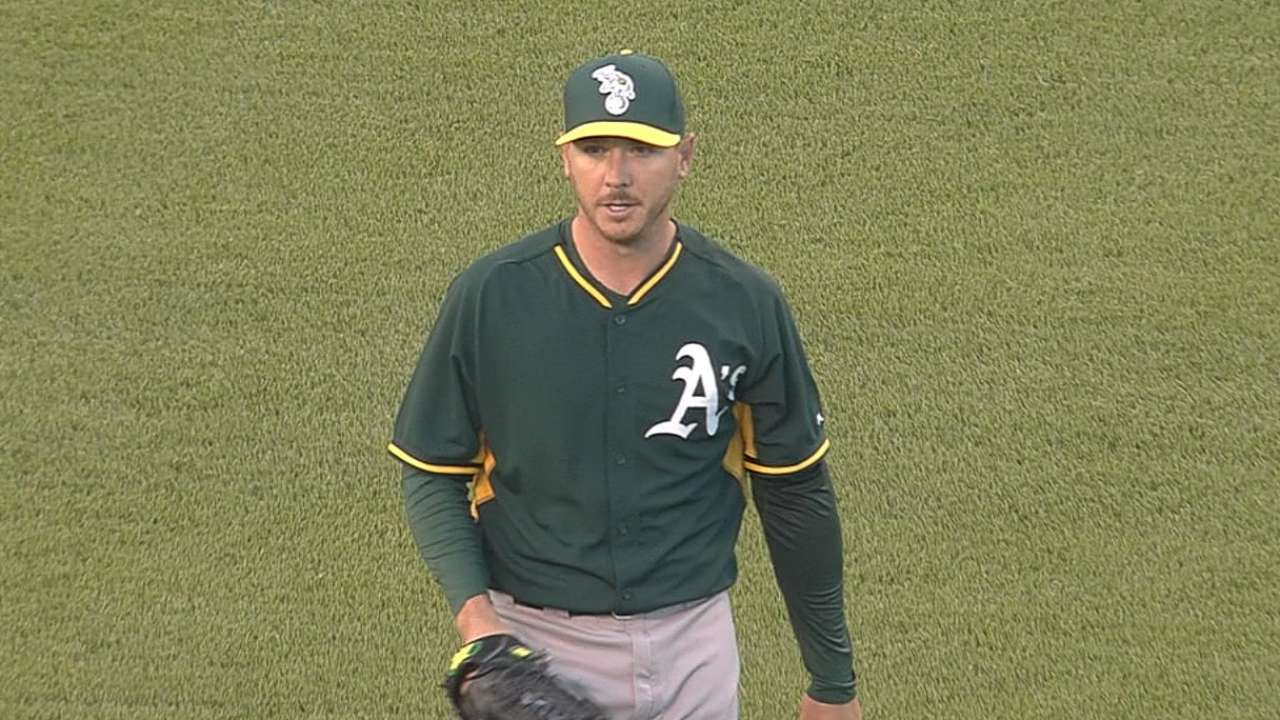 SAN FRANCISCO -- Left-hander Scott Kazmir allowed one run over six innings and the Oakland A's defeated the San Francisco Giants 8-2 in the opener of the Bay Bridge Series at AT&T Park on Thursday night.
Kazmir gave up four hits with zero walks and no strikeouts. He improved to 2-0 in four starts, and his spring ERA actually went up, from 0.75 to 1.00.
"I feel good," Kazmir said. "All my pitches are working, my arm feels great, my body feels great. That's all you can ask for."
A's manager Bob Melvin praised the lefty for his control over his last two outings.
"The last two times, I don't know how you get much better than that," Melvin said. "When you look up there and see his ball-strike ratio is like 23-to-5 in his first 28 pitches, you know he's on it."
Designated hitter Billy Butler went 3-for-5 with a solo home run for the A's, and shortstop Marcus Semien finished 2-for-3 with his own solo shot. Third baseman Brett Lawrie and center fielder Sam Fuld each had two hits with a triple.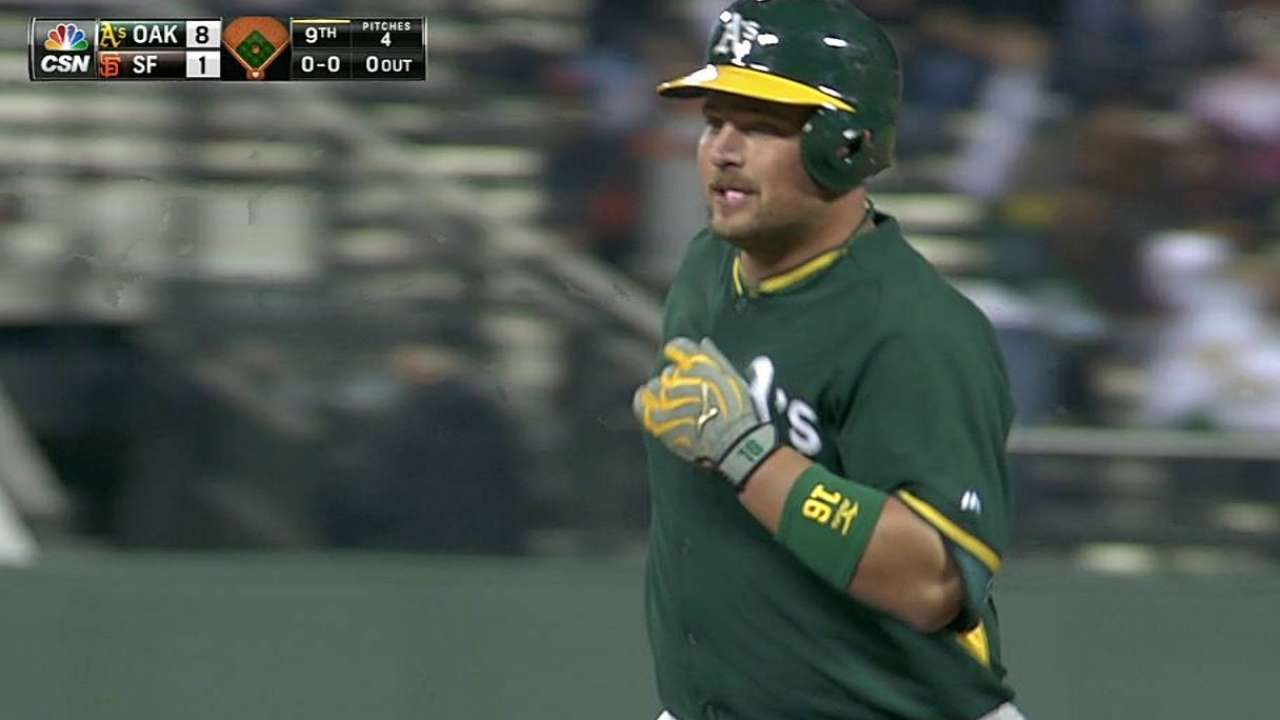 Giants right-hander Jake Peavy had his second straight rough outing, allowing seven runs, six earned, on seven hits over 3 1/3 innings. He gave up six runs, five earned, on seven hits over 3 1/3 innings against Seattle in his previous start.
Giants center fielder Angel Pagan hit his first home run of the exhibition season, a solo shot against Kazmir to lead off the fourth inning, and first baseman Brandon Belt started the ninth with a solo shot. Belt also doubled. Shortstop Brandon Crawford went 3-for-3 with a double.
The A's struck first, grabbing a 3-0 lead in the top of the second. Lawrie lined a leadoff triple to right-center off Peavy and scored on Stephen Vogt's sacrifice fly. Semien followed with a towering home run down the left field line. With two outs, Fuld tripled off the right-field wall and scored when Pagan bobbled the carom for an error.
The A's added four runs in the fourth, increasing their lead to 7-0. After Peavy issued back-to-back walks to Vogt and Semien, Billy Burns lined an RBI double down the right field line. Craig Gentry brought Semien home with a one-out single, making it 5-0 and ending Peavy's night.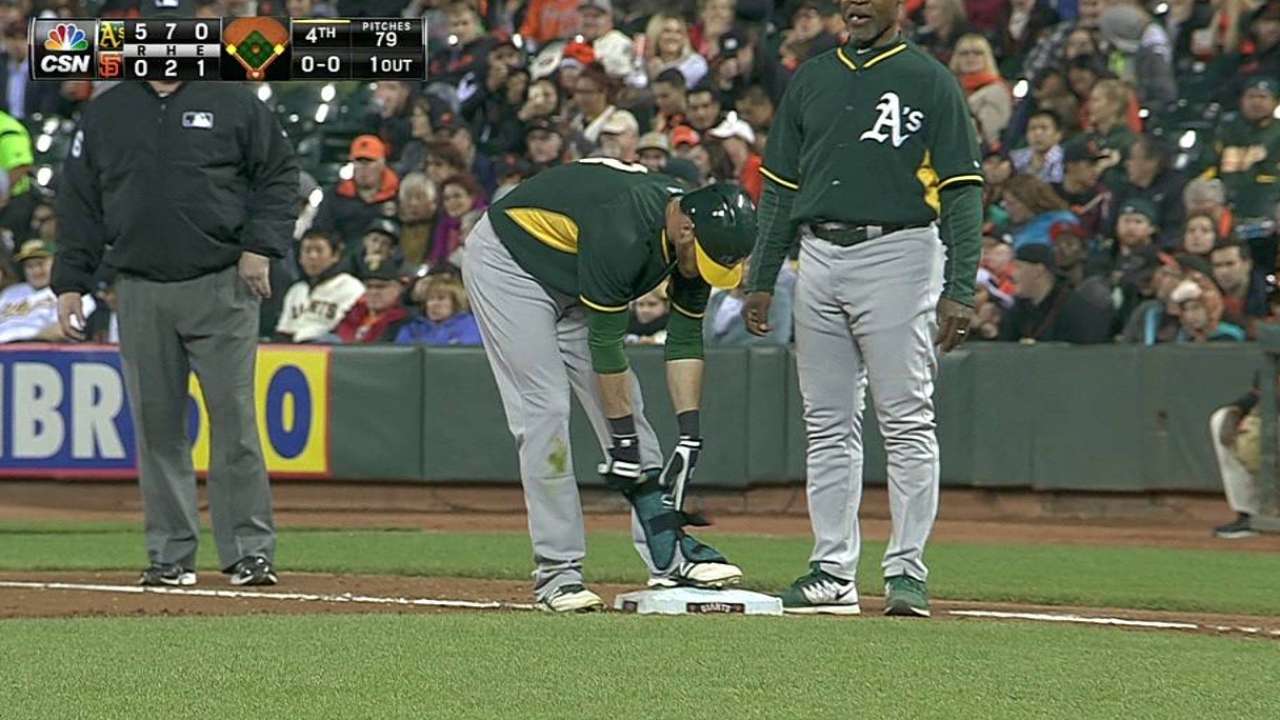 Ben Zobrist drove in Burns with a sacrifice fly off left-hander Steven Okert, and Butler stroked an RBI single to left, scoring Gentry.
Up next: Right-hander Kendall Graveman was named to the A's starting rotation on Thursday by manager Bob Melvin. Now the 24-year-old will try to wrap up his dominant spring with another strong performance against the Giants on Friday. Graveman, who was acquired in the Josh Donaldson trade from Toronto this past offseason, has given up just one run in 21 1/3 innings of work this spring while allowing 10 hits, four walks and striking out 11.
Eric Gilmore writes for MLB.com This story was not subject to the approval of Major League Baseball or its clubs.