Tanaka looks ready to reclaim dominance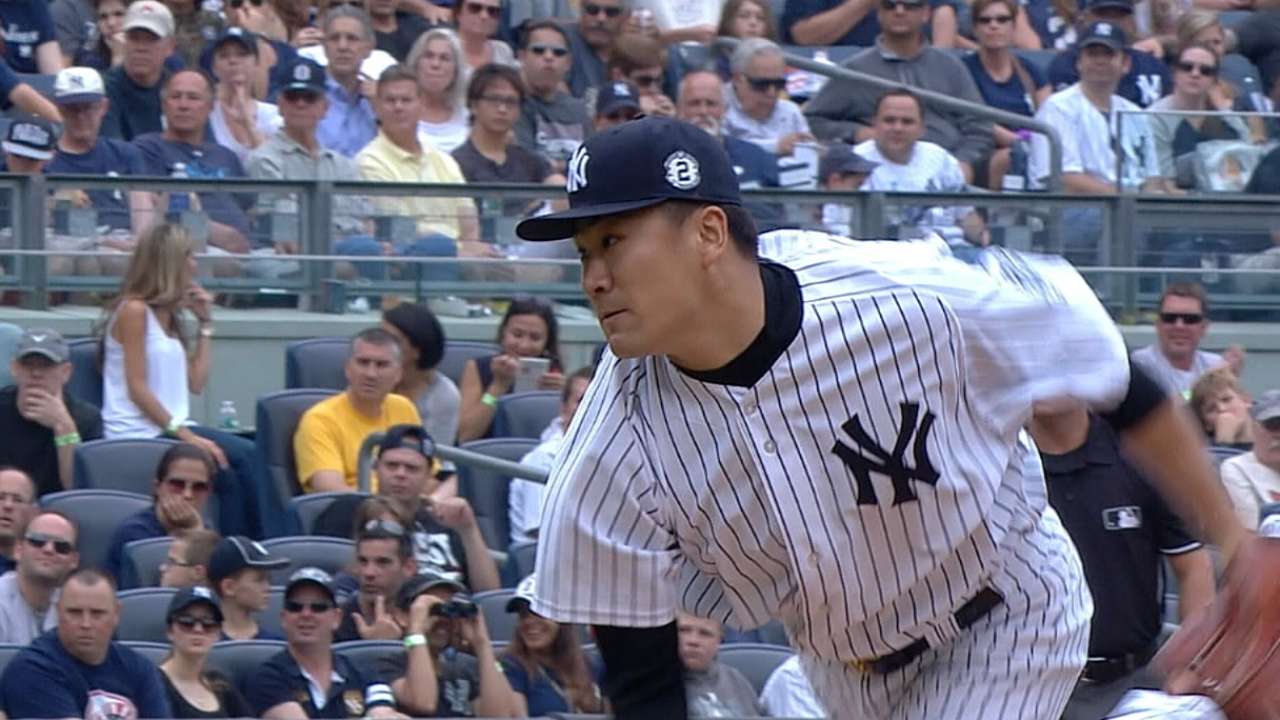 TAMPA, Fla. -- Masahiro Tanaka's career with the Yankees has, thus far, been marked by its drama and intrigue. Last year, his celebrated arrival was accompanied by questions about how he would adjust to pitching every fifth day, to slippery big league baseballs, tighter strike zones and more powerful lineups.
Those storylines have been shelved; Tanaka convincingly answered all of those by standing among the best pitchers in the game early last season, earning selection as an American League All-Star. As he approaches his first big league Opening Day start, the only relevant question is: Can Tanaka return to dominance even with a small tear in his pitching elbow?
"I don't know for sure how I'll be feeling that exact date, but looking back at last year, I think there was a lot of attention for me on how I would pitch being my first year here," Tanaka said through an interpreter. "There were certain pressures, but this year I'm not feeling that. For now, I think I'm a little bit more relaxed."
The Yankees are betting that loose attitude will continue, encouraged by a Grapefruit League campaign in which they never saw the 26-year-old Tanaka wince or request medical treatment. They ran his spring program more conservatively and saw him hit all the required checkpoints, suggesting that Tanaka may pick up right where he left off.
"It means a lot, I mean, if he can do that," Yankees manager Joe Girardi said of Tanaka, who was 13-5 with a 2.77 ERA in 20 starts in 2014. "You know, his numbers are pretty darned good, let's face it. Those aren't easy numbers for anyone every year, but it would really help us."
Tanaka was nothing short of fantastic through the first 17 starts, but that ride was interrupted on the evening of July 8 in Cleveland, when the Indians pounded him for five runs and 10 hits. Tanaka's postgame demeanor suggested that something was awry, and an MRI taken in New York the next day revealed a partially torn ulnar collateral ligament.
On the advice of four noted specialists, rehab was recommended over Tommy John surgery, and the Yankees believe that proved to be the correct call when Tanaka returned in September and made two starts -- one good, one less so -- before enjoying a normal offseason program in Japan.
His spring 3.07 ERA in 14 2/3 innings sounded no significant alarms, though his velocity noticeably dipped -- a result, Tanaka said, of favoring his two-seam fastball over a four-seamer that was hit hard at times last year.
"I'm not a pitcher that would throw 95 mph every single pitch," Tanaka said. "I may get that maybe once or twice in a game. Given that, I'm OK with where my velocity is at right now."
Girardi has said that he will not be sitting on the edge of the dugout bench with each pitch, and so he had no hesitation in handing the Opening Day honors to Tanaka, who previously started one season opener in Japan for the Tohoku Rakuten Golden Eagles.
Taking the ball has never been Tanaka's issue; this is a man who closed out the 2013 Japan Series in relief, a day after pitching a complete-game loss. That was part of the risk involved when the Yankees invested $175 million into Tanaka, knowing he already had 1,315 innings under his belt (for comparative purposes, Felix Hernandez had 1,154 2/3 and CC Sabathia had 972 2/3 through their age-24 seasons).
The Yankees will try to accommodate Tanaka, as well as some of their other hurlers, by working in a sixth starter whenever possible. In his case, they obviously hope that the worst-case scenario never materializes, but general manager Brian Cashman acknowledged that possibility could lurk behind any one of Tanaka's nasty splitters.
"All I know is, I'm thankful that every day he checks in and says he feels good," Cashman said. "He's earned the Opening Day start and hopefully he spins a great game for us, and then can be consistent every five or six days depending on how his schedule shakes out. We obviously want him to stay healthy and hope he stays healthy, as does he, but I can't predict the future."
Bryan Hoch is a reporter for MLB.com. Follow him on Twitter @bryanhoch and read his MLBlog, Bombers Beat. This story was not subject to the approval of Major League Baseball or its clubs.