Steady as ever, Weaver leads Halos on Opening Day
Right-hander, an 'artist' on mound, earns honor for franchise-record eighth time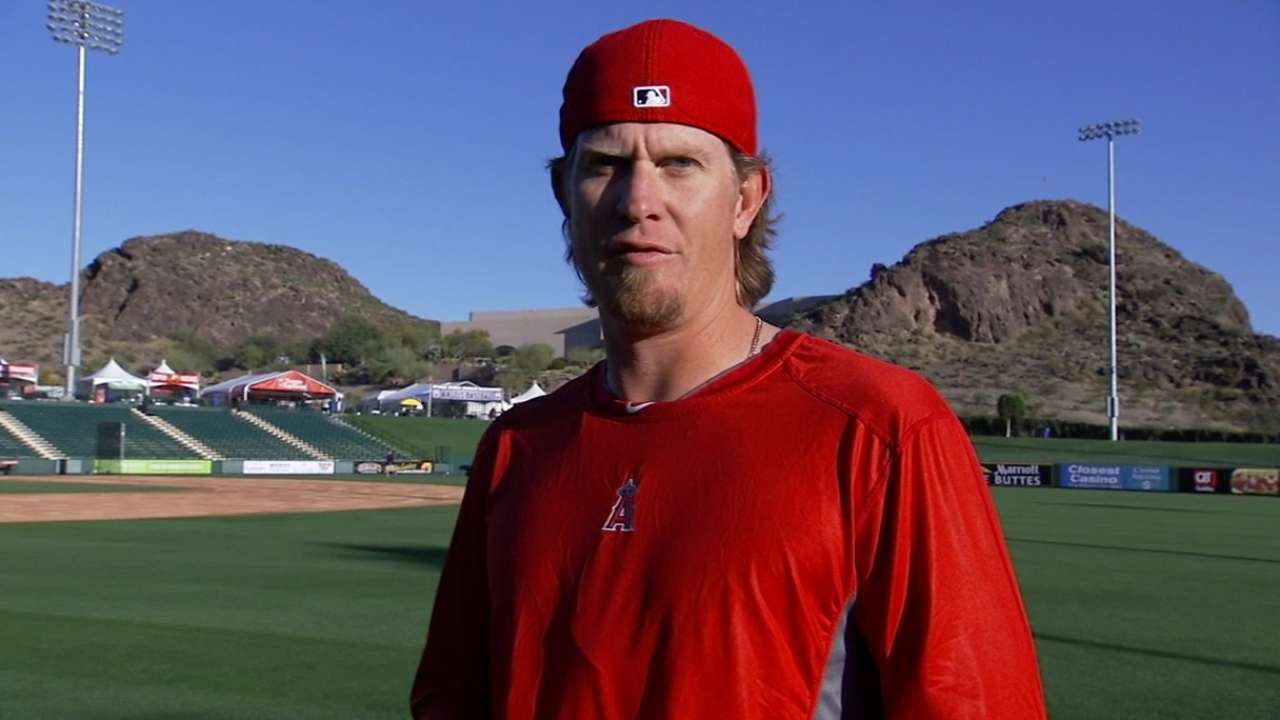 ANAHEIM -- Mike Scioscia was the last manager to officially announce his Opening Day starter this year, which is nothing new. It's a rite of every spring at Angels camp. Scioscia will wait until the very end, when all of his starters have taken their final turns of the Cactus League schedule, to declare who will be on the mound for the first game of the season, even though the answer has long been obvious.
It's Jered Weaver. Always has been.
On Monday afternoon in Seattle, Weaver will take the ball for his franchise-record seventh Opening Day start and sixth in a row. It'll mark the start of his 10th year, his age-32 season, and yet another one at the top of an Angels rotation.
"Weave is a legit No. 1, even with the attrition of pitching for as long as he has," Scioscia said. "This guy competes as well as any pitcher who has ever been on the mound."
Every year that right shoulder gets a little stiffer, the fastball velocity drops a tick or two and Weaver falls further from the conversation of the game's elite starters, even though the numbers remain superior. He won an American League-leading 18 games last year, while posting a 3.59 ERA in 213 1/3 innings, and is still one of game's best over the last six years.
Since 2009, Weaver ranks second in the Majors in wins (96), fourth in WHIP (1.11), seventh in ERA (3.12) and ninth in innings (1,227 1/3).
During that span, his fastball velocity never averaged higher than 90.1 mph.
"He's a pitcher, not a thrower," said Garrett Richards, the man who may one day replace Weaver as the Opening Day starter. "He moves the ball in and out, he elevates, he bounces breaking balls. He just knows how to pitch. It's fun to watch him pitch because he really is the definition of a pitcher. On the other hand, he's the most competitive guy that I've ever been around. Whether it's playing cards, playing dominos, baseball, basketball, whatever -- he's trying to bury you."
You want to get on Weaver's bad side? Make a joke about his fastball velocity, which was the fourth slowest among non-knuckleball-throwing starters in the Major Leagues last season. In fact, just ask him about it. He used to answer the questions politely, but now he'll scoff and roll his eyes, because he wishes he threw harder and because he's proved that he doesn't have to.
He is, as Angels general manager Jerry Dipoto put it, "an artist."
He has a changeup that's indecipherable from his fastball until it's too late.
"It's like a cartoon," Angels setup man Joe Smith said. "It just stops."
He has superb command of all his pitches, including a slider and curveball.
And he delivers all of them from a wiry, 6-foot-7 frame and an extreme, across-his-body delivery that plays up his fastball.
"I've been across my body since high school," Weaver said. "It just comes natural; it just feels comfortable."
But that's not what Dipoto admires most about Weaver.
It's the feel he has for what opposing hitters are thinking. Dipoto called it "controlling bat speed," a trait most pitchers never learn.
"When you're going hard, he's going soft," Dipoto said. "When you're letting it track deep, he's going hard."
Richards will never forget a conversation he had with Weaver a couple years ago, when Richards first learned about "pushing and pulling." It's all about the differential between your fastball and changeup -- for Weaver, it was almost 10 mph last year -- and knowing when to utilize each one.
Richards said Weaver "just sees things a little differently than anybody else."
He learned about the art of reading hitters in college, from famed Long Beach State coach Troy Buckley.
"You can never see a hitter, and once they get in the box you kind of know what you want to throw him," Weaver said. "The way they take a swing, the way they foul balls off, you kind of get an idea of what they're looking for. It's nothing you can really explain. It's just a feel thing."
The Angels' rotation has taken a lot of forms over the last seven years. But there has been one constant: Weaver pitches on Opening Day, no matter how late Scioscia announces it.
"Who knows how many more I'll have," Weaver said. "I'm going to take it in and kind of go from there."
Alden Gonzalez is a reporter for MLB.com. Read his blog, Gonzo and "The Show", and follow him on Twitter @Alden_Gonzalez. This story was not subject to the approval of Major League Baseball or its clubs.