Kendrick focused in first game as foe at Angel Stadium
Adams shut down with shoulder problems; Ethier nursing sore elbow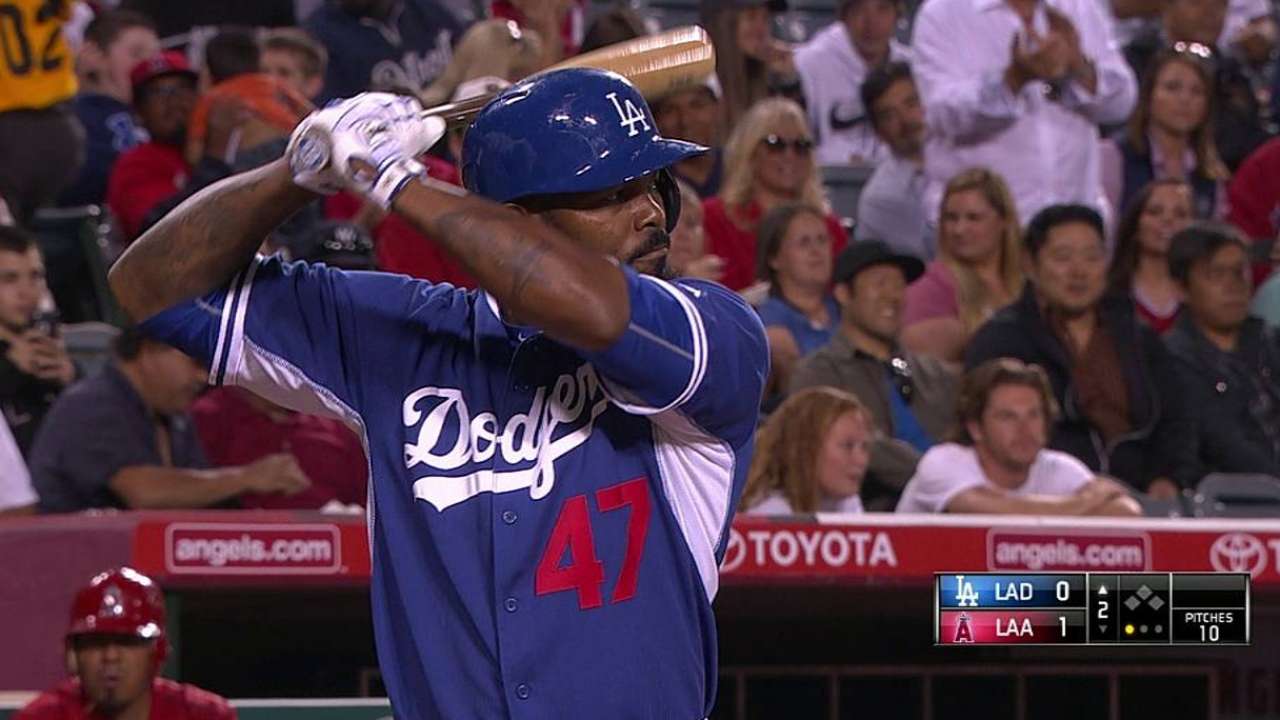 ANAHEIM -- Dodgers second baseman Howie Kendrick, who played the past nine seasons for the Angels, made his first visit to Angel Stadium on Thursday wearing another uniform.
Angels' red or Dodgers' blue, Kendrick, 31, said it's all about playing the same game.
"Obviously, I enjoyed my time here," he said, in the visitors' clubhouse for the first time. "The fans were great, the team was great. I grew up in the Angels organization."
Kendrick, an All-Star in Anaheim in 2011, said his single greatest memory from his Angels days "was sweeping the Red Sox in '09 in the playoffs," because they had knocked the Angels out of the postseason in previous years.
Kendrick was cheered loudly by his former home crowd when he stepped in to hit in the second inning.
"Howie's Howie," his former manager, Mike Scioscia, said. "He plays the game so hard. I was watching his pregame a little bit because there weren't that many guys I've seen in my 16 years here that practiced as hard as Howie does to get ready for a game. And it's still there. He just loves to play, and he looked good out there for those guys tonight."
Worth noting
• Manager Don Mattingly said right-handed reliever Mike Adams, 36, has decided to "shut down for now" his comeback from the shoulder injuries that have plagued his past two seasons.
"He felt like he needed more time," Mattingly said. "He's going home for now."
Two days ago, the Dodgers told Adams he would begin the season at Triple-A Oklahoma City. He was limited to a total of 42 2/3 innings the past two seasons with the Philadelphia Phillies because of surgery to repair two labrum tears and torn rotator cuff.
Mattingly would not say if Adams was considering retirement.
• Outfielder Andre Ethier (right elbow) is still sore, Mattingly said. But Ethier, who was hit by a pitch in Tuesday's exhibition against the White Sox, came in as a defensive replacement for Carl Crawford in left field in the sixth inning Thursday and flied out to center in the eighth.
Earl Bloom is a contributor to MLB.com. This story was not subject to the approval of Major League Baseball or its clubs.