After terrific spring, Duffy 'at peace' with Giants' decision
Top prospect led team with .382 average, 15 RBIs in Cactus League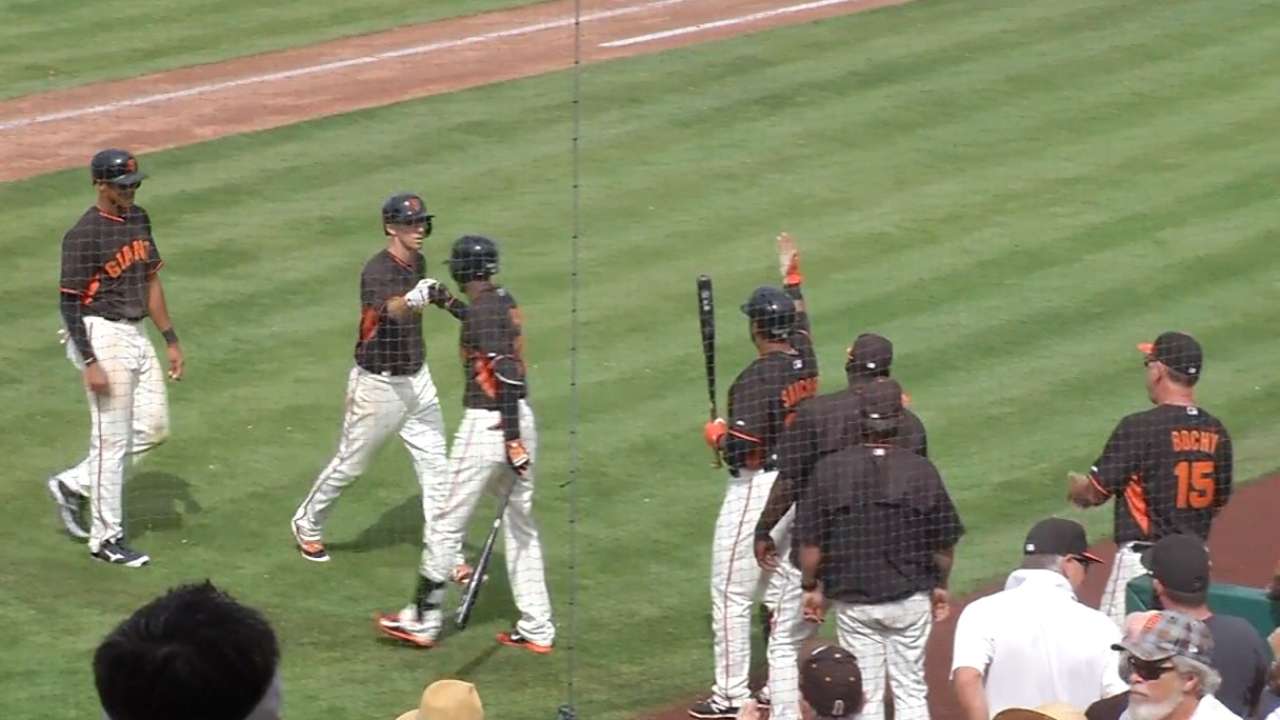 SAN FRANCISCO -- Infielder Matt Duffy is still waiting for the Giants to decide whether he'll be on the Opening Day roster, but he said he's "at peace" with whatever decision they make after his strong performance in Spring Training.
"I've done everything in my power," Duffy said Thursday before Game 1 of the Bay Bridge Series against the Oakland A's at AT&T Park. "I know it's not always an easy decision for them out of camp, so whatever happens, whatever it is, I can sleep at night knowing I've done everything I can to show them I can help them win games."
Duffy, ranked as the Giants' No. 8 prospect by MLB.com, hit a team-high .382 in the Cactus League and also led the Giants with 15 RBIs. He had three home runs, matching Joe Panik and Brandon Belt for the team lead.
"I don't know what else he could do," Giants manager Bruce Bochy said. "There's nothing else. This series won't matter as far what happens to Matt Duffy. What a terrific spring this kid's had. Wherever we've put him, he's done a good job, and as far as swinging the bat. He done what you're hoping all these guys do, young players, force the issue. He certainly has done that."
That was Duffy's No. 1 goal.
"My goal wasn't to put pressure on myself to make the team or do anything like that," Duffy said. "It was just to make the decision as hard as possible by playing my game the best way I can. So I was happy that I felt like I was able to do that."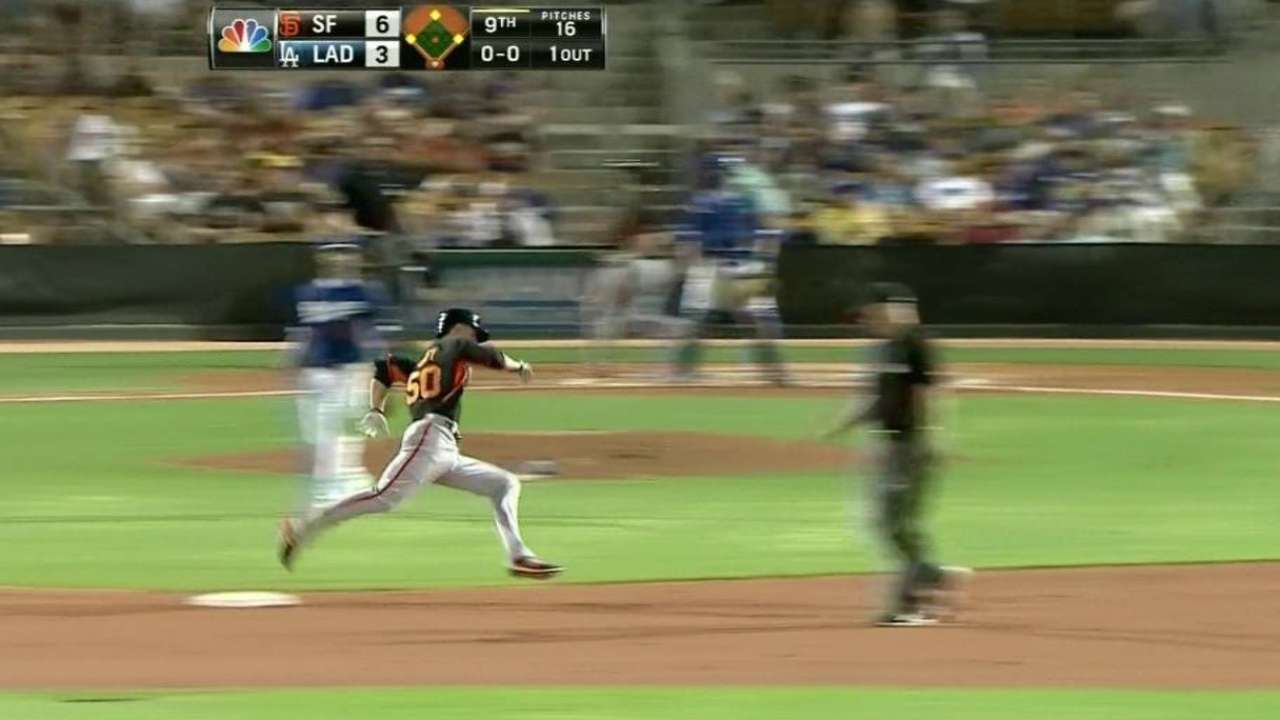 Duffy, Joaquin Arias and Ehire Adrianza are in contention to make the team as utility infielders, and only two of the three will likely be on the Opening Day roster. A third spot could open if Travis Ishikawa, who has a sore back, winds up on the disabled list.
"It's a possibility," Bochy said of Ishikawka going on the DL. "That's where I'll leave it right now."
Even if Ishikawa isn't on the Opening Day roster, the Giants might still only keep two of the three utility infielders, as Bochy is considering keeping 13 pitchers instead of 12. That would give him an extra arm in the bullpen early in the season, which begins with games in 14 straight days.
Bochy noted that some of his starting pitchers, including Matt Cain and Tim Hudson, had offseason surgeries that forced them to take it slowly during Spring Training.
"I think when you look at where we're at, it would give us a little more coverage if we go that way with the starters," Bochy said. "Some of them came in a little bit behind. ... But it has not been decided."
Duffy made the jump from Double-A to the major leagues last season, playing 34 games for the Giants, just two years after being drafted in the 18th round. He hit .267 with two doubles and eight RBIs but no home runs. Duffy said he reported to Spring Training this season heavier and stronger.
"I gained 13 pounds in the offseason which really seems like it helped," Duffy said. "The ball's coming off the bat a little bit better. The goal's keeping that weight on."
Eric Gilmore writes for MLB.com. This story was not subject to the approval of Major League Baseball or its clubs.