Shark looks to keep up spotless Opening Day record
White Sox righty eyeing third straight scoreless start in first game of season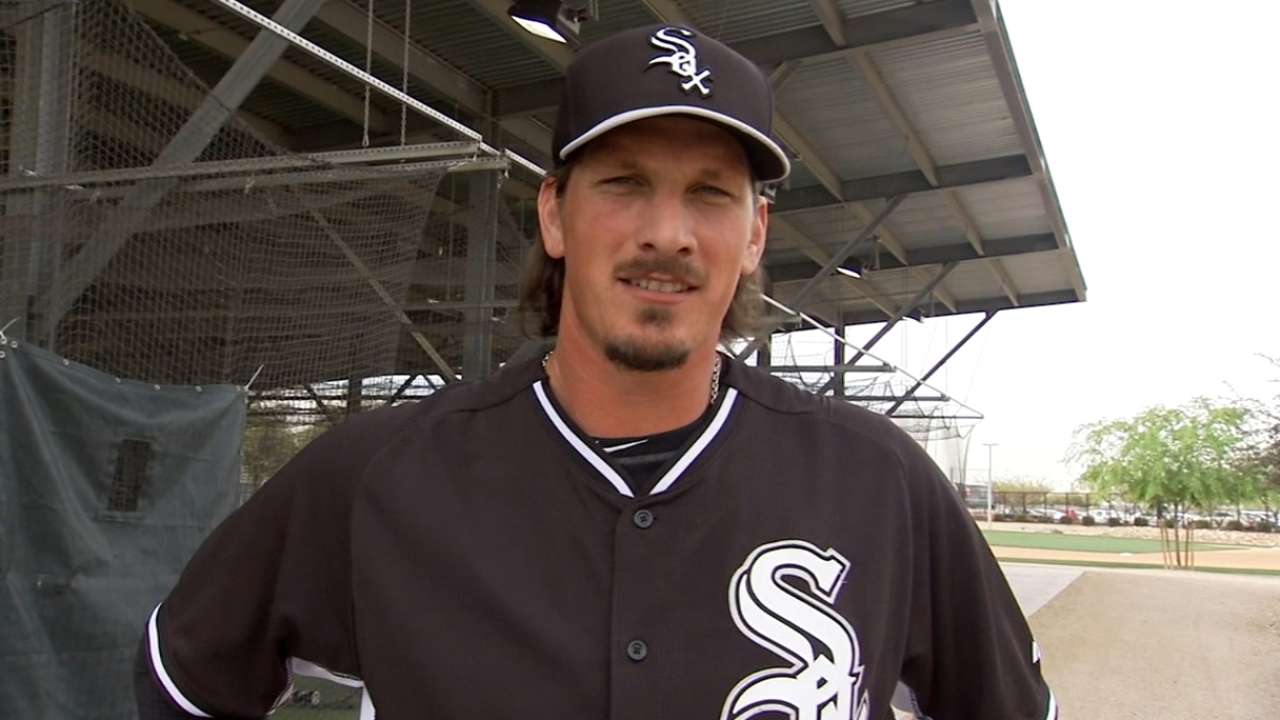 GLENDALE, Ariz. -- In the days leading up to Opening Day, MLB.com is examining various aspects of each team's roster. Today, the time has come to focus on the Opening Day starter. For the White Sox, that's right-hander Jeff Samardzija.
When right-hander Samardzija takes the mound for the White Sox on Monday at Kauffman Stadium, marking his third straight Opening Day start, he'll have to worry about snagging line drives with his glove, as opposed to avoiding hard hits as he goes over the middle to haul in a high pass.
Samardzija's exceptional football days at Notre Dame are long since finished, with 155 receptions, 2,266 yards and 27 touchdowns combined punctuating the '05 and '06 seasons. That gridiron spirit lives on through Samardzija's highly competitive nature, but it's a mentality that doesn't always provide what's necessary to succeed on the diamond.
"For the most part, I'm trying to fight it," Samardzija said. "In football, when you hit the crossroads of the game or the season, you can always just push more and play a little harder, run a little faster. In baseball, it's not the case. A lot of times, it's the opposite.
"You need to pull back and take a second and take a deep breath and collect yourself. So, there's times when it's late in the game and you need to dig down and find a little more in a tough situation and when runners are on.
"At times like that, it helps -- packed houses, playing in front of a lot of people," Samardzija said. "As a whole, as a pitcher, it's about being under control and being comfortable out there. A lot of times, that doesn't necessarily mean a lot of energy or a lot of adrenaline."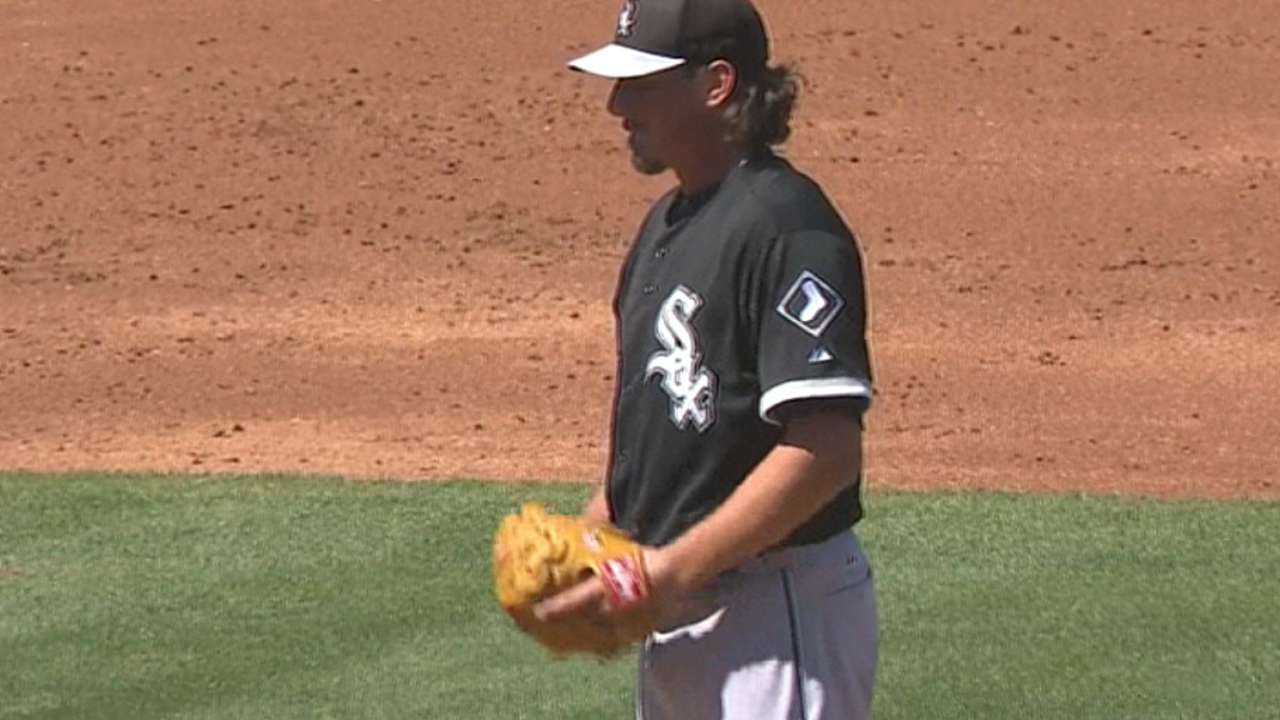 Games such as the opener against the Royals are why the White Sox acquired Samardzija from Oakland as part of a six-player deal executed at the Winter Meetings. The reigning American League champions will be feted for their 2014 accomplishments in front of a huge crowd, and it's up to Samardzija to spoil the party and start on the right note of what the White Sox hope is a 2015 playoff drive.
This Opening Day decision for manager Robin Ventura came down to Samardzija and Jose Quintana, with Chris Sale working his way back from an avulsion fracture in his right foot sustained at his Arizona home on February 27. Samardzija has the experience, having not allowed a run over 15 Opening Day innings hurled for the Cubs against the Pirates, while striking out 12.
Using Samardzija on Day 1 also allows him to come back on regular rest April 11, with Sale scheduled to return April 12. The right-hander joins Jaime Navarro (1996 Cubs, '97 and '98 White Sox) as the only pitchers to make Opening Day starts for both Chicago teams, and the White Sox hope this mound excursion is the first of many big moments for the 30-year-old, who they would like to lock up long term before he reaches free agency after this season.
Seven years have passed since Samardzija made his debut as part of the Cubs' bullpen. He has been one of the game's steadiest starters over the past two seasons, getting a taste of the American League for the first time when he was traded to Oakland in '14.
"He's up for any challenge that's like Opening Day," said Ventura of Samardzija. "He's enjoyable to tell something like that to, just because of his personality and the way he goes about it. You know he's looking forward to that. The other guys feel that, too. They feed off of it."
Scott Merkin is a reporter for MLB.com. Read his blog, Merk's Works, and follow him on Twitter @scottmerkin. This story was not subject to the approval of Major League Baseball or its clubs.