Twins hope to strike Rule 5 gold with Graham
Hard-throwing righty reliever earns first Major League job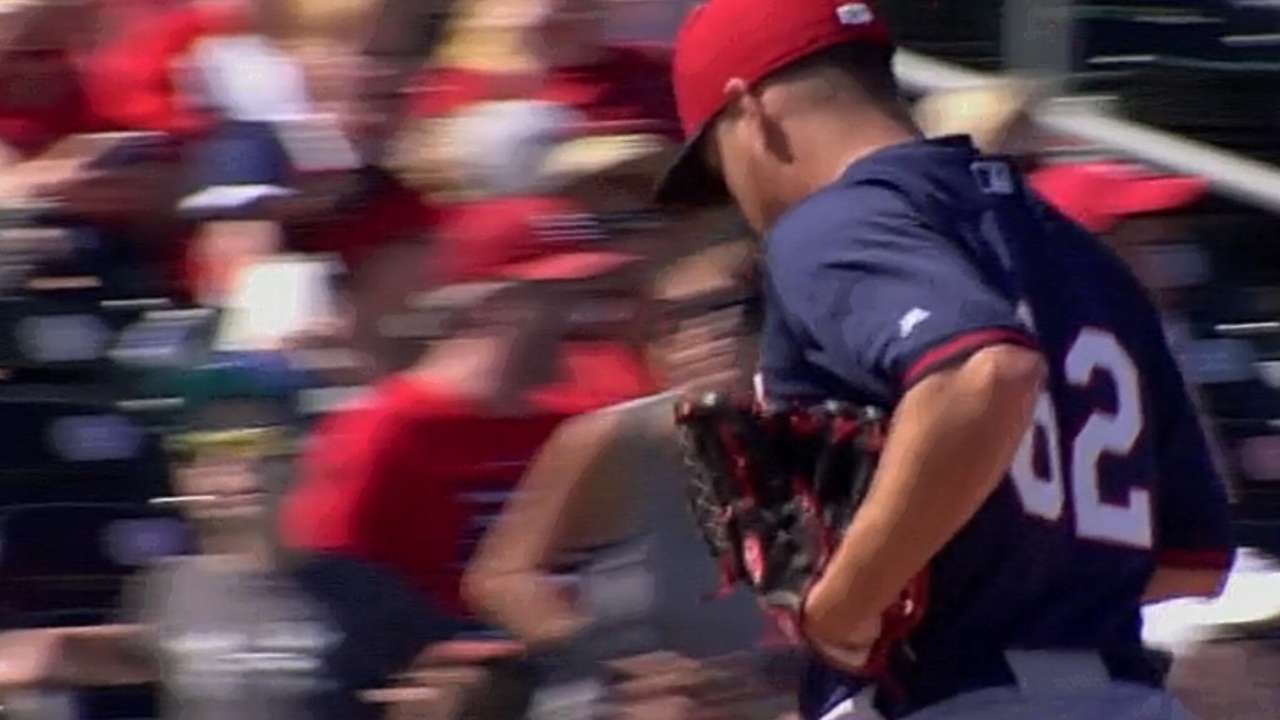 FORT MYERS, Fla. -- Sixteen years ago, the Twins and Marlins struck a pre-Draft agreement that they would swap Jared Camp for Johan Santana once they selected the pitchers with the first two picks of the Rule 5 Draft.
Santana, who had posted a 15-18 record and 5.05 ERA in the Astros' system over three unremarkable Minor League seasons, would proceed to win two Cy Young Awards, make three All-Star appearances and earn a Gold Glove for the Twins over the span of eight seasons.
To this day, Santana represents the most valuable Rule 5 Draft pitching prize claimed by a big league organization.
Why the trip down memory lane?
The 25-year-old reliever, who has a mid-90s fastball and entered Thursday with a 2.13 ERA in a career-high 12 2/3 innings this spring, has earned a spot on the Twins' Opening Day roster.
Graham's route to Target Field?
The Rule 5 Draft.
With their bullpen finishing at the bottom of the American League in hits allowed and strikeouts per nine innings last year and fireballing prospects Nick Burdi and Jake Reed working their way up the ladder, the Twins plucked Graham from the Braves' organization last December in hopes that he could be the type of power arm their relief corps needed.
So far, so good.
"Arm feels great. There's no complications, no shoulder issues. I was happy to see the numbers I put up, and just how I felt in general," said Graham, who believes he is completely recovered from the serious shoulder strain he suffered nearly two years ago at Double-A Mississippi.
"I feel like my old self again."
Graham is quick to point out that, in addition to a healthy shoulder, it was the treatment he received from the entire Twins' organization that contributed greatly to his earning his first Major League assignment.
"It's always awkward coming into a new organization," said Graham, ranked as the Twins' No. 17 prospect by MLB.com. "It's new rules, new faces but everyone has been tremendously nice here. The players, the coaches. They made me feel part of the team and I'd say that was a big help coming through camp.
"I felt very welcome, which I think helped me thrive in this situation. I'm just thankful for the Twins taking a chance on me. Hopefully I'll prove [general manager] Terry Ryan, and everybody who believed in me over here, to be right."
And what about learning that you had made it to the Majors from a first-ballot Hall of Famer?
"Yeah, that was pretty special," said Graham of the conversation with manager Paul Molitor this week that sealed the deal. "It's pretty cool to have a guy like that tell you you've made it.
"And be your manager."
While Graham has yet to learn what his exact role will be, he did have a message for Minnesota's first-year skipper before leaving his office.
"I told him, 'Whenever my name's called, I'll be ready.'"
Michael Kolligian is a contributor to MLB.com. This story was not subject to the approval of Major League Baseball or its clubs.