Opening Day nod another sign of Ventura's rise
Starting honor is first for Royals fireballer, who has 'grown up before our eyes'
In the days leading up to Opening Day, MLB.com is examining various aspects of each team's roster. Today, the time has come to focus on the Opening Day starter. For the Royals, that's right-hander Yordano Ventura.
HOUSTON -- One morning inside the Royals' clubhouse this spring, players lounged around as they usually do, some solving crossword puzzles, others munching on breakfast while occasionally gazing at the large television screen and MLB Network.
Suddenly, MLB Network cut to highlights of Pedro Martinez's illustrious career.
Virtually every Royals pitcher stopped what they were doing to watch, none more intently than rising star Yordano Ventura, who grew up idolizing Martinez and was often called "Lil' Pedro."
"In my country," Ventura said, looking at highlights, "no one had more impact than Pedro."
Nothing pleases Ventura more than comparisons to Martinez. And those comparisons are likely to continue, especially after Ventura's amazing rookie season (14-10, 3.20 ERA), highlighted by his seven shutout innings of the Giants in a do-or-die Game 6 of the World Series.
Ventura, 23, will take another step toward building those comparisons on Monday when he pitches his first Opening Day, an honor Martinez was awarded seven consecutive years with the Red Sox.
"It is something I worked hard for," Ventura said of his Opening Day assignment. "It is a great honor ...
"I thank Kansas City and Ned Yost for giving me the opportunity."
There is little question that Ventura has worked hard this spring. He joked a few weeks ago that he had changed his work ethic just to avoid "getting yelled at" by his older teammates.
"They keep me in line," Ventura said, almost giggling.
But don't be fooled by Ventura's playful and child-like persona. His teammates, new and old, have noticed his maturity level rise. And with that maturity has come even more fearlessness on the mound.
"He's not afraid of anything," teammate Danny Duffy said. "He will challenge anyone.
"And he has this awareness that is incredible. Dude has just grown up before our eyes."
Newcomer Edinson Volquez, who lockers next to Ventura, sees maturity well beyond Ventura's years.
"He knows how to handle his emotions," said Volquez, 31, whom Ventura calls "Old Eddie." "When I was that age, I didn't. I'd make a bad pitch or if something bad happened, I would stomp around and be upset. Not him.
"Everyone used to tell me at his age, 'Control your emotions. Control your emotions.' He's figured that out already."
Ventura wasn't always under control. As he rose through the Royals' system, he averaged more than three walks per nine innings, mostly due to, he said, to losing his cool emotionally.
Ventura also wasn't sure how to harness his great arm.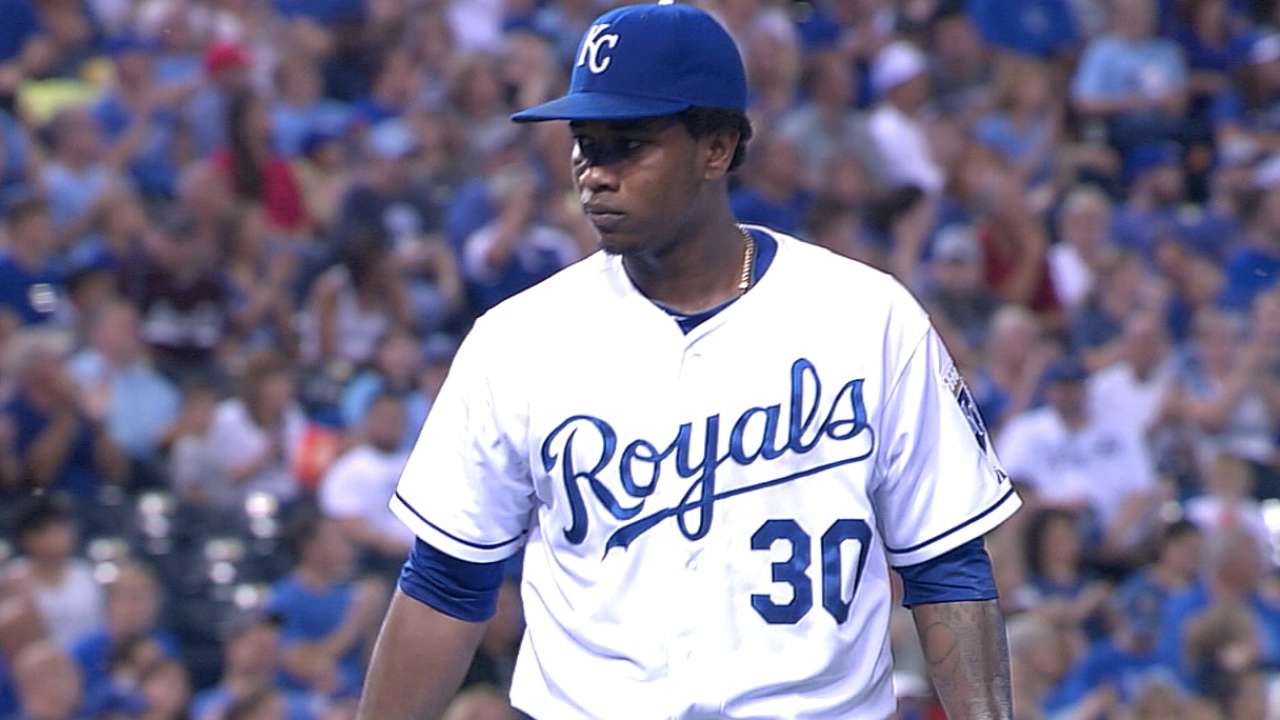 General manager Dayton Moore first saw Ventura pitch at Class A Kane County four years ago.
"You could just see him trying to figure out how to control this great weapon he had -- his arm," Moore said. "It took time, which is natural. But he has."
Yost said he has seen this transition in all talented young pitchers.
"As they come up through the system," Yost said, "they all try to show you what great stuff they have, and they wind up throwing too many pitches and they get frustrated and then they groove one and, bam, home run.
"But Yordano finally figured out that, yeah, he had great stuff, but you have to control it to your benefit. Throw strikes."
Ventura admits he learned a lot from former Royals ace James Shields, who often preached that it was OK to be emotional as long as you channeled that emotion toward something positive.
"I think that advice helped both [Ventura and me]," Duffy said.
Ventura admits he will miss Shields, now with the Padres, but likes the fact that veteran Jeremy Guthrie is still around to help guide him, along with Volquez.
"Jeremy has been a big help," Ventura said. "He knows pitching. He has been around. Same thing with Eddie.
"And someday maybe I can be that guy to help younger guys. I'd like that."
Jeffrey Flanagan is a reporter for MLB.com. Follow him on Twitter at @FlannyMLB. This story was not subject to the approval of Major League Baseball or its clubs.