Tomas hoping spring work secures roster spot
Offseason prize 'ready where needed' amid uncertainty on fielding position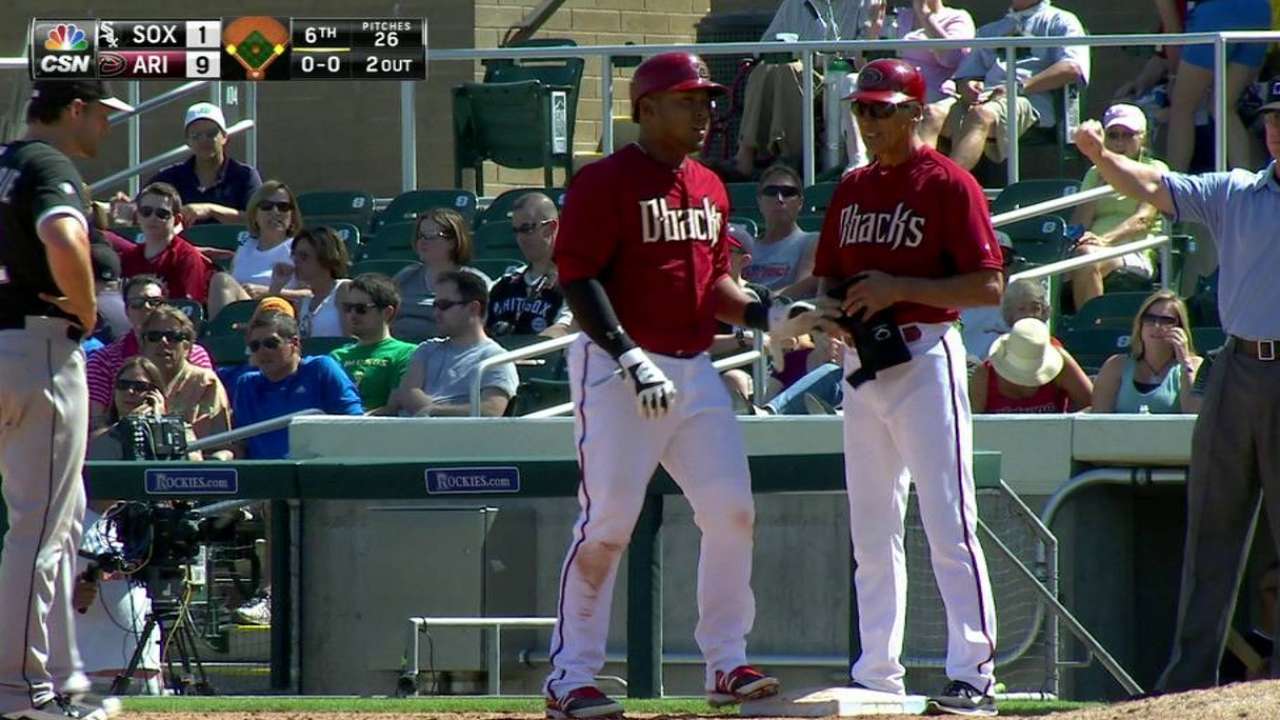 SCOTTSDALE, Ariz. -- Yasmany Tomas stepped into the batter's box Thursday against the White Sox at Salt River Fields not knowing if he was going to break camp with the big league team or start the season in the Minor Leagues.
He started the game at third base, but uncertainty remains on whether he'll play that position, first base or in the outfield when the season begins.
"I feel like I've spent six weeks improving and learning, and I am ready where they need me," said Tomas, who signed a six-year, $68.5 million deal this offseason. "I've been working hard since I arrived here, and I feel like I've incorporated what they have wanted me to learn. I knew it was going to be hard, and it's still hard, but I think I'm playing to their expectations."
Tomas' situation is one of several decisions the D-backs have to make before submitting their final roster Sunday.
"There's still time and things going on, guys out there and possible moves that can be made, waiver wire," D-backs manager Chip Hale said. "Before we completely lock in, we want to make sure it's the group we will have."
Here's what we know: Mark Trumbo will play every day in right field and A.J. Pollock will start in center field with Ender Inciarte also seeing action at all three outfield positions. David Peralta will start in left field against tough right-handers, and Cody Ross will play against left-handers while also serving as a pinch-hitter.
Where does that leave Tomas?
"It comes down to whether I feel like, as a manager, if I can give him enough at-bats [in the Majors]," Hale said. "If we keep him on the roster, he has to get enough at-bats -- first of all, he needs to help us win games, first and foremost -- but also the development needs to keep going. So if we don't feel like we can give him enough at-bats here, he has to go to the Minor Leagues and get those at-bats."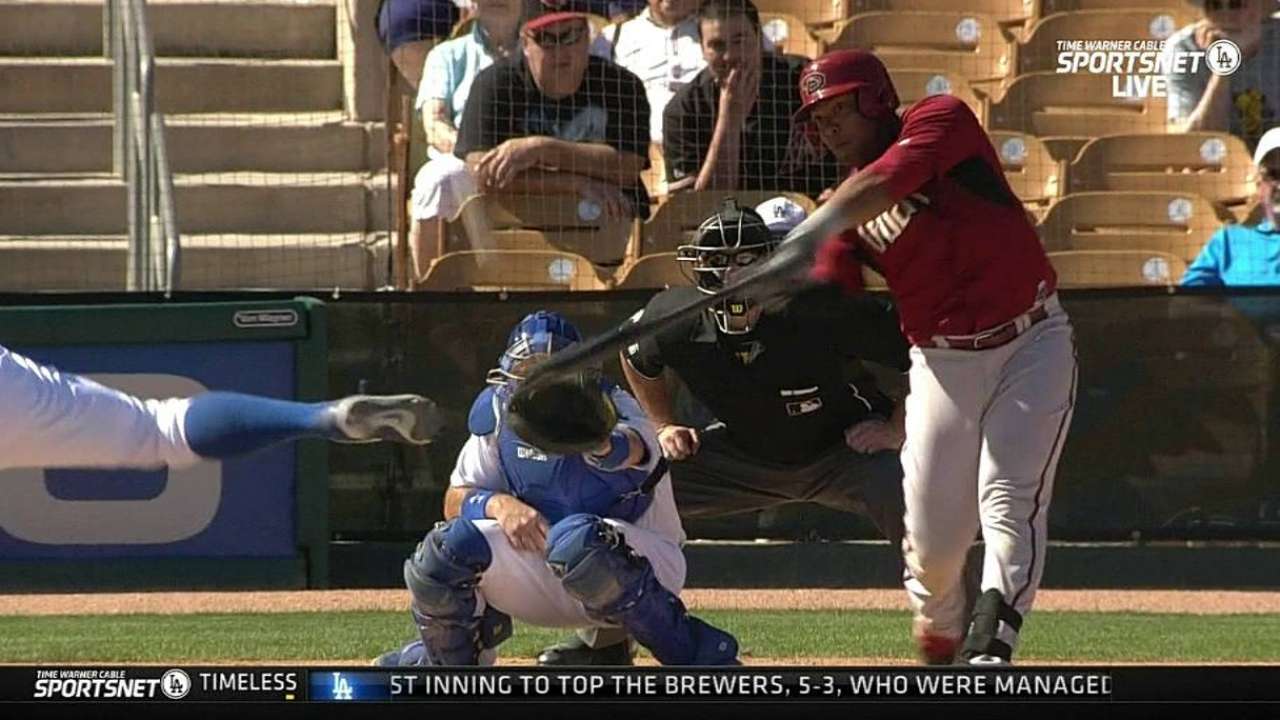 Tomas had 66 at-bats through 22 Cactus League games and estimates he's had another 25 at-bats in Minor League games or in the back fields. A natural outfielder, Tomas has been working out at third base since arriving in January.
"People have been very critical of him. Media, mostly national media," Hale said. "Do I think he's a top-of-the-line third baseman? Probably not. Now you have to weigh the offense versus the defense and what you want. I think he has done a great job for the time he's been here. He would get better at third if we leave him there. I also know he can play the outfield, and he's played a little first base for us. He has the ability to play a lot of positions that I don't think people thought he could do."
The D-backs are believed to have a starting rotation made up of Josh Collmenter, Jeremy Hellickson, Rubby De La Rosa, Trevor Cahill and Chase Anderson, but Hale said pitching prospect Archie Bradley could crack the starting rotation. Bradley could also pitch in the big leagues as a reliever, or he could start the season in the Minors. With the Braves targeting Cahill, a rotation spot could also be opened via trade.
"Let's leave it at this: He's pitched well enough to earn a spot on our rotation," Hale said of Bradley. "We'll revisit it if we make a change and give further insights into what I think."
The club still also has to decide on a starter at second base between Aaron Hill and Chris Owings. The team still has to name a starter at shortstop -- Owings or Nick Ahmed -- and at third base, between Tomas and Jake Lamb.
Additionally, the team has not named a backup catcher behind starter Tuffy Gosewisch.
"It's ideal for us," Hale said. "It means guys are making us think. We are in a situation where we knew coming into Spring Training that we didn't have nine guys or eight position players locked in. We knew we were going to have a lot of battles."
Jesse Sanchez is a national reporter for MLB.com. Follow him on Twitter @JesseSanchezMLB. This story was not subject to the approval of Major League Baseball or its clubs.