Mechanically sound, Garza encouraged by return of slider
Right-hander strikes out six batters over three frames in final spring outing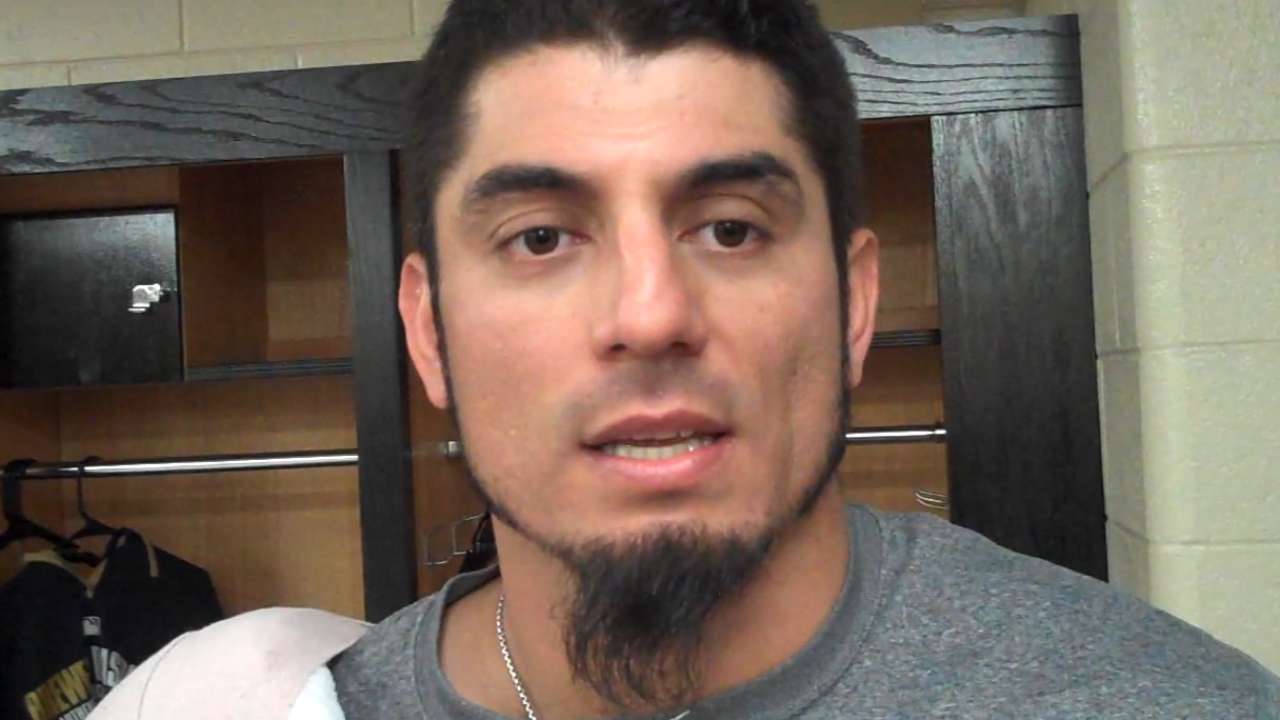 PEORIA, Ariz. -- Matt Garza threw his final Spring Training pitches on Thursday and deemed his two months in the desert a big success. Besides simplifying his mechanics in an effort to avoid the disabled list, he rediscovered an important part of his pitching arsenal.
Garza's slider is back.
"That was the best mechanically I've felt," he said after striking out six batters in three innings against the Padres. "I'm getting stuff back that I've lost, and that felt good. Punching out people again, that's my style.
"Losing that last year, it taught me how to pitch. When I didn't have my slider -- I was a fastball/slider guy -- now I had to learn how to pitch. I have a curveball, I developed a changeup. Yeah, it was a terrible year without strikeouts, but I was able to get through it and make pitches and get out of stuff. I still don't forget that, and now I have my slider. It's like, 'Yay, new toy!' I feel confident with my stuff right now, and I want to keep it going."
Garza had a 3.64 ERA last season in 27 starts, but his strikeout rate fell to 6.9 per nine innings, down from 7.9 per nine innings for the Cubs and Rangers the year before. For his career, Garza has whiffed 7.5 batters per nine innings.
He threw his slider 21.7 percent of the time, his lowest percentage since 2010.
"My slider was a 'show pitch.' Now it's an active pitch, and I'm going to throw it in meaningful at-bats and crunch time," Garza said. "That's my go-to, punch-out pitch."
His next start is scheduled for Tuesday against the Rockies at Miller Park. After posting a 6.95 ERA in the Cactus League, Garza is eager for more meaningful innings.
"I honestly think we're tired of just being here," he said. "We're ready to go out and start playing games that mean something. I understand getting your work in, but seven, eight weeks is a little redundant. When you start packing up, your mind is already on Milwaukee."
Adam McCalvy is a reporter for MLB.com. Follow him on Twitter at @AdamMcCalvy. This story was not subject to the approval of Major League Baseball or its clubs.