MLB.TV is back with 14 games on Opening Day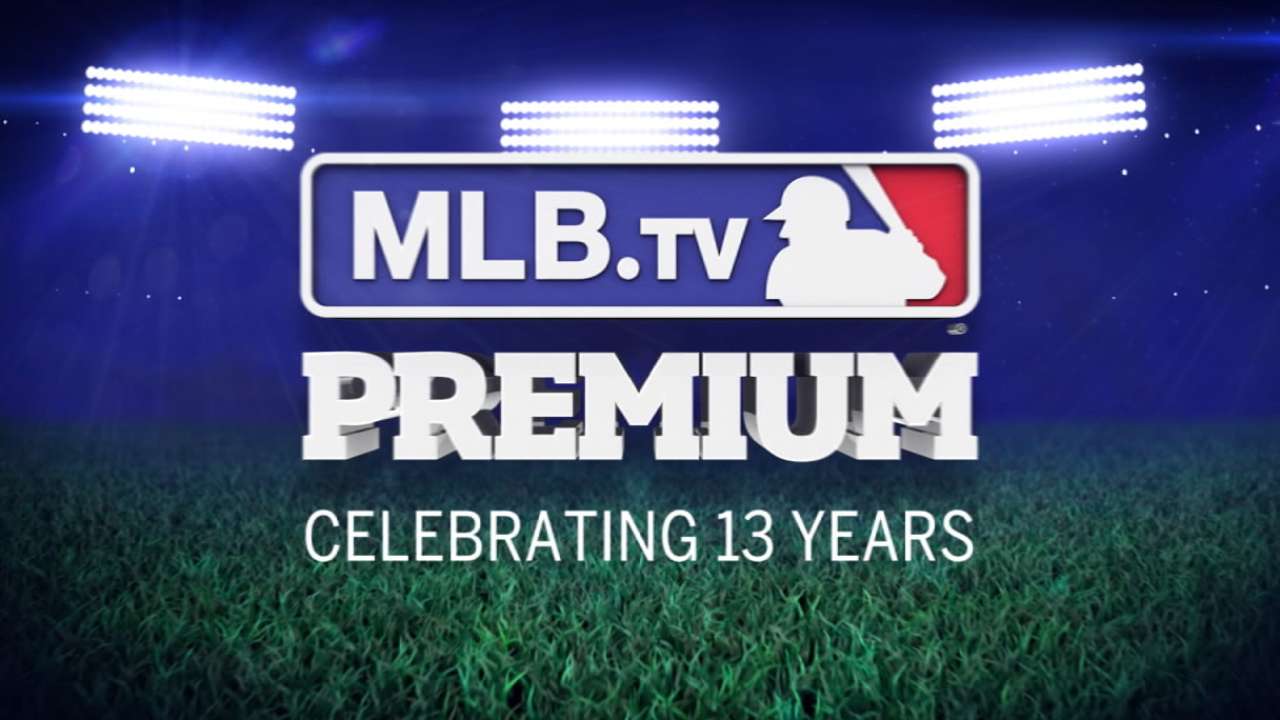 It's time for MLB.TV.
The Internet's first OTT product returns on Opening Day for its 13th season of streaming all live out-of-market Major League Baseball games, starting with 14 openers on Monday. MLB.TV has expanded its offerings this season with new interactive features and connected devices, while maintaining the same 2014 pricing of $129.99 yearly and $24.99 monthly for MLB.TV Premium and $109.99/$19.99, respectively, for basic MLB.TV.
"It's a savior," said former All-Star right-hander Carl Pavano, now a busy father of three who uses his MLB.TV Premium subscription on an iPhone 6, an iPad and Apple TV in South Florida to prepare in his role as a Marlins pre- and postgame analyst on Fox Sports South. "This really frees up more time. If you want to be active, go to a park in our neighborhood, T-ball games, you try not to take your attention from those, but in my line of work and with my history in baseball, it's important to me. It's nice having that connection wherever you go."
Monday is especially made for MLB.TV. All 14 games are awash in Opening Day pageantry, and as a baseball fan it is fun to toggle from park to park to see what's happening. There are likely to be at least nine overlapping games at one point, a fan smorgasbord. You've got 28 Opening Day starters -- including Madison Bumgarner, who threw the last pitch of the 2014 season -- so aces everywhere. It's a chance to see all those new players in new places, doing it for real this time. The stats and standings finally matter again.
Pavano was an Opening Day starter for the Twins in 2011-12, so he isn't that far-removed from the pomp and circumstance. Now he relies on this technology to track and analyze the Opening Day starters of 2015.
"For me in broadcasting, I can be at dinner with my family and get scores," Pavano said. "I watch the game on my TV via Apple TV, and at the gym I'm watching it on my iPad. Things like that are saviors for me. It kind of puts the game right in your lap. After being involved in the game as I was for so long, it's a unique aspect. The world is so tech-savvy now, we all know down the line if you could wish for five things, I'm sure money would be on that list, but so would be more time. This really frees up more time, even to sneak in a couple innings."
MLB.TV Premium subscribers also will be able to live stream every game of the World Series and the 86th All-Star Game, scheduled to be played Tuesday, July 14 at Great American Ball Park, via MLB.TV through FOX's participating video providers. Access will be available across all supported MLB.TV platforms, including through the MLB.com At Bat app.
"You just download the app, put in your username -- I don't think there's anything easier than doing that," Pavano said. "Then it is accessible everywhere."
Mark Newman is enterprise editor of MLB.com. Read and join other baseball fans on his MLB.com community blog. This story was not subject to the approval of Major League Baseball or its clubs.