New Brave McKirahan hits the ground running
Hours after joining club on Thursday, lefty reliever strikes out pair in perfect debut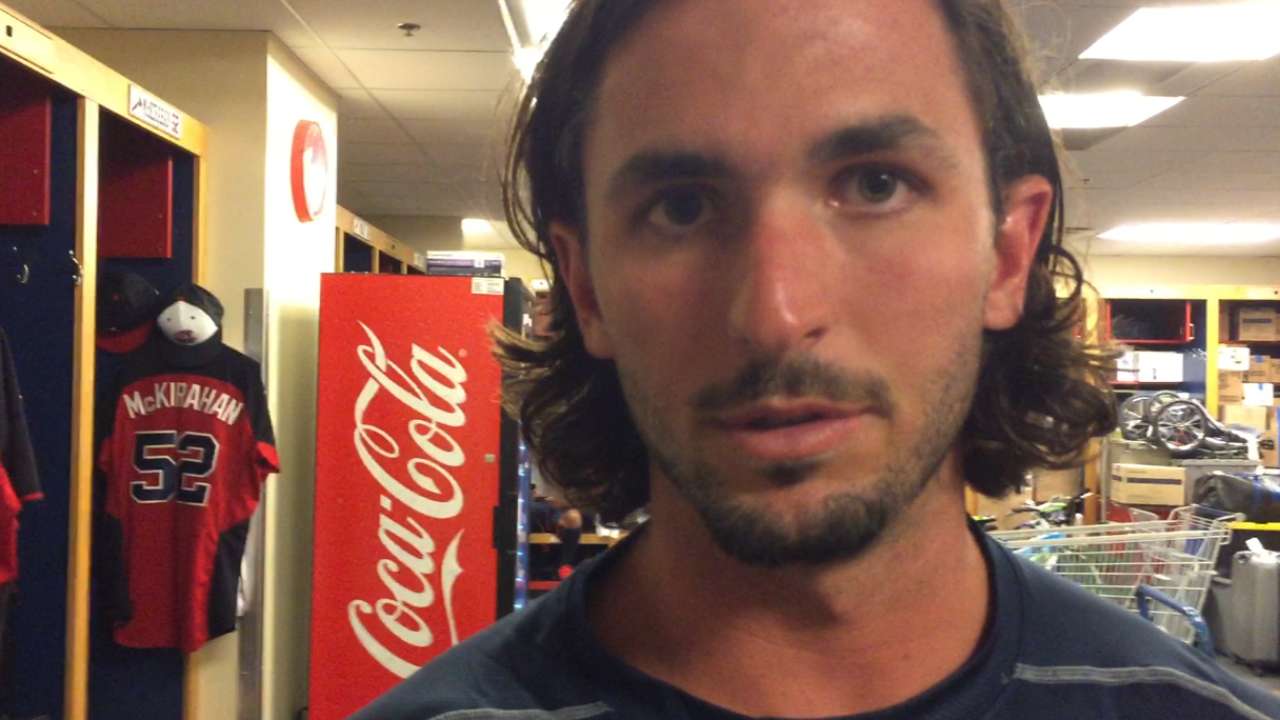 LAKE BUENA VISTA, Fla. -- Andrew McKirahan came to Spring Training knowing he would likely begin the upcoming season at the Major League level or back in the Cubs' Minor League system. But the left-handed reliever certainly did not anticipate becoming a member of Atlanta's bullpen.
Still, McKirahan is looking forward to the opportunity he gained on Wednesday, when the Braves claimed him off waivers from the Marlins. The 25-year-old left-hander arrived in Atlanta's camp on Thursday, and a few hours later, he recorded two strikeouts during a perfect ninth inning in a 6-5 win over the Orioles.
"It was a pretty quick turnaround," McKirahan said. "It's pretty crazy, to be honest. I'm ready to get going."
Because the Marlins selected McKirahan out of the Cubs' system during December's Rule 5 Draft, the Braves are required to either carry the left-handed reliever on their Major League roster for the entirety of the upcoming season or offer him back to the Cubs' organization.
With this in mind, it appears McKirahan and Luis Avilan will begin this season as the left-handers in Atlanta's bullpen. Closer Craig Kimbrel and veteran setup men Jim Johnson and Jason Grilli have locked up three other bullpen spots, and it appears Juan Jaime has significantly enhanced his bid for a 'pen spot this past week.
If these six aforementioned relievers begin the season in Atlanta's bullpen, the final spot will likely be filled by either Cody Martin, Chien-Ming Wang, Mike Foltynewicz or Eric Stults. Foltynewicz, Stults and Wandy Rodriguez are battling for the final two rotation spots. Rodriguez is the only member of this trio who is not viewed as a viable candidate to be used as a reliever.
Josh Outman, who was signed in January to serve as Atlanta's left-handed specialist, struggled throughout this past month and will likely begin the upcoming season on the disabled list. Tests performed on Outman's shoulder region earlier this week proved inconclusive. He said he will now likely visit a vascular specialist in St. Louis.
McKirahan will be making a big leap to the Major League level. His only experience above the Class A Advanced level was gathered with Double-A Tennessee last year, when he posted a 3.45 ERA in 21 appearances.
If McKirahan is going to fill the role originally reserved for Outman, he will have to alter the reverse splits he produced last year, when left-handed batters hit .301 with a .370 on-base percentage against him. Right-handed hitters were limited to a .203 average and a .236 OBP.
With the help of a two-seam fastball that he developed this past winter, McKirahan retired nine of the 12 left-handed batters he faced for the Marlins during Grapefruit League play this spring.
"I try to bring a lot of energy," McKirahan said. "I might not show a lot of emotion. But inside I'm kind of raging. I'm going to give it all I've got and respect the game and respect Atlanta fans and have a lot of fun."
Mark Bowman is a reporter for MLB.com. This story was not subject to the approval of Major League Baseball or its clubs.