Red Sox expecting 12-month recovery for Vazquez
Catcher has Tommy John surgery Thursday; Hanigan to start, Leon to back up
FORT MYERS, Fla. -- The Red Sox expect catcher Christian Vazquez to take about 12 months to return from the Tommy John surgery he underwent Thursday, preferring to go with the time frame it usually takes a pitcher to come back rather than a position player.
"I think we would side toward the pitcher's time frame on this, due to the amount of throwing that he does and how important his arm is to him and his position," said Red Sox manager John Farrell. "We would take him through a rehab protocol consistent to a pitcher."
Position players can sometimes return from the surgery in nine months, but the Red Sox want to take a conservative approach with Vazquez.
Vazquez's biggest strength as a player is his cannon arm, another reason the Red Sox will take their time to allow him to get back to full strength.
"This is a major interruption to his development at the Major League level," said Farrell. "But given the success rate to the procedure, we're fully expecting a complete recovery and for him to get back on track for a very promising career for an extremely talented catcher."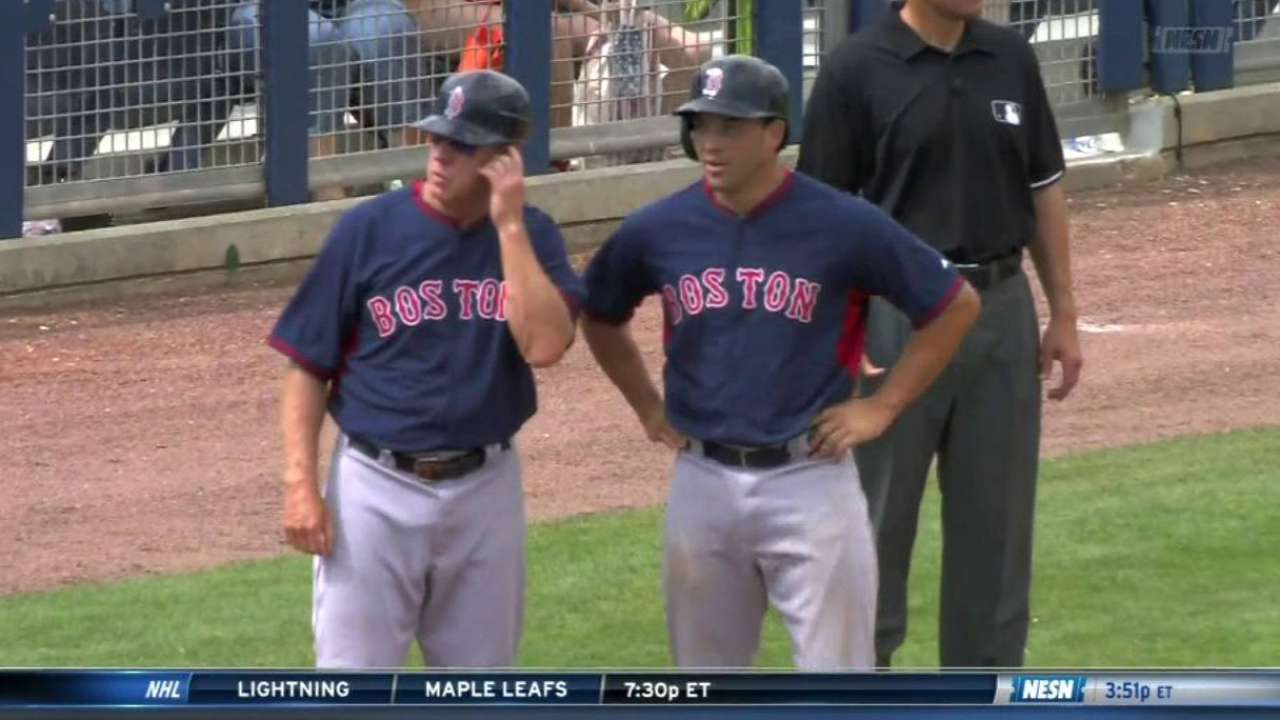 Ryan Hanigan will be the starting catcher, and the recently acquired Sandy Leon will be the backup. Blake Swihart, the top-ranked catching prospect in the Majors by MLB.com, will open the season at Triple-A Pawtucket. Veteran Major League catcher Humberto Quintero will also be at Pawtucket.
"We still feel good about the guys who are here. Ryan Hanigan is going to be our lead catcher, but we also obviously needed to build depth at the position to provide for the development time for Blake while at Pawtucket," said Farrell. "Sandy is on a little bit of a steep learning curve with our pitchers here. We would feel completely comfortable if the need were to arise that Humberto was to come back to us. We've been able to respond to the injury to Christian."
There was no temptation within the organization to rush Swihart's development. He has only played 18 games at Triple-A.
"Blake is a great athlete who hadn't done a ton of catching prior to signing as a professional," said Red Sox general manager Ben Cherington. "So he's still fine tuning some of the stuff he does behind the plate, becoming more consistent, and he knows that. But we expect that to continue to go in the right direction."
Ian Browne is a reporter for MLB.com. Read his blog, Brownie Points, and follow him on Twitter @IanMBrowne. This story was not subject to the approval of Major League Baseball or its clubs.