Brantley family has a moment to remember
All-Star Michael gave the ball to cousin Justin as he came in from the bullpen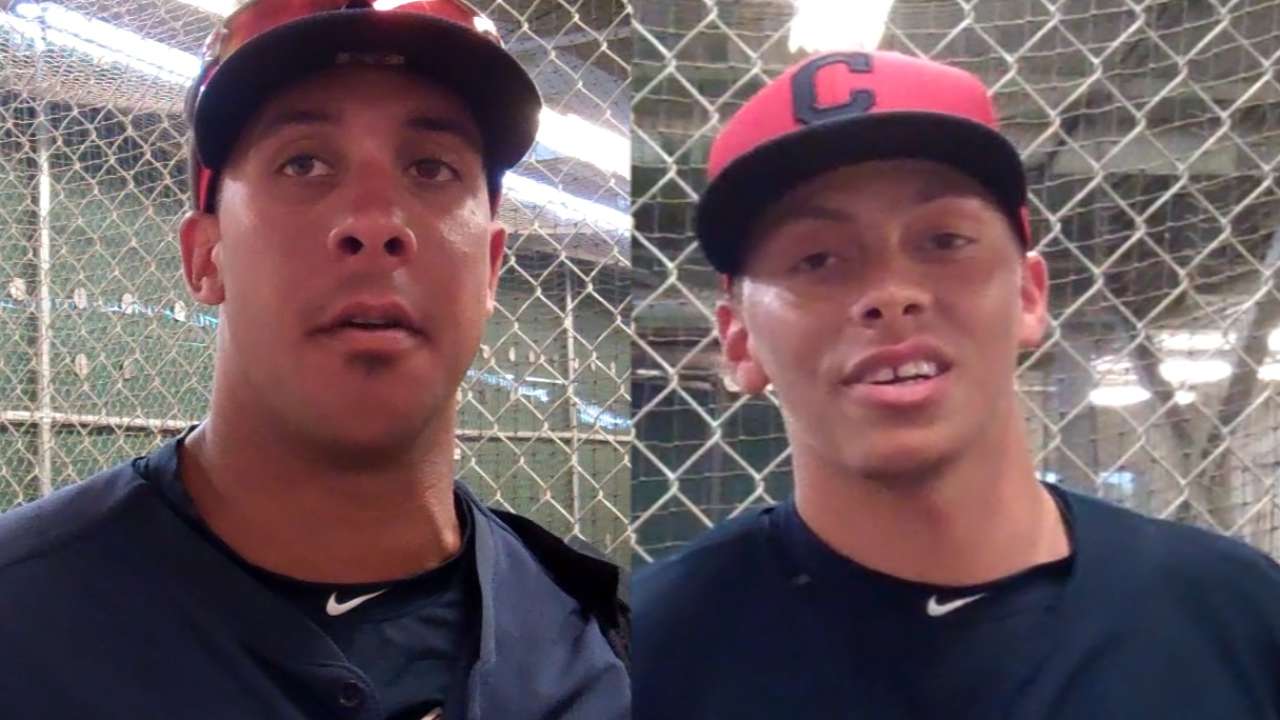 GOODYEAR, Ariz. -- Justin Brantley jogged in from the bullpen on Thursday afternoon, preparing for his first taste of the big leagues with the Indians.
When the Minor League pitcher reached the infield, he looked up and saw his cousin, All-Star Michael Brantley, waiting for him on the mound.
"I started laughing," Justin Brantley said. "I hope someone got a picture of it. It was definitely a moment I'll never forget."
Indians manager Terry Francona was behind the unique mound visit in the seventh inning of Cleveland's 4-3 victory over the Reds at Goodyear Ballpark. During the game, knowing Justin was going to pitch for the Tribe, Francona broached the idea with his starting left fielder.
Michael Brantley balked at first.
"That was all Tito," Brantley said with a laugh. "He said, 'I've got a great idea, Junior.' I was like, 'What?' And he was like, 'You go do it.' I was like, 'Me? No.'
"I didn't want to do it, but it's a dream come true to just be able to be out there with your cousin, a family member, a guy that works so hard. It gives me chills just thinking about it."
The 24-year-old Justin enjoyed a solid first professional season in 2014, spinning a 1.31 ERA with 47 strikeouts in 41 1/3 innings for Class A Lake County.
During the year, he watched from afar as his older cousin Michael developed into an All-Star for the Indians. Michael turned in one of the best all-around seasons in team history and ending up as the third-highest vote-getter for the American League Most Valuable Player Award.
In the top of the seventh, while Justin prepped for his outing, Michael launched a two-run homer for the Indians.
"It's amazing, absolutely amazing," Justin said of his cousin's growing stardom. " I grew up obviously following him when he was in Milwaukee, and then obviously got traded here. And then I signed over here. ... He's helped me every step of the way."
Francona got a kick out of watching it all unfold.
"On an otherwise boring day for Brantley," Francona said, "it maybe ended up being a special day for both of them."
Jordan Bastian is a reporter for MLB.com. Read his blog, Major League Bastian, and follow him on Twitter @MLBastian. This story was not subject to the approval of Major League Baseball or its clubs.