Markakis reflects on time with Orioles, holds no grudge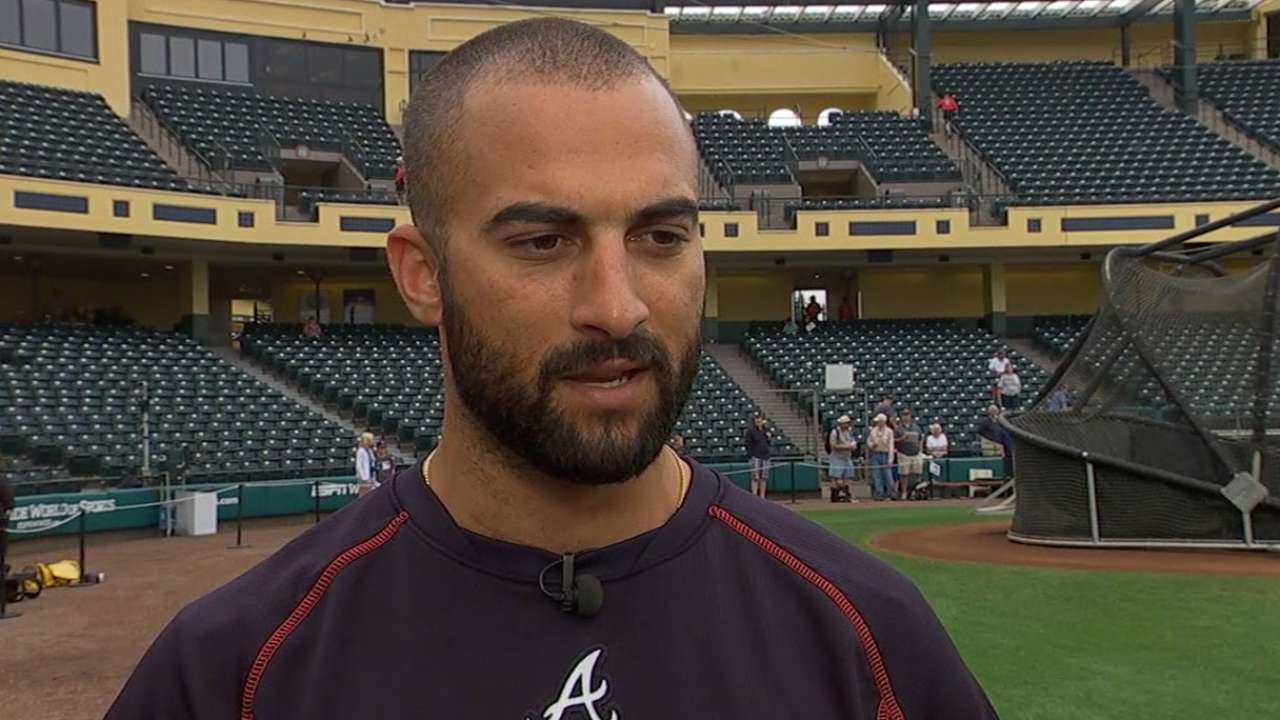 LAKE BUENA VISTA, Fla. -- Nick Markakis stood in front of his locker and talked about the memories he had with Baltimore and how he plans to build another home in nearby Monkton, Md. -- which he and his family will continue to call home -- and it was almost as if nothing had changed.
A closer look would reveal the uniform hanging up behind the bearded Markakis, No. 22, decked out in Atlanta Braves colors. The number switch has been tougher to adapt to than the Braves' relaxed facial hair policy, though Markakis said prior to Thursday's Grapefruit League game against the Orioles that he's taking the changes in stride.
That wasn't always the case.
"I'm OK with what I said and everything," Markakis said, referencing the USA Today article earlier this spring in which he said, "Don't believe a word they say," regarding Baltimore's public stance of how negotiations with his camp dissolved this winter.
"It's just one of those things [a reporter] caught me in a bad spot at the wrong time," said Markakis. "The thing that frustrated me was, if you're going to ask a question, put the question in the paper that you're going to ask, not just the answer. I cleared it up. Everything's good now and it's behind me. Sometimes, your emotions get the best of you, and I think it showed a little bit there. But it's done with. I talked to the guys over there [with the Orioles], and it's behind me now."
Markakis, who had offseason neck surgery, made his Grapefruit League debut on March 23, and said he's 95 percent sure he'll be ready for Opening Day.
"You always miss him, the human being as much as the player, and that's saying a lot, because he's a good player," Orioles manager Buck Showalter said of Markakis, who had played his entire career with Baltimore until he signed a four-year, $44 million deal with Atlanta this winter. "He got a great contract in a great place that really fits for him, and so I'm happy for him and his family."
Markakis, who still keeps in contact with some former teammates, said he doesn't have any second thoughts about the decision to sign with Atlanta or any animosity over what happened with the team that drafted him.
"It's business. Sometimes you've got to learn the hard way, and I did," he said. "I have no animosity toward anybody. It was frustrating at the time. You poke a balloon long enough with a needle, it's going to pop, right? I just felt like I kept getting poked and you hear one thing and the other thing and nobody knows the true story, so there's no point in even talking about it."
Brittany Ghiroli is a reporter for MLB.com. Read her blog, Britt's Bird Watch, and follow her on Facebook and Twitter @britt_ghiroli. This story was not subject to the approval of Major League Baseball or its clubs.