King's throne: Felix happy to be home on Opening Day
PEORIA, Ariz. -- When you've made more Opening Day starts than any pitcher your age in Major League history, these things could tend to run together. But not for Felix Hernandez.
The King will step on the mound for his eighth Opening Day start Monday afternoon against the Angels, but this one is a little different. It's at home, in front of his K-chanting, card-waving, Felix-adoring fans.
"Finally, huh?" Hernandez said. "It's been a while."
Indeed, the Mariners ace was a 21-year-old kid the last time he opened at home in 2007, the first Opening Day start of his career. The following year, Erik Bedard got the Opening Day nod from manager John McLaren. Since then, Hernandez has kicked off Seattle's season six straight times, but always on the road.
So, yeah, this one carries even more cache than normal. The King loves to pitch anywhere, any time. But having his own court in session in a sold-out Safeco Field to open the season is enough to send shivers down his spine.
"I can't wait to see that," he said. "Oh man, that's going to be unbelievable. That's going to be crazy."
The last time Hernandez was seen at Safeco, he was doffing his cap on the way off the mound after being taken out of the regular-season finale in the sixth inning of a dominant outing against the Angels. But even while Hernandez was improving to 15-6 and lowering his ERA to an American League-leading 2.14 to culminate what he called his best season yet, the Mariners had been eliminated from Wild Card contention midgame when the A's clinched the final spot with a victory in Texas.
Hernandez hasn't forgotten his farewell, calling that "a great moment" and noting "you have to tip your cap to our fans. They're great."
But Hernandez aches for a different ending this year. He's won an AL Cy Young, thrown a perfect game, earned five All-Star berths. When he starts Monday's game at 1:10 p.m. PT, he'll become the first pitcher since 1900 to make eight Opening Day starts before turning 29.
With CC Sabathia and Justin Verlander not pitching on Opening Day this year, Hernandez will also have the longest streak of season-opening starts of any active hurler. He's gone 5-0 with a 1.52 ERA in those lid lifters. And yeah, he remembers the first -- and last -- one at Safeco Field in '07.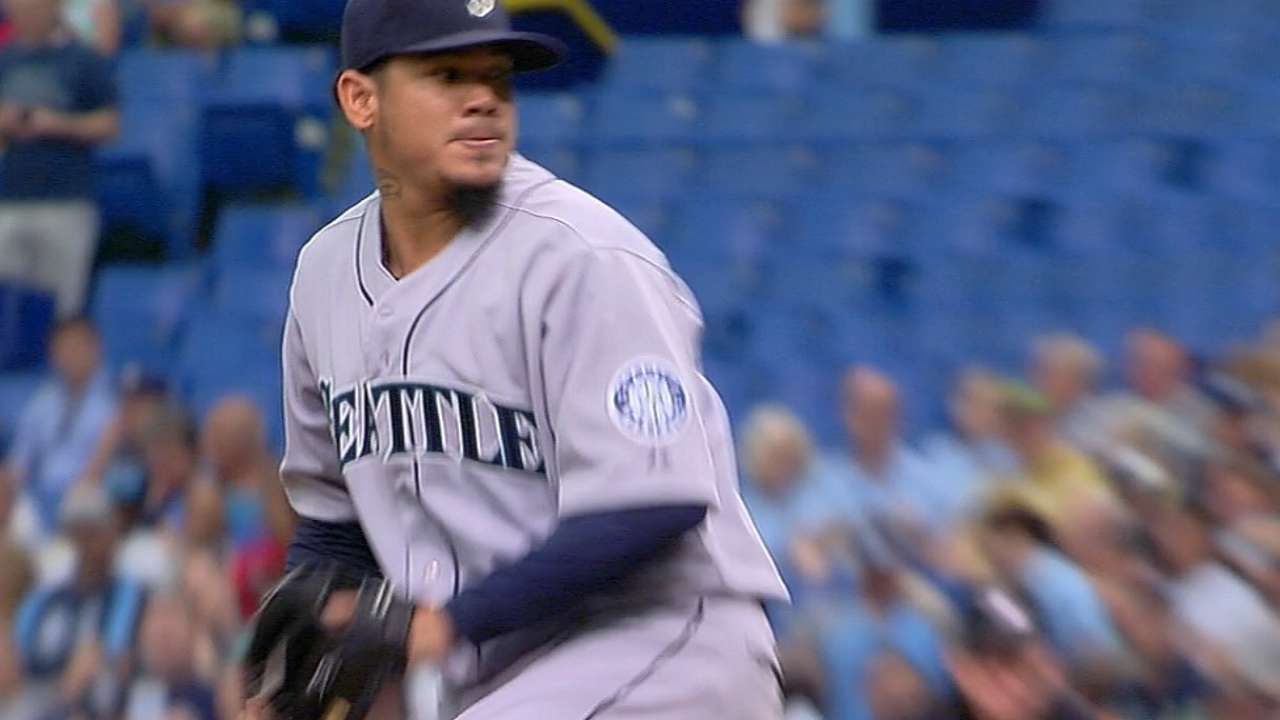 "That was the first time my mom was in the United States watching me pitch," he said. "She was in the stands and it was a big thing."
The young Venezuelan threw eight shutout innings with 12 strikeouts in a victory over the A's that day and it turned out to be just the beginning. He needs one more win to move into a tie for seventh all-time in Opening Day victories with Roger Clemens, Juan Marichal, Greg Maddux, Dwight Gooden and Wes Ferrell. The record of eight Opening Day wins is held by Jack Morris and Pete Alexander, while Tom Seaver, Randy Johnson, Walter Johnson and Jimmy Key have seven.
Clearly he's treading in exclusive Opening Day company. But Hernandez wants more than a good start. He longs for the one thing he's missing -- a chance to pitch in the playoffs in October.
And this year, Hernandez isn't carrying things on his own. The addition of Robinson Cano last season and now Nelson Cruz in 2015 have changed the dynamic.
"It feels a little different," Hernandez said. "A lot of different. We've improved our offense. We're bringing in Nelson Cruz and veteran hitters to put with guys like Cano, [Kyle] Seager and all those guys. It feels different. The clubhouse feels nice, it feels fun and we want to win. That's what we're here for."
Greg Johns is a reporter for MLB.com. Follow him on Twitter @GregJohnsMLB as well as his Mariners Musings blog. This story was not subject to the approval of Major League Baseball or its clubs.