Burnett letting emotions build slowly for final season
Retiring right-hander looking only at first start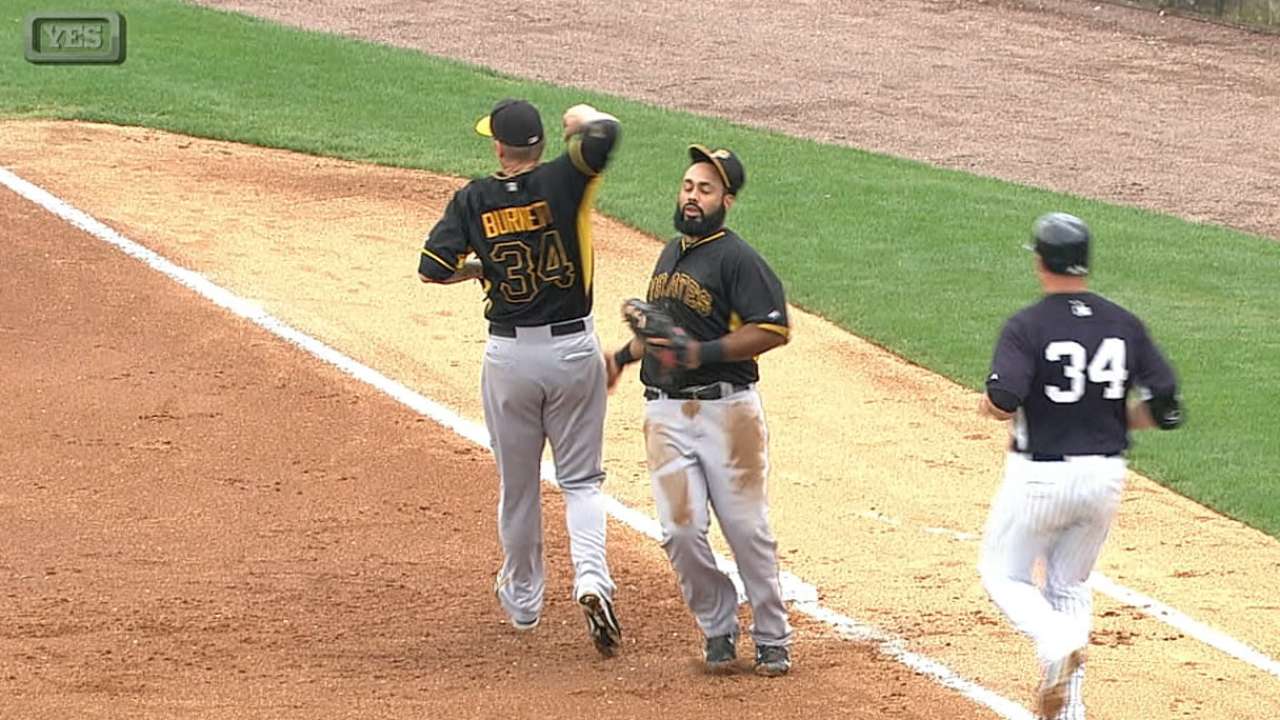 TAMPA, Fla. -- A.J. Burnett made the final start of his last Spring Training on Thursday afternoon, facing the Yankees at George M. Steinbrenner Field.
It was among the first of many lasts for Burnett, who plans to retire at the end of the season. The 38-year-old right-hander will make his last regular-season debut on April 9, facing the Reds at Great American Ball Park.
Not that he's about to get nostalgic thinking about any of it quite yet.
"Nah, I'm just thinking about the season," Burnett said. "It starts in a couple days in Cincy."
Burnett threw four scoreless innings in a 6-2 loss to the Yankees on Thursday, giving up six hits and a walk while striking out two. He threw 47 of his 65 pitches for strikes, working out of a few jams to keep his former club off the board.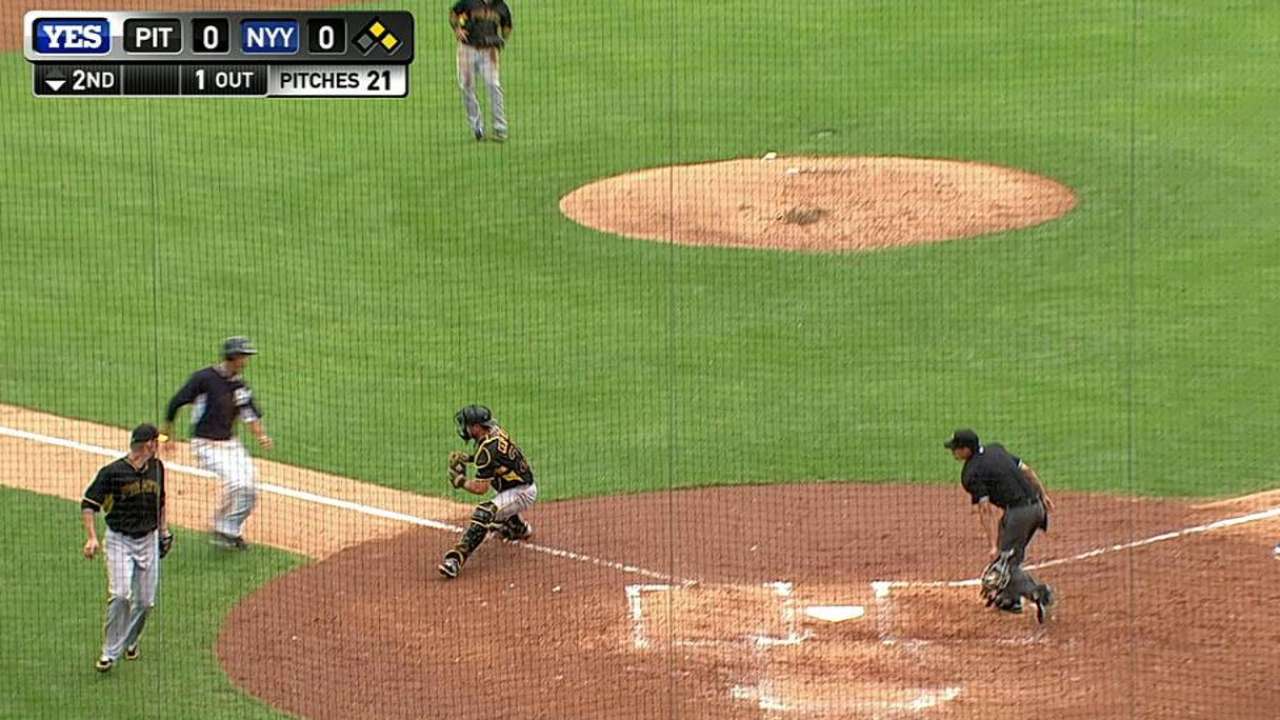 Starling Marte, starting in center field in the Bucs' Grapefruit League finale, helped Burnett keep a run off the board in the second inning, unleashing a strong throw to catcher Francisco Cervelli to cut down a runner at home.
Burnett gave up two singles and walked a batter to load the bases later in the second, but he forced Jacoby Ellsbury to ground out, ending the inning.
"He used all his pitches. First-pitch strikes were really good. He was aggressive," Pirates manager Clint Hurdle said. "He used the fastball to both sides of the plate. He got the curveball in play again.
"Pitched out of a couple jams. The volume of pitches was right where he wanted [it] to be. Gave up no runs. So it was a good day's work for him."
In five Grapefruit League outings, Burnett gave up nine runs on 15 hits and nine walks while striking out 14 batters in 16 2/3 innings. Hurdle said he would withhold judgment about whether Burnett has changed since 2013 until the season begins.
Burnett feels he's the same pitcher he was then, with one caveat.
"I'm just a little older," he said. "I feel better than I have in the past at this time, so I'm confident I'm where I need to be."
So, maybe Burnett's not feeling particularly nostalgic as he nears the beginning of his 17th and final season in the Majors.
Excited, though? He's getting there.
"I think once I get on that field in Cincy and in Pittsburgh when we get home, it'll set in a little bit," Burnett said. "I'm looking forward to it, man. It's going to be great."
Adam Berry is a reporter for MLB.com. Follow him on Twitter at @adamdberry. This story was not subject to the approval of Major League Baseball or its clubs.