Keuchel ready to assume reins of Astros' rotation
Left-hander understands responsibility that comes with Opening Day assignment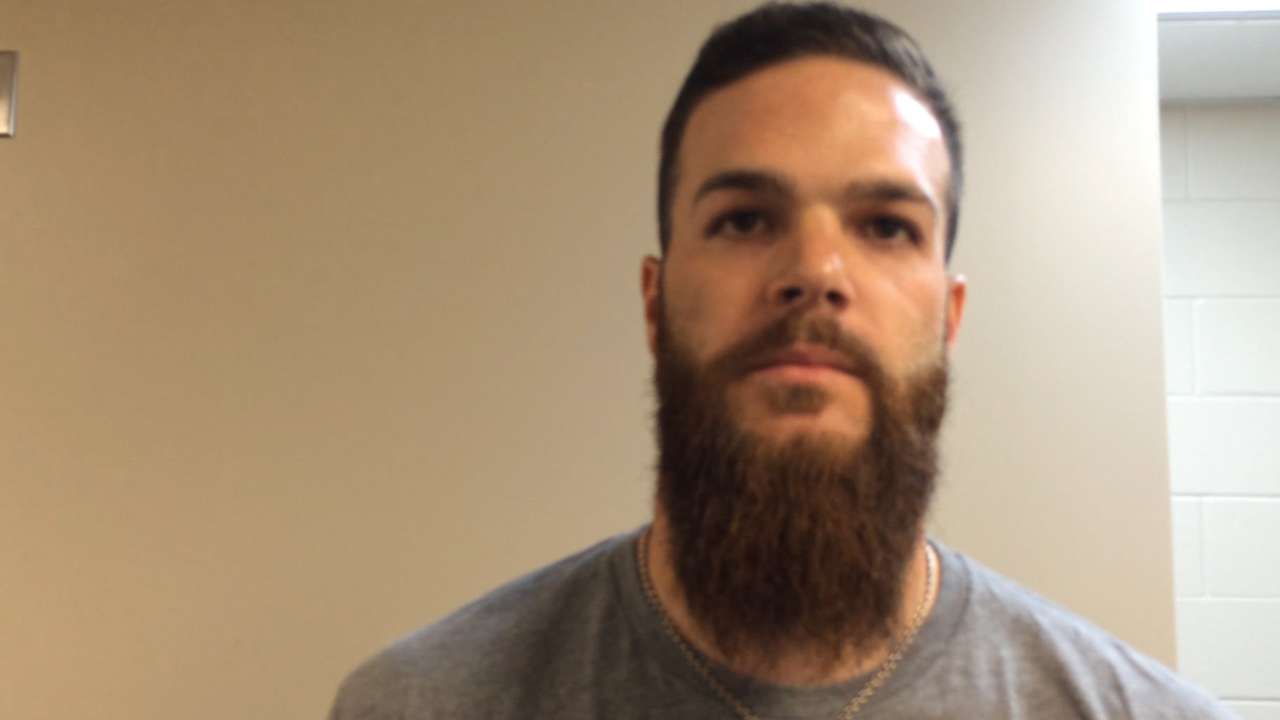 HOUSTON -- Dallas Keuchel doesn't need any extra motivation. Every time he takes the ball, he understands the responsibility that comes with being a Major League pitcher. But even he can't ignore the fact that things will be different this season.
Keuchel, coming off a breakout campaign, has established himself as the ace of the Astros, a label he doesn't take lightly. And with that, he'll take the ball on Opening Day for the first time in his career when the Astros face the Indians on Monday at Minute Maid Park.
"If I can take some of the pressure off one or two young guys that come up and have a little bit of success, that's going to make our team so much better," Keuchel said. "The less pressure they have, the better off they're going to perform. I'm very comfortable with the pressure on my shoulder, and if people want to call me 'ace,' go ahead. I'll take that pressure any day."
The left-hander is eager to build off his terrific 2014, when he went 12-9 with a 2.93 ERA and threw 200 innings over his 29 starts, 21 of which were quality outings. He led the Majors in ground-ball-to-fly-ball ratio (3.63) by a big margin. And to top it off, he won the American League Gold Glove Award at pitcher.
"I think the way Dallas competes, the way he approaches his job, the preparedness that he brings, I trust him to be Dallas Keuchel, which is a good Major League pitcher that gives you a chance to win every time," first-year manager A.J. Hinch said. "He does everything you'd ask out of a starting pitcher."
Keuchel made his Major League debut in 2012, and he has been with the club during some lean years. So the fact the Astros added Luke Gregerson and Pat Neshek to the bullpen and Jed Lowrie, Luis Valbuena, Colby Rasmus and Evan Gattis to the lineup has him dreaming of a time when Minute Maid Park is packed, and every game, every pitch in September means something.
"I'm very anxious, just because some of the talent we added," Keuchel said. "I feel like the way we finished up, we need to come of the gate swinging, and that's what we're going to need to do. We started off hot the first series last year and kind of had a tough stretch in April and picked it back up in May and played .500 ball for a long time. We need to come out of the gate swinging and make sure some of the other teams know that we mean business and we're here to win. I'm anxious to see how some of the new guys fit in, but have some of the returners establish themselves again and get this thing going."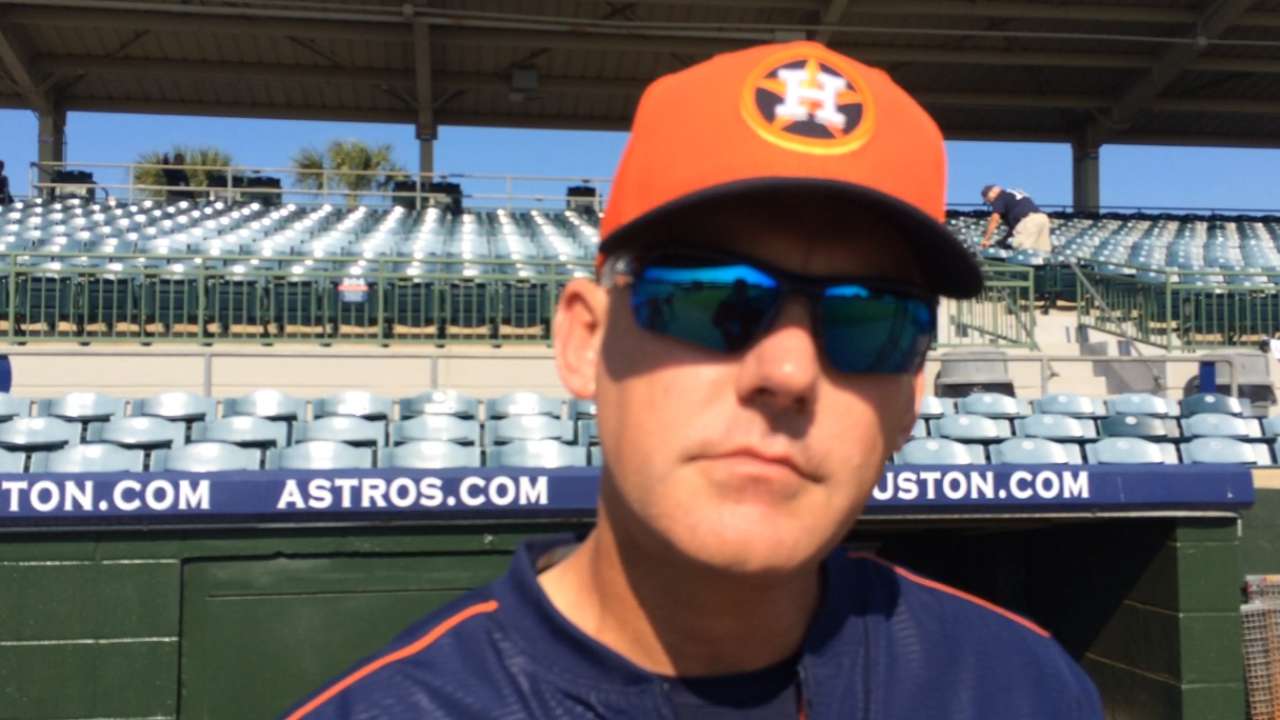 Keuchel understands there will be added pressure on him this season. That comes with being anointed the Opening Day starter and the best pitcher on the team, as well as someone who's had some success. Opposing hitting coaches will work harder to figure out how to figure Keuchel out.
"I completely understand that from a baseball perceptive," Keuchel said. "The front office wants to see it, because we want to win. Nothing changes for me. I've always been confident in what I can do. It just so happened it all went together last year. There were signs in 2013, a little bit in 2012. I feel like I'm a totally different pitcher than I was my first year, so it's nice to see some success, but I've always been confident in my ability. I think the guys behind me are getting better. As I get better, the whole team gets better, and the other starters will see that."
There are some who question whether Keuchel or fellow 2014 breakout starter Collin McHugh can put up another stellar season, but Keuchel is older and wiser and more knowledgeable about hitters in the league, and with that comes a greater comfort level.
"If Dallas were able to repeat his performance from last year, that's a critical component of us being successful," general manager Jeff Luhnow said. "He is our ace. We rely on those guys to go out there every five games and keep you in the game. He's capable of doing that. Knowing Dallas, he could step it up to the next level. I think Dallas has some 15-20 win seasons in his future, and hopefully as soon as this year."
Brian McTaggart is a reporter for MLB.com and writes an MLBlog, Tag's Lines. Follow @brianmctaggart on Twitter. This story was not subject to the approval of Major League Baseball or its clubs.