Braves 'buy low,' acquire Cahill for rotation
Atlanta banking on righty rebounding from rough 2014, will pick up $5.5 million of salary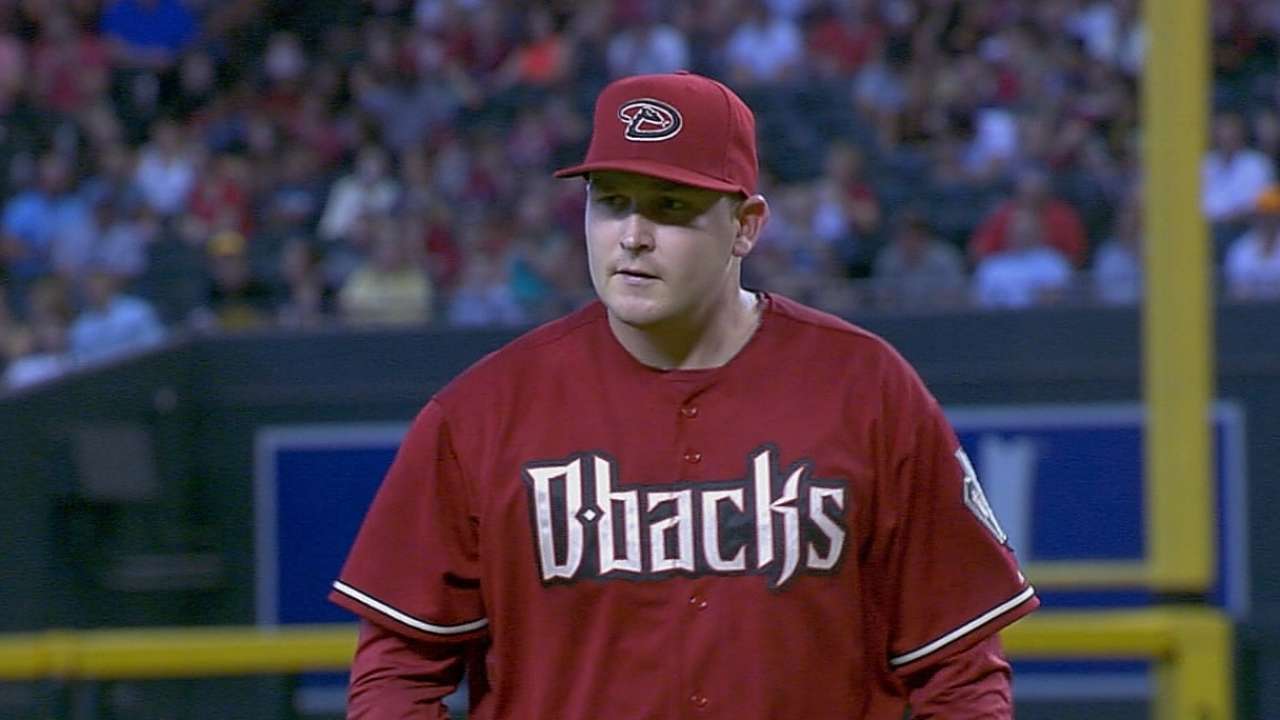 LAKE BUENA VISTA, Fla. -- After getting a few looks at Trevor Cahill over the past month, the Braves determined they were willing to give him a chance to rebound as a member of their starting rotation.
The Braves announced late Thursday night that they acquired Cahill and cash considerations from the D-backs in exchange for Minor League outfielder Josh Elander.
"We thought he was a good buy-low type of candidate," Braves assistant general manager John Coppolella said. "He's still young and has good stuff. We saw him four different times this spring. We think there should be some regression to the mean, based on what he has done in the past."
Coming off a miserable season during which he posted a 6.31 ERA in 17 Major League starts and spent some time in the Minors working on his mechanics, Cahill certainly stands as a gamble as he prepares to fill the fifth spot in Atlanta's rotation. But the Braves were tempted enough by the former All-Star's potential, that they were willing to assume responsibility for $5.5 million of the $12 million owed to the 27-year-old pitcher this year, according to a Major League source.
There seemed to be some concern about Cahill's health, but the Braves did not find anything more than what they viewed as normal wear and tear around his right shoulder.
The Braves will round out their rotation when they determine the fates of veteran left-handers Wandy Rodriguez and Eric Stults. Both Rodriguez and Stults can opt out of their respective Minor League contracts if they are not guaranteed a desired role with the Major League club by Friday.
There is a chance the Braves will place Rodriguez in the rotation and use Stults to fill one of their bullpen vacancies.
Cahill earned All-Star status when he posted a 2.97 ERA in 30 starts with the 2010 A's. He completed 200 innings while experiencing marginal success the next two seasons and then began experiencing some inconsistencies as he produced a 3.99 ERA over 26 starts during the 2013 season.
After posting a 9.17 ERA through his first four starts last year, Cahill was moved to the bullpen for the next two months before being sent to Arizona's Class A affiliate to work on his mechanics throughout most of June. He posted a 5.58 ERA as he made 13 starts for the D-backs after the All-Star break.
Cahill surrendered 14 hits and four earned runs over 10 innings for the D-backs this spring. He allowed seven of those hits during a four-inning stint against the Brewers on March 20, and then came back to record five strikeouts in two innings against the Rangers on Tuesday.
"He showed a real good fastball up to 94 [mph] with a real good sink," Coppolella said. "We think he helps make us better."
Mark Bowman is a reporter for MLB.com. This story was not subject to the approval of Major League Baseball or its clubs.