Pirates head north with a pair of decisions to make
Hurdle considering final bench, bullpen spots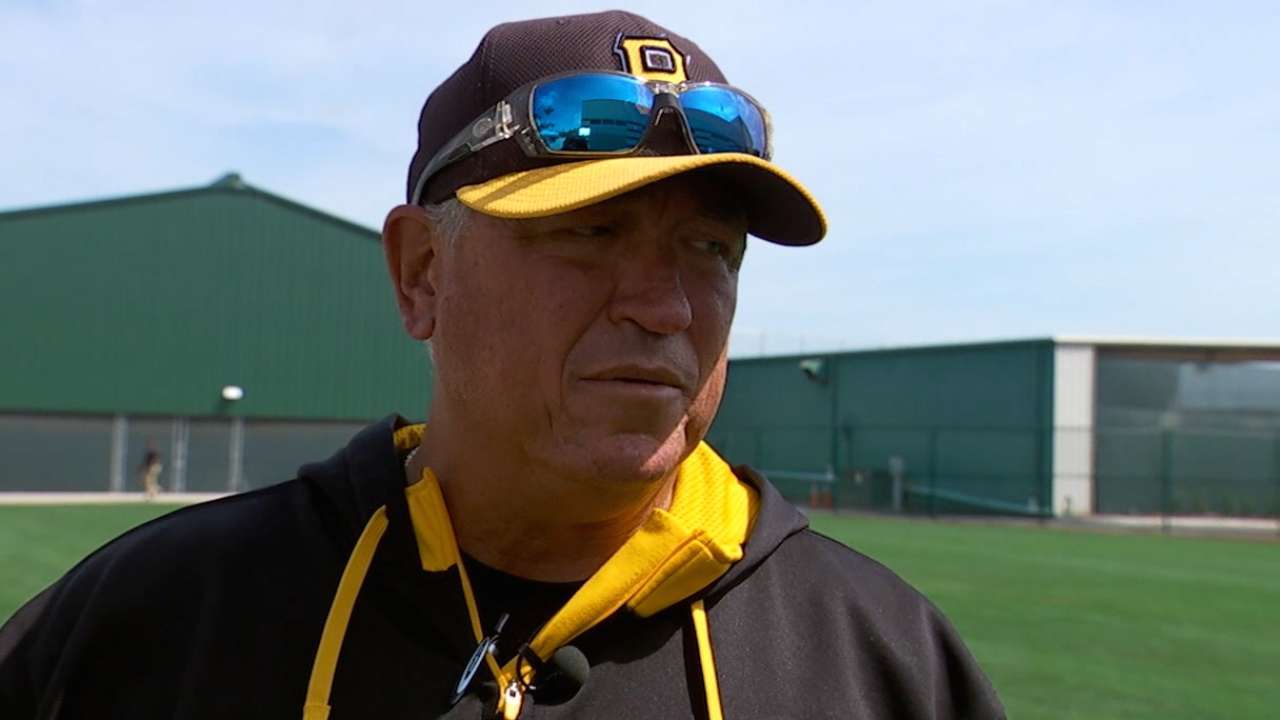 TAMPA, Fla. -- The Pirates said their annual goodbyes to McKechnie Field on Thursday morning, hopping on a bus to George M. Steinbrenner Field. After closing out their Grapefruit League schedule with a 6-2 loss to the Yankees, they finally headed north.
The Bucs will finish up their spring slate with a pair of exhibition games against the Phillies at Citizens Bank Park on Friday and Saturday.
According to manager Clint Hurdle, the Pirates' time in the Sunshine State was well spent.
"Absolutely. We have not taken a day off. We've gotten something out of every day," Hurdle said. "We've got two more days to go out and compete and guys to get their work, and we want to break healthy.
"But absolutely, this camp has been organized, there's been a lot of great work done. ... Everything has been worked on. We're going to be ready. Then you've just got to go play the games. We're ready. We've done all the work that we needed to do and wanted to do coming in."
There are still a few loose ends to be tied up, however. The Pirates took 43 players to Philadelphia, including a number of Minor League prospects, but they officially have 29 active players left in camp.
By Sunday afternoon, the Bucs will have to trim that number down to 25 as they set their official Opening Day roster.
There appear to be two key decisions looming: Who gets the final bench spot, and how will the Bucs round out their bullpen?
Andrew Lambo and Pedro Florimon are in the running for the last spot on the bench, with Lambo's left-handed bat working in his favor and Florimon's combination of speed and defense on his side.
The bullpen battle includes right-handers Stolmy Pimentel, who is out of Minor League options, and Jared Hughes, the only reliever left in camp who can be sent to the Minors without having to first clear waivers.
Meanwhile, three players will remain in Florida to continue their injury rehabilitations.
Catcher Chris Stewart (right hamstring strain) caught five innings in a game at Pirate City on Thursday, the start of his progression back. His injury opened a roster spot for catcher Tony Sanchez.
Outfielder Jaff Decker (left-calf strain) and infielder Justin Sellers (Achilles injury) will also continue their respective recoveries at Pirate City.
Adam Berry is a reporter for MLB.com. Follow him on Twitter at @adamdberry. This story was not subject to the approval of Major League Baseball or its clubs.