Dominguez happy to have earned spot on Opening Day roster
Non-roster invitees Boesch, Marquis, Gregg also make 25-man roster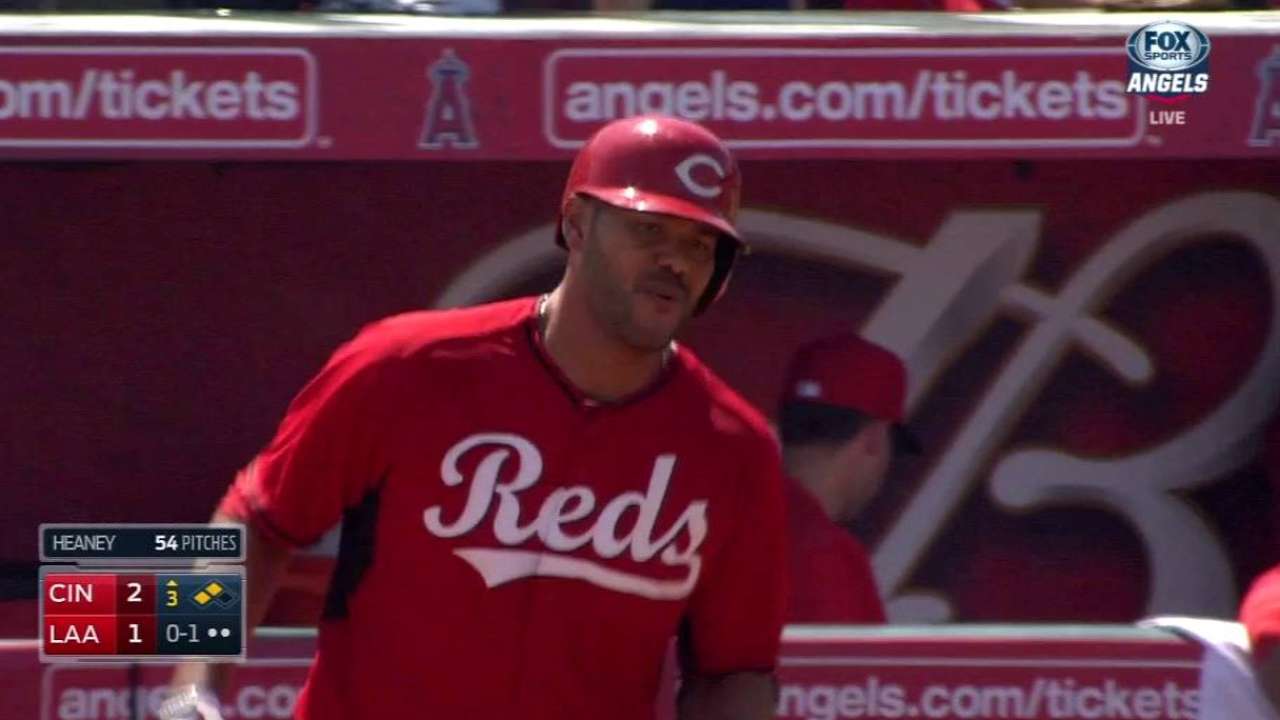 GOODYEAR, Ariz. -- For many of the 64 players the Reds had at Spring Training this year, being summoned to Bryan Price's office to meet with the manager and general manager Walt Jocketty on a cut day meant bad news.
Not for infielder/outfielder Chris Dominguez. Following the workout on Wednesday, Dominguez was told by Price and Jocketty that he had made the 25-man roster for Opening Day.
"I have great emotions, obviously. I was happy for my family and myself for sticking through it and the organization for giving me the opportunity," Dominguez said Thursday morning. "It was a good feeling coming into the office."
A late free-agent signing to a Minor League contract on Feb. 11, just before camp opened, Dominguez emerged as one of the nice surprises. In a team-leading 25 games, he batted .316 with three home runs, a team-leading seven doubles and 14 RBIs that tied for the team lead. He will be part of the Cincinnati bench.
"Certainly the offense stood out with the power and the extra-base hits," Price said. "His defense in the last six weeks has really greatly improved, particularly in the infield. And he brings energy into everything he does, from the drills outside to a pinch-hit at-bat to coming in the last three innings of a Spring Training game."
Dominguez made his big league debut in 2014, going 1-for-17 with a home run and two RBIs in eight games with the Giants. He was a third-round Draft pick in 2009 out of the Univ. of Louisville.
Other non-roster players who made the Reds' 25-man roster were:
• Outfielder Brennan Boesch also earned a bench role after he batted .386 with a team-most 22 hits while tying for the club lead with four homers while his 14 RBIs tied him with Dominguez.
"I think he found himself again last year in Triple-A [with the Angels]," Price said. "Not only did he hit, but he ran the bases well, he played center field impeccably. He's just got a really business-type of attitude. I think he's a great fit for our club."
• Right-hander Jason Marquis claimed a rotation spot after he had a 3.46 ERA with 21 hits, 10 walks and 14 strikeouts over 26 innings. He will pitch again on Friday vs. the Blue Jays in Montreal for a final tune-up.
• Right-handed reliever Kevin Gregg didn't allow a run in six of his eight appearances as he posted a 2.25 ERA. In eight innings, he gave up 10 hits with no walks and six strikeouts.
Cincinnati still has to make some corresponding moves on the 40-man roster to clear space. Two transactions came Thursday when reliever Sam LeCure and starting pitcher Dylan Axelrod cleared waivers and were sent outright to Triple-A Louisville. If reliever Sean Marshall and outfielder Jason Bourgeois are placed on the 60-day disabled list as expected, that would provide the needed space.
Mark Sheldon is a reporter for MLB.com. Read his blog, Mark My Word, and follow him on Twitter @m_sheldon. This story was not subject to the approval of Major League Baseball or its clubs.