Bryant: Reassignment will 'fuel a fire' to get back to bigs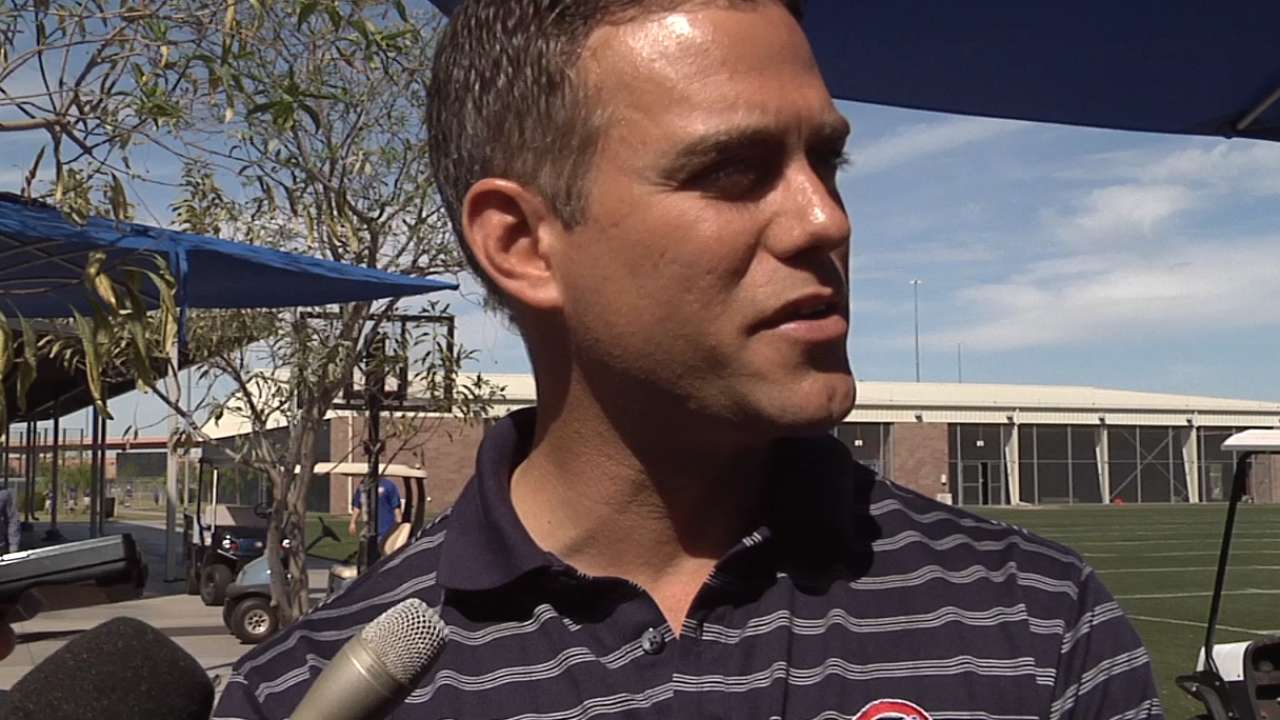 MESA, Ariz. -- Kris Bryant was "extremely disappointed" when the Cubs told him he would be opening the season at Triple-A Iowa, but the top prospect said he'll use that as motivation to get to the big leagues.
"I don't want to say I'm mad or anything," Bryant said Thursday of his reaction to the news. "I'm extremely disappointed. I wanted to go out there and my performance mattered, and to me, it felt like it didn't matter as much as I thought it would. I went out there and played as hard as I can and did everything I could. I'm just disappointed."
Bryant led the Major Leagues this spring with nine home runs -- and hit a 10th in a "B" game that didn't count -- while batting .425 in 14 games.
"I'll use this as motivation, fuel a little fire," Bryant said. "I've been told a lot in life that I couldn't do it, kind of going back to my high school days when people doubted me. It's OK to doubt me. I think I'm doing a pretty good job of keeping my head straight and working hard. It's more motivation for me to go out there and prove myself."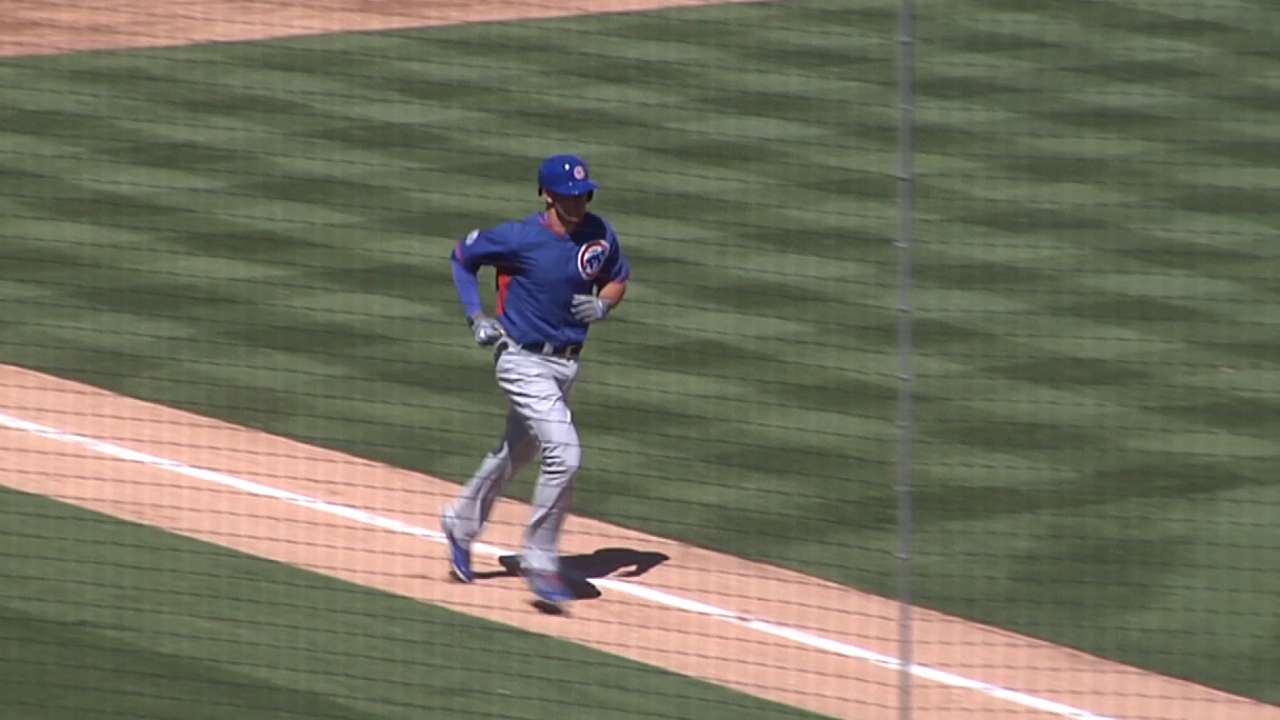 Bryant led the Minor Leagues last season with 43 home runs at Double-A Tennessee and Iowa combined, and he sounded as if he expected to be promoted at that time.
"I felt last year I had a pretty good performance, and maybe I did a little better than some guys who were in the big leagues and got called up," Bryant said. "I'm here right now, I'm in the present moment, looking forward to the future. It's just a weird time for me right now."
Asked if he had any hard feelings, Bryant said he "didn't want to talk about that right now."
"When I put on the uniform, and I'm in the Cubs uniform, it's an honor to play for this team," he said. "I try to stay in the present moment and not think about the future too much."
Bryant finds sanctuary on the playing field.
"When I'm out there playing, I'm not thinking about too much, but when I go home, it kind of hits me," he said. "The dream's on hold for a little bit, but I"m hungrier than ever. It fueled a fire, let's go."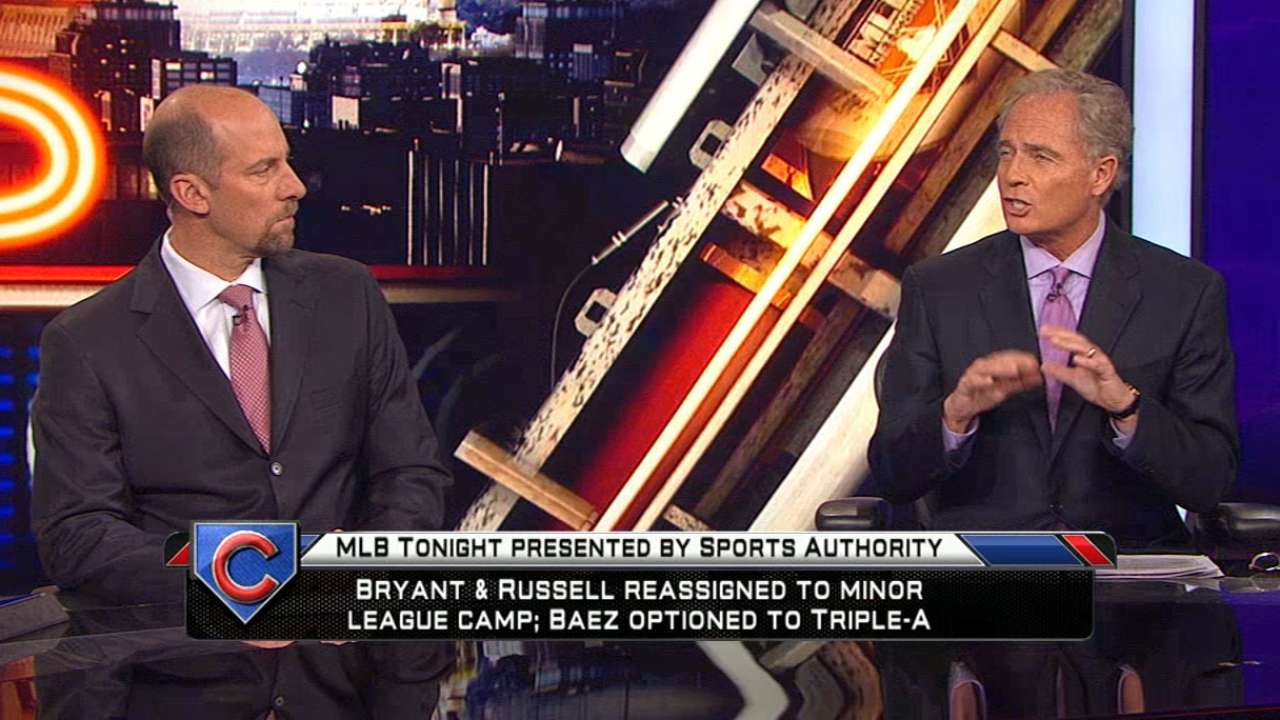 Cubs president of baseball operations Theo Epstein told Bryant and all other players in camp that their performance mattered.
"I'm learning it's a business," Bryant said. "I'm hearing some of my teammates talk about it, and it's awesome to hear what they have to say about me. I just put my head down, play as hard as I can and let my performance speak for itself. Baseball is such a performance-driven industry, and I'm a big believer that if you go out there and work hard and if you earn it, then I believe you should get that chance to play up there.
"But I guess it was viewed differently than I thought. I worked really hard at this thing and want to be the best baseball player I possibly can. I'm ready to show them I can be even better. I believe in myself more than ever right now. I'm excited to get going."
Carrie Muskat is a reporter for MLB.com. She writes a blog, Muskat Ramblings, and you can follow her on Twitter @CarrieMuskat. This story was not subject to the approval of Major League Baseball or its clubs.