With Herrera sent down, Schafer rounds out roster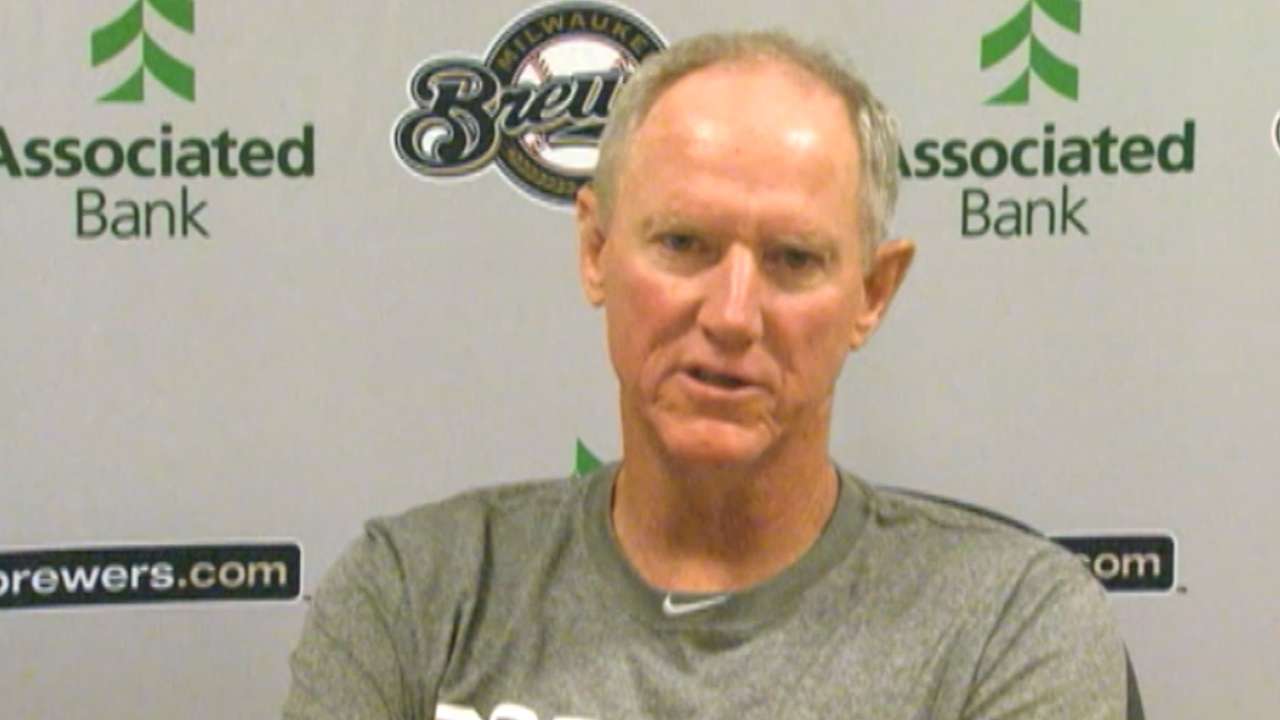 PEORIA, Ariz. -- The Brewers returned Elian Herrera to Minor League camp on Thursday, positioning outfielder Logan Schafer to secure the final opening on the 25-man roster for Opening Day.
"Really hard decision because they give us two different things," manager Ron Roenicke said, citing Schafer's premium defense at all three outfield positions vs. Herrera's switch-hitting and defensive versatility. "It's not like we're saying for sure [Schafer] is the best way to go. Both of them give things that really fit our team well."
Barring an outside addition before Sunday, when teams must file rosters to Major League Baseball, the Brewers' 25-man squad will look like this:
Starting pitchers: Kyle Lohse, Matt Garza, Wily Peralta, Jimmy Nelson and Mike Fiers.
Relief pitchers: Closer Francisco Rodriguez, Jonathan Broxton, Will Smith, Jeremy Jeffress, Neal Cotts, Tyler Thornburg, Michael Blazek.
Catchers: Jonathan Lucroy, Martin Maldonado.
Infield: First baseman Adam Lind, second baseman Scooter Gennett, third baseman Aramis Ramirez, shortstop Jean Segura, reserves Hector Gomez and Luis Jimenez.
Outfield: Left fielder Khris Davis, center fielder Carlos Gomez, right fielder Ryan Braun, reserves Gerardo Parra and Schafer.
"I like [the team]," Roenicke said. "We're solid in every area. For what you're looking at going into a season, if you don't have question marks in areas, I think you're pretty fortunate. We don't have any question marks."
Roenicke noted that his bench players -- Maldonado, Gomez, Jimenez, Parra and Schafer -- are all superior defenders. Maldonado, Gomez and Jimenez are right-handed hitters. Parra and Schafer bat left-handed.
Schafer had a poor season pinch-hitting in 2014, but the sample size was so small (2-for-13 in 17 plate appearances) that it did not sway the club's decision-makers. In parts of four seasons, Schafer is 17-for-63 (.270) in 74 plate appearances as a pinch-hitter.
"Major League average is .220," Roenicke said. "I was surprised he's hit .270, because there aren't too many guys who hit .270 off the bench. That's pretty good."
Herrera will mostly play second base at Triple-A Colorado Springs, but will also see shortstop, third base and the outfield, Roenicke said.
Technically, the Brewers still have one camp cut to make. Reliever Jim Henderson was scheduled to pitch two innings in Minor League camp on Thursday with assistant GM Gord Ash among those in attendance, and the sides will discuss after the outing whether Henderson will begin the season on the Major League disabled list, or be active for a Minor League affiliate. Henderson is coming back from shoulder surgery.
Adam McCalvy is a reporter for MLB.com. Follow him on Twitter at @AdamMcCalvy. This story was not subject to the approval of Major League Baseball or its clubs.