Hamilton's suspension may come next week
Angels outfielder remains sidelined following surgery to repair shoulder joint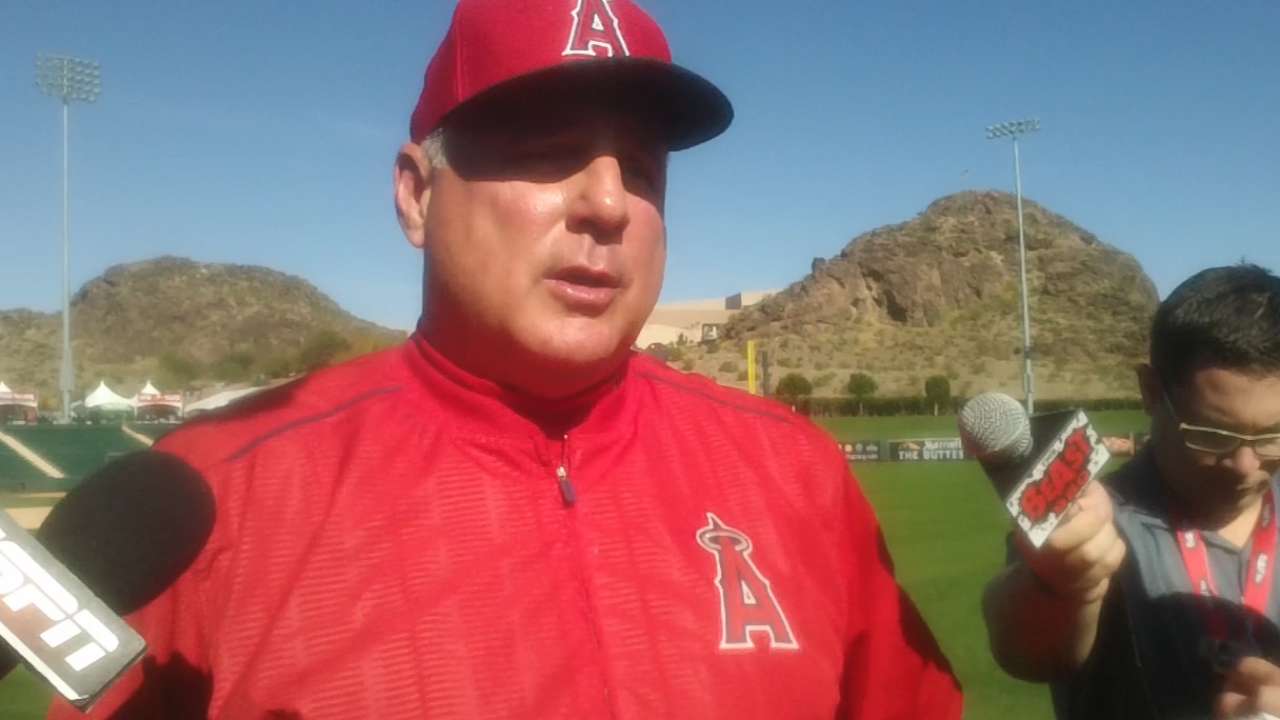 ANAHEIM -- Josh Hamilton didn't have a locker at the Angels' Spring Training facility, and he currently doesn't have one at Angel Stadium, either.
His old locker, tucked away in a back corner of the home clubhouse, now belongs to the new second baseman, Johnny Giavotella. The Angels said they didn't assign Hamilton a locker because there are only 38 of them, and that's the exact amount of players who needed one for the opener of a three-game, exhibition Freeway Series against the Dodgers on Thursday night.
The Angels were hopeful of getting clarity on Hamilton's situation by the end of this week, but it looks as if they'll have to wait a little longer.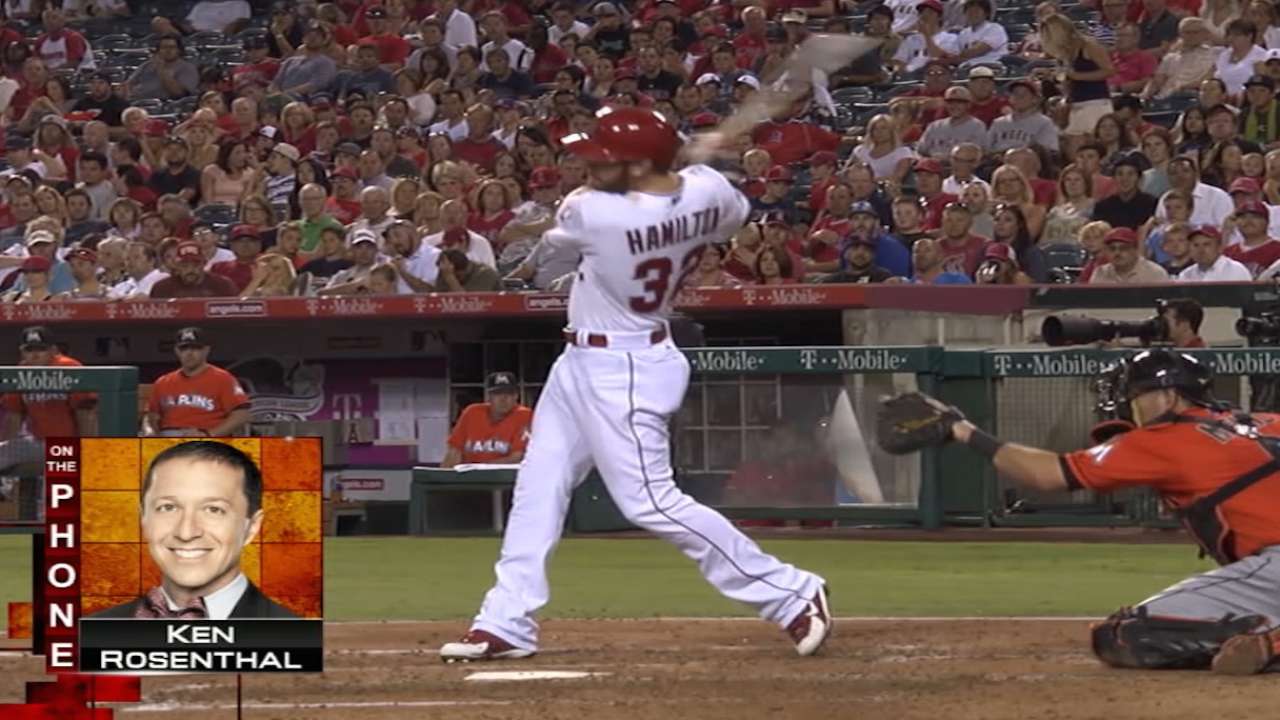 Major League Baseball Commissioner Rob Manfred recently told SiriusXM Radio that a decision on a potential suspension for the Angels outfielder will "probably" be made "shortly after" Opening Day, which means next week at the earliest.
"I think that we'll have something on Hamilton in relatively short order -- it probably has been a little slower just because he's not available to play," Manfred told SiriusXM Radio on Wednesday.
Thirteen days earlier, Manfred told the Associated Press he expected a resolution "before Opening Day." But the timeline has been moved back because the arbitrator empowered to decide whether Hamilton violated the Joint Drug Agreement has yet to issue his ruling, forcing Manfred to wait to see if he has the authority to discipline Hamilton, according to the Los Angeles Times.
The fact Hamilton self-reported his drug-related relapse, which sources say occurred late in the offseason, could prompt the arbitrator to determine that Hamilton did not violate his treatment program, giving Manfred no authority to suspend him, the Times added.
This much is clear: The issue is out of the Angels' hands, and none of the players have any idea what will happen.
"We're always obviously thinking about him," Angels center fielder Mike Trout said. "He's our teammate. But until we know more information, we really can't do much. You can't really think about him too much because you don't know what's going on. He's our teammate. We're always trying to figure out what's going on with him. Everybody wants to know, and nobody has answers. It's kind of been like that the last couple of weeks."
Hamilton met with MLB officials in New York on Feb. 25 over what sources say was a drug-related relapse that occurred late in the offseason. Hamilton then remained in Houston, staying with a friend while recovering from right-shoulder surgery. Angels officials have checked in with Hamilton sporadically to check on his injury rehab, most recently saying that he's been taking swings off a tee.
Angels starter C.J. Wilson, a friend of Hamilton's dating back to their days on the Rangers, has been in touch with the 33-year-old and said, "I feel like he's doing everything he can to get ready to play baseball again."
"I was very surprised that there was news about this at all, just because I didn't really see it on the horizon," Wilson said of Hamilton's relapse. "He doesn't seem to be a mopey, murky person. Every time I talk to him, he seems fine."
Players who violate the JDA for a drug of abuse are initially placed in a treatment program, with the first violation of the program resulting in a suspension of 15-25 games, a second being 25-50, a third being 50-75 and a fourth being at least a full season. Players aren't paid while suspended, but they are eligible for full salary retention in the first 30 days of a treatment program.
The length of his suspension will have a big impact on the Angels' financial situation, considering he's owed $23 million. A potential extension with closer Huston Street, entering his final season before free agency, won't be finalized until there is more clarity on Hamilton. Once there is, the Angels will have to figure out how to fold him back into a team that may be well into its season by then.
First, they'll play without him.
"I think we're deep enough on the offensive side that we should be OK," Angels manager Mike Scioscia said. "But you can't plan on using what you don't have."
Hamilton was once a can't-miss, blue-chip prospect who spent four years away from baseball, fighting addiction. He made substantial strides, becoming a perennial All-Star in his five years with the Rangers and an inspiring story that captivated the nation and brought hope to addicts.
But he hasn't met expectations since coming to the Angels on a five-year, $125 million contract in December 2012.
Hamilton batted .250 with 21 homers and 79 RBIs in 2013 and finished an injury-plagued '14 season with a .263 batting average and 10 home runs in 89 games. He missed 10 weeks while recovering from left thumb surgery early in 2014, then spent almost all of September recovering from injuries along his right side -- shoulder, trapezius, chest, rib cage -- and went 0-or-13 in the AL Division Series sweep at the hands of the Royals.
Hamilton felt pain in his shoulder once he started swinging with full force again, requiring surgery on Feb. 4 to repair his right AC joint. The injury timeline was six to eight weeks, with the possibility of a return by May.
The fact he wouldn't have been ready by now has made it easier to cope with the uncertainty.
"Josh isn't ready to play baseball right now," Scioscia said. "We're just kind of business as usual and we'll just take stuff one step at a time. You can't answer questions until you're really confirmed on exactly what they're going to be. We'll get the first step here shortly and just see what we're dealing with."
Alden Gonzalez is a reporter for MLB.com. Read his blog, Gonzo and "The Show", and follow him on Twitter @Alden_Gonzalez. This story was not subject to the approval of Major League Baseball or its clubs.