DeJesus powers Rays' offense against Phillies
Leadoff hitter launches three-run shot; Archer, Karns get final spring work
CLEARWATER, Fla. -- The Rays jumped on Phillies right-hander Jerome Williams in the second inning Thursday in a 10-1 victory at Bright House Field.
Logan Forsythe, Tim Beckham and Jake Elmore each singled with one out to score a run. David DeJesus followed two batters later with a three-run home run to right-center field. It was DeJesus' second home run of the spring.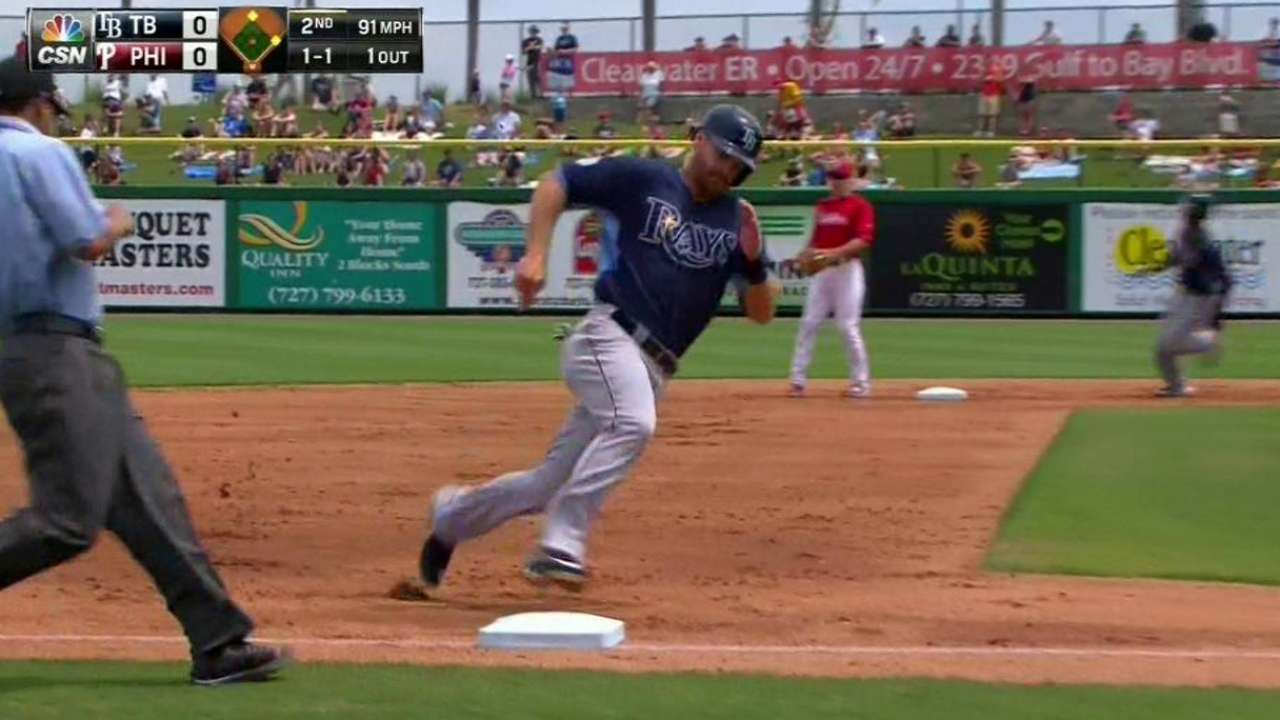 Williams allowed nine hits, six runs and struck out six in 5 2/3 innings.
MOMENTS THAT MATTERED
Opening Day tuneup: Chris Archer started for the Rays and the right-hander went two innings, allowing a hit and striking out two in preparation for Monday afternoon's Opening Day start against the Orioles at Tropicana Field.
"Body feels good, I was happy to get out there and hit my pitch count right on the head, execute some pitches, work with runners on base, just kind of recap everything I've been working on," Archer said. "Everything felt good. I'm healthy. Now I'm ready for April 6."
Final spring outing: Nathan Karns, who will follow Archer in the Rays' rotation, worked six innings of relief, allowing one run on five hits with eight strikeouts and two walks. The only blemish against Karns came in the third inning on Odubel Herrera's solo homer. Herrera had three of the Phillies' six hits.
Big swingers: Kevin Kiermaier added a two-run triple, and Beckham finished 3-for-3 with two runs scored for the Rays.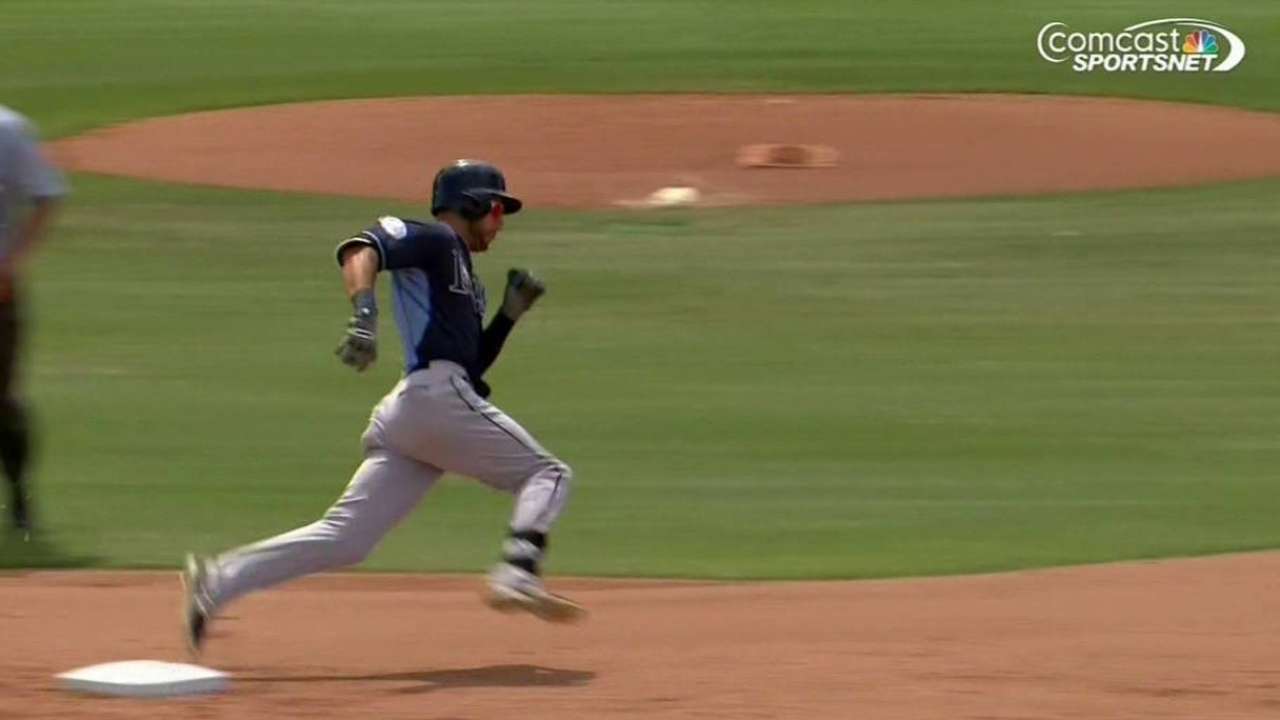 Adding insurance: Leonardo Reginatto hit a solo home run in the ninth inning off Jonathan Papelbon to spark a four-run ninth.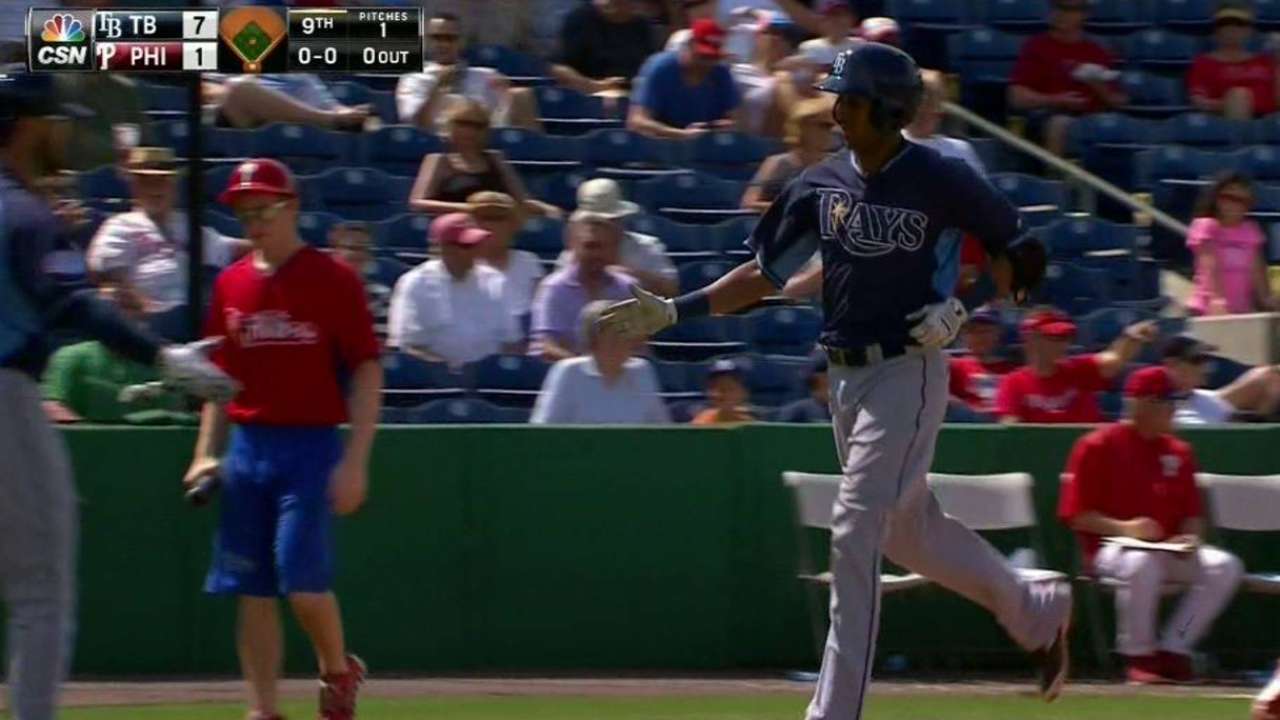 QUOTABLE
Rays manager Kevin Cash will be making out his first lineup card as a Major-League manager on Monday. When asked how many lineup cards he's filled out in advance of managing his first game, he surprised reporters by answering, "one."
"And the thought is to keep that lineup card facing a right-handed pitcher very similar," Cash said. "... I think maybe tomorrow or the next day we'll have a lineup to announce."
MEDICAL UPDATE
Longoria scratched: Evan Longoria had been scheduled to play in Thursday's game against the Phillies, but got scratched. Explained Cash: "Longo's scratched, simply because he's not feeling that good. If it was a regular day he'd play. But don't get him out in the heat, dehydrate him and have something else come up. It's just being smart and cautious. ... I wouldn't say flu. Just not feeling well."
WHAT'S NEXT
Phillies: The Phillies host the Pirates in a pair of exhibition games beginning Friday night at Citizens Bank Park, free on MLB.TV at 7:05 p.m. ET. Right-hander Aaron Harang will make his final start of the spring. He is scheduled to pitch the second game of the regular season for the Phillies on April 8 against the Red Sox
Rays:.Jake Odorizzi will start Friday afternoon when the Rays travel to Lakeland to play the Tigers in a 1:05 contest, free on MLB.TV. Also scheduled to see action are Grant Balfour, Brad Boxberger, Ernesto Frieri, Kevin Jepsen and Jeff Beliveau. Anibal Sanchez is scheduled to start for the Tigers.
Bill Chastain is a reporter for MLB.com. Todd Zolecki is a reporter for MLB.com. Read his Phillies blog The Zo Zone. Follow him on Twitter. This story was not subject to the approval of Major League Baseball or its clubs.