MLB.com Columnist
Lyle Spencer
Weaver is an unheralded master craftsman
Veteran Angels ace gets little recognition despite being among game's best starters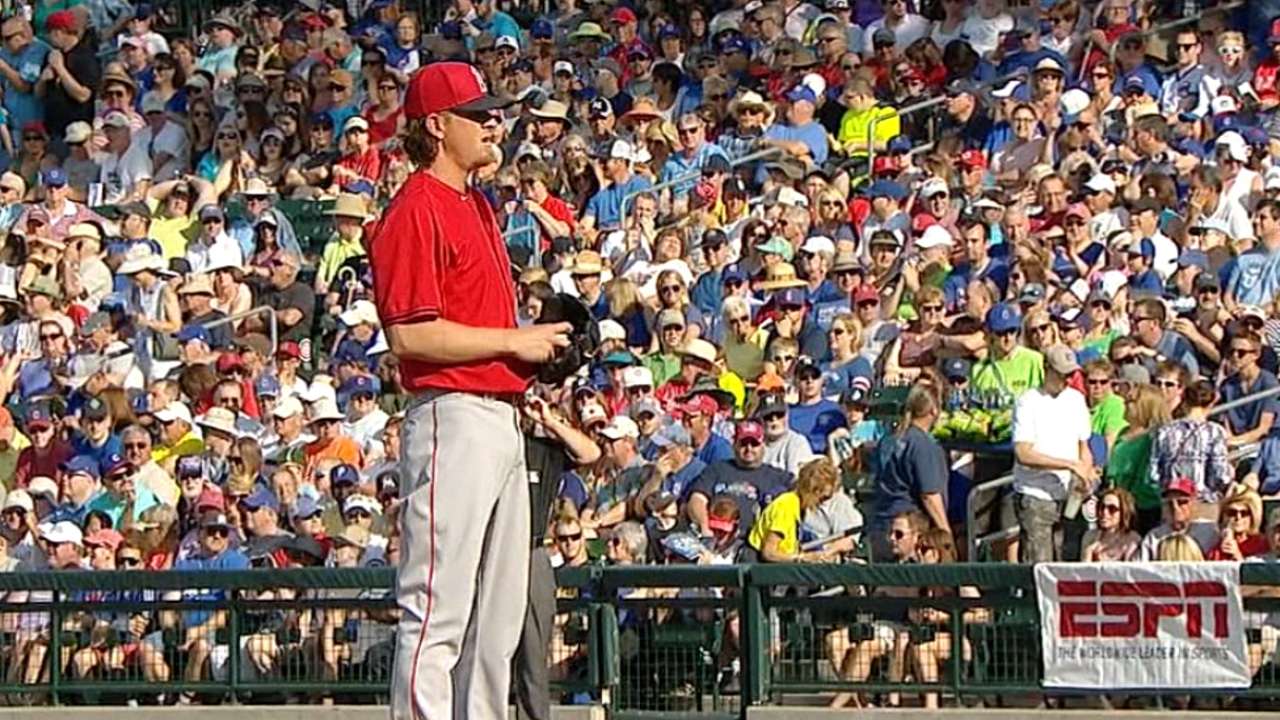 TEMPE, Ariz. -- For nine years, the Angels' Jered Weaver has been among the very best in the world at his craft -- even if the world barely, if ever, recognizes or acknowledges the full extent of his labors.
Discussions of Major League Baseball's elite starting pitchers by insiders rarely involve Weaver. He will tell you he honestly doesn't care, understanding that a fast-food, fast-paced, speed-obsessed culture doesn't have much time for old-time craftsmanship.
"I've always kind of liked being under the radar," Weaver said through a sly grin, noting that it doubtless has a lot to do with his nonexistent relationship with the radar gun.
"Everyone looks at velocity these days. I used to throw 90-95 [mph], even got to 97 in college. But there's been some wear on the shoulder over the years, and I've evolved into a different kind of pitcher -- studying hitters, moving it around, using my deception.
"If you look around, there aren't a lot of craftsmen. There are other ways of getting outs besides blowing guys away."
Four days away from another Opening Day assignment -- in Seattle against a Mariners outfit that is the popular choice to unseat the American League West champions -- Weaver rarely has looked or felt any better.
A program launched last June to enhance endurance and strengthen his lower half by adding 10-15 pounds to his 6-foot-7 frame has been a success. Weaver is not the skinny kid who opened his career in 2006 with seven consecutive wins and a 1.15 ERA, calling to mind Fernando Valenzuela's wondrous 1981 start for the Dodgers.
The ongoing focus on keeping his right shoulder strong and pain-free is a year-round commitment. Weaver, looking for wood to knock, said it feels better than it has in three or four years.
At 32, approaching his 10th season, Weaver is on top of his game in anticipation of another run at the elusive brass ring: the dazzling bling that goes to World Series champions.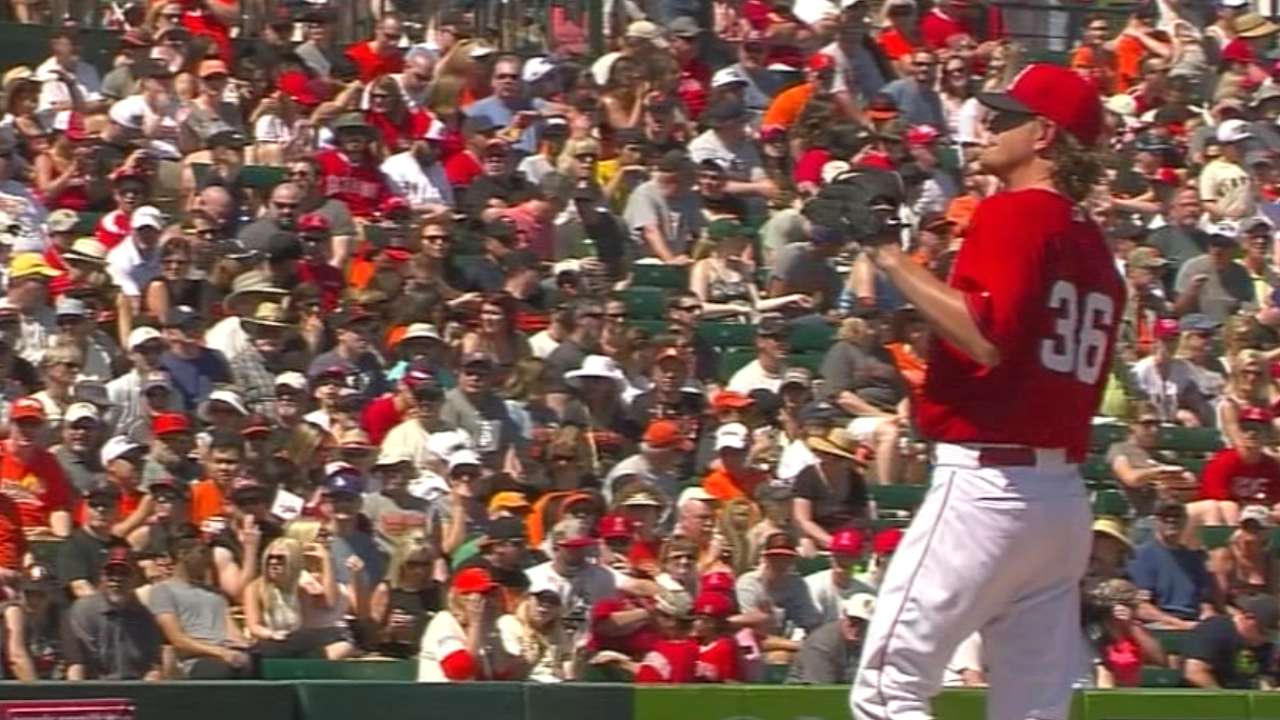 "I really like our team and our chances," Weaver said with undisguised optimism.
He watched big brother Jeff celebrate with the 2006 Cardinals, but the closest Jered came was '09, when the Angels fell in six games in the AL Championship Series to the eventual champion Yankees.
After leading the Majors with 98 wins last season -- 18 going to Weaver in leading the AL -- the Angels were swept in the AL Division Series by a Wild Card Royals outfit playing out of its heads defensively. It was a familiar hurt for Weaver, who has learned to rebound fairly quickly and get back to work.
"We have the talent to get it done," Weaver said. "It's just a matter of going out and doing it."
Never one to dwell on his own numbers, Weaver has acquired a well-earned reputation as a great teammate. But a few salient facts might shed light on his brilliant career.
A three-time All-Star with a no-hitter on his resume, Weaver was in the top five in the AL Cy Young Award balloting three years running from 2010-12, finishing second to Justin Verlander in '11. Weaver has led the league in strikeouts (233 in '10), wins (20 in '12, 18 last year) and WHIP ('12). He has twice ('10 and '14) led in starts.
Since breaking in after a storied college career at Long Beach State, Weaver has won more games (131) since 2006 than anybody except Verlander and CC Sabathia. Only Clayton Kershaw, at .667, has a higher winning percentage since then than Weaver's .655.
Since 2006, Weaver is tied for second with David Price in lowest on-base percentage yielded, at .288, behind only Kershaw's .273. Kershaw and Madison Bumgarner are the only pitchers who have held opponents to a lower OPS with runners in scoring position than Weaver's .634.
With 1,405 strikeouts since 2006, Weaver leads Max Scherzer, Adam Wainwright, Jake Peavy, Yovani Gallardo and John Lackey, his old teammate.
Even when his buddy Lackey departed for Boston's free-agent riches after a 2009 season in which Weaver had been the team's best starter, Jered waved off the ace designation, uncomfortable with being separated from rotation mates.
When Garrett Richards busted out with a brilliant 2014 before his fateful sprint to first at Fenway Park on Aug. 20 sent him to the surgeon's table to repair a knee, the young right-hander was widely hailed as the new ace. Richards respectfully declined with a respectful nod to Weaver when he said, "Jered is the ace on this team, the leader of our staff."
Nobody appreciates or values Weaver's professionalism more than Mike Scioscia, the right-hander's only big league manager.
"Weave looks strong," Scioscia said. "He's always been a tremendous competitor, off the charts. The added strength is going to show up over the season in his endurance, and he's going to be consistent."
What else would anyone expect of the craftsman?
Lyle Spencer is a national reporter and columnist for MLB.com. Follow him on Twitter @LyleMSpencer. This story was not subject to the approval of Major League Baseball or its clubs.