MLB.com Columnist
Hal Bodley
Core talent gives Braves chance to remain competitive
After offseason rebuilding, club prepared to play out season with lofty goals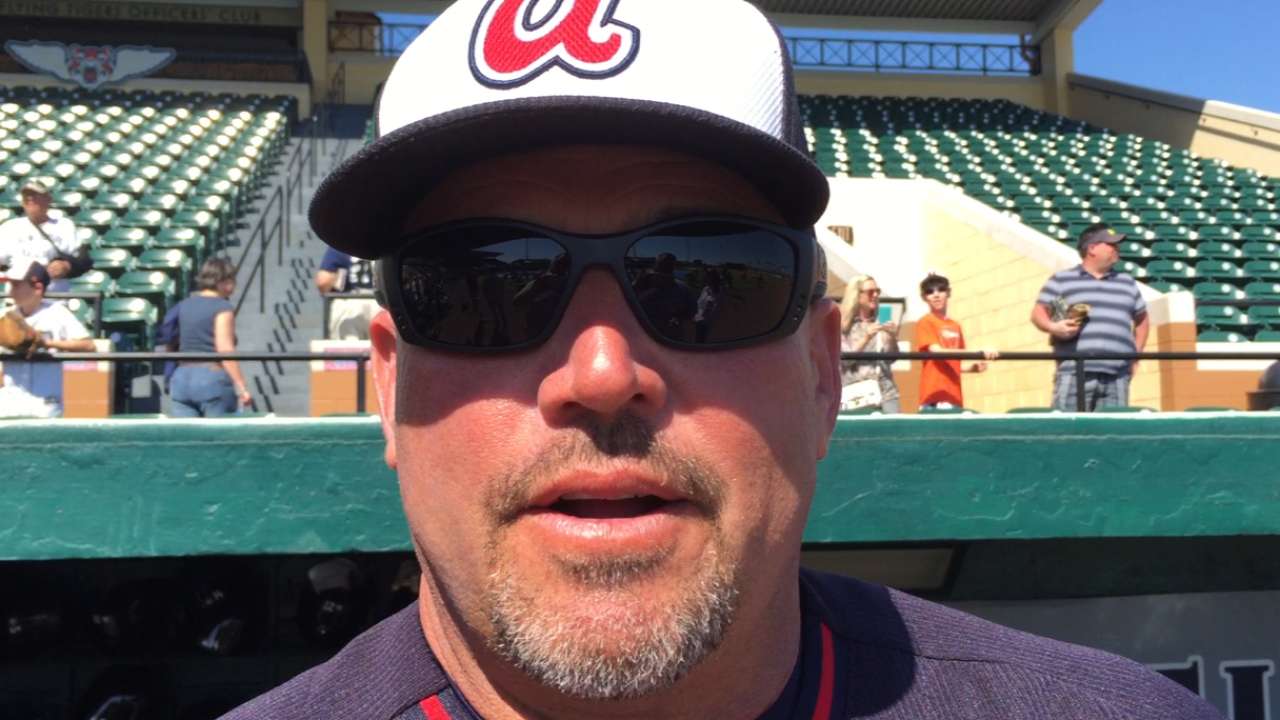 CLEARWATER, Fla. -- The Braves and Phillies were playing a Grapefruit League game the other day when somebody in the press box remarked, "Call this a battle for last place in the National League East. One of these teams could lose 100 games."
I cannot remember during the waning days of Spring Training when the Braves weren't considered a contender in their division, if not the team to beat. But as we're poised for Opening Day 2015, it's a stretch to put Atlanta in the contender category.
"You never know about those predictions," Braves manager Fredi Gonzalez said before the game. "Our goal is to prepare our team for a championship season. You have to play the season out, not on paper."
Atlanta has made the playoffs 17 times in the past 23 seasons. And it wasn't too long ago, between 1991 to 2005, the Braves won an unprecedented 14 consecutive division titles under the dynamic duo of general manager John Schuerholz and Hall of Fame skipper Bobby Cox.
After winning their division in 2013, the Braves slipped to a second-place tie with the Mets, 17 games back with a 79-83 record.
They blasted out of the gate last April, winning 17 of their first 24 games, and held first place in the division through July. Then came the fall.
That triggered a drastic rebuilding effort, the dismissal of GM Frank Wren and the hiring of the esteemed John Hart as president of baseball operations/general manager. He and Schuerholz, now team president, have the responsibility of preparing the Braves for their new stadium, two years hence in Cobb County.
During the offseason, Atlanta lost three of its top five home-run hitters from 2014: Jason Heyward, Justin Upton and Evan Gattis.
"We've been an easy target nationally when you look at the Braves and you say, 'Trade Heyward, star player. Trade Upton, star player. Trade Gattis, big bat,'" said Hart. "You just connect the dots and you go, 'It's not going to be a very good offense.'
"But I don't think that anybody came in with the idea, or even discussed, that we were going to blow this thing up. We held onto our core guys all winter. We never discussed them. These are our core guys. We're not looking to run up the white flag and not compete."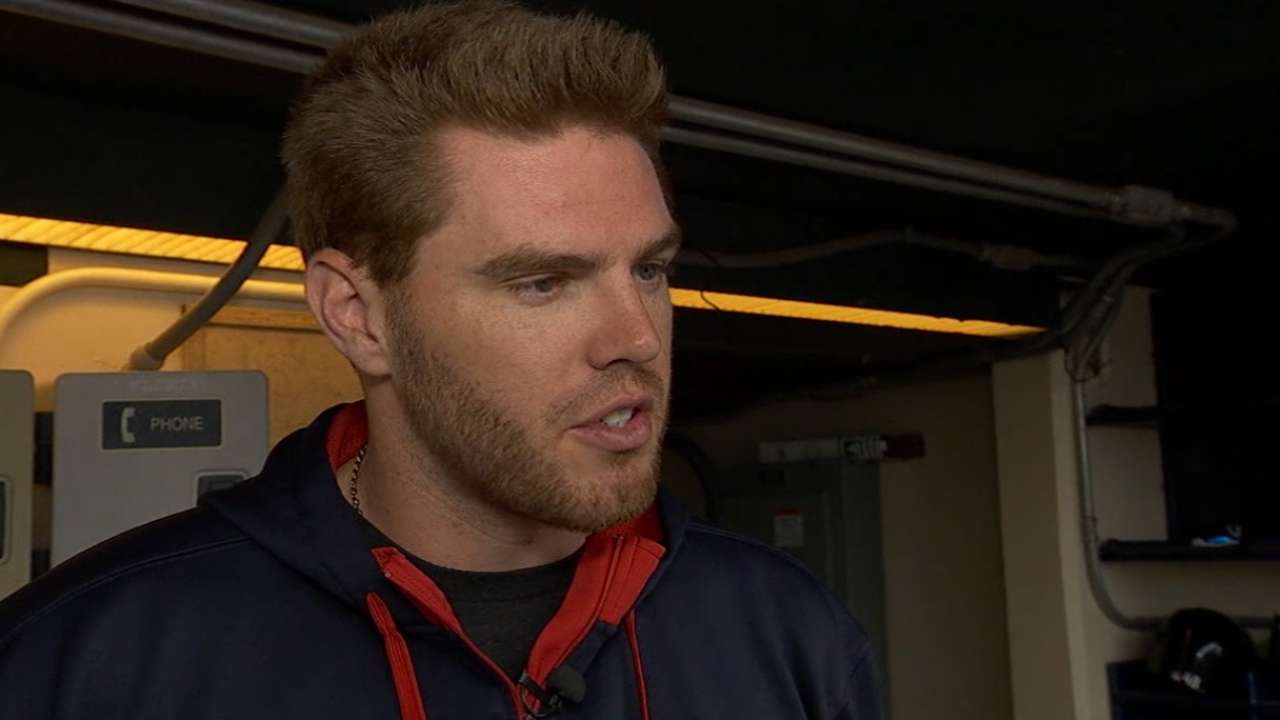 This team is built around first baseman Freddie Freeman, its best player; lights-out closer Craig Kimbrel; and shortstop Andrelton Simmons, the NL's top defensive player. A little over a year ago, they were signed to contract extensions totaling $235 million. Freeman alone will earn $135 million over eight seasons through 2021.
"We have a good core, a good group to build around," said Gonzalez. "We had two goals going in: Remain competitive on the Major League side and rebuild our farm system. That's our direction. We've gone from 27th in the Minor League rankings up to within the top 10 in less than six months.
"You're going to see a lot of these young players come up through the pipeline as the years go by. Our goal is still the same -- to get in the playoffs, whether it's winning the division or as a Wild Card."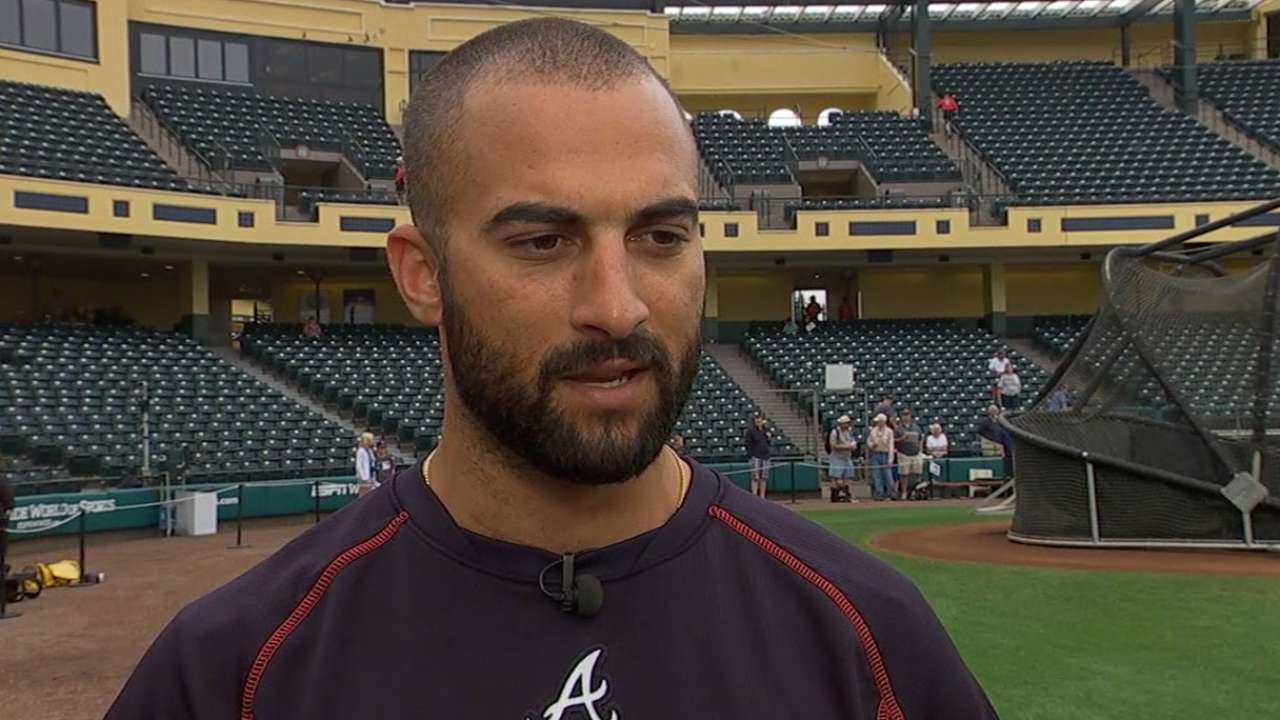 Among the offseason additions are Nick Markakis, former Orioles Gold Glove Award-winning outfielder; pitcher Shelby Miller; second baseman Alberto Callaspo; and outfielder Jonny Gomes.
"Through all the years, when Bobby Cox was managing, we've never gotten old," said Gonzalez.
Markakis will anchor the leadoff spot and is supposed to replace Heyward's bat.
But it could be the much-traveled Gomes who brings the most to this recast group. He has a knack for making young, talented players believe in themselves. Gomes has already been working his motivational wizardry on Freeman.
"Every year, there is going to be someone who comes in and changes the course of your career," Freeman told MLB.com's Mark Bowman. "Jonny Gomes has done that for me. He's made me want to work harder and prepare harder. He makes everyone in this clubhouse believe that they can win, and we definitely need that this year."
As Hart was preparing for Spring Training, I asked him about this era in which so much emphasis is put on analytics and computer-driven patterns -- you name it.
Hart isn't one to back away from that, but he said, "There are some wise old owls there, too. We, the Atlanta Braves, want to be an organization that leans a lot more toward veteran baseball guys. John Schuerholz is that guy, I've been that guy, Bobby Cox is that guy, but at the same time have access to cutting-edge statistics."
For years, the Braves have battled the Phillies for the division crown. It will be another battle this year, but not for the same prize.
Now, it's about respectability.
Hal Bodley is the senior correspondent for MLB.com. Follow him @halbodley on Twitter. This story was not subject to the approval of Major League Baseball or its clubs.