Signs pointing to Sizemore being Phillies' starting right fielder
Bench roles still to be decided in final days of Spring Training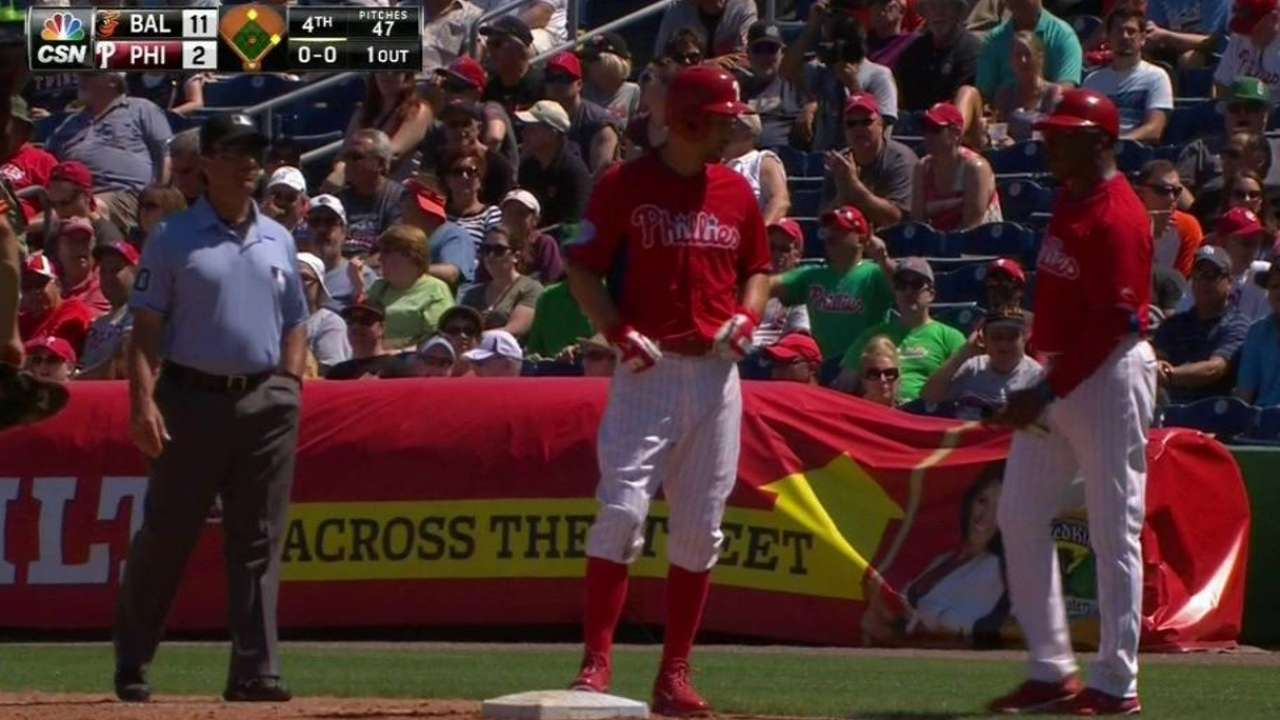 CLEARWATER, Fla. -- Phillies outfielder Grady Sizemore started his third consecutive game in right field Thursday at Bright House Field.
It seems to point to Sizemore being the team's Opening Day right fielder, although Phillies manager Ryne Sandberg declined to commit to him. Domonic Brown had been the presumed right fielder, but he will open the season on the disabled list with left Achilles tendinitis.
"To read into it, he's definitely a candidate for right field as we go forward here," Sandberg said about Sizemore.
Seven of the team's eight position players appear set for Monday's season opener against the Red Sox at Citizens Bank Park: catcher Carlos Ruiz, first baseman Ryan Howard, second baseman Chase Utley, third baseman Cody Asche, shortstop Freddy Galvis, left fielder Ben Revere and center fielder Odubel Herrera.
Sizemore is a lock to make the team -- Phillies general manager Ruben Amaro Jr. said as much Monday -- despite a disappointing Spring Training. Sizemore entered Thursday hitting .200 (9-for-45) with three RBIs.
That leaves eight players competing for a potential six bench jobs with the Phillies carrying a sixth bench player until April 12, when they need a No. 5 starter. Catcher Cameron Rupp and outfielder Darin Ruf are locks. Infielder Cesar Hernandez has had a poor spring, but he remains a heavy favorite because he is out of options and the Phillies do not want to risk losing him on waivers.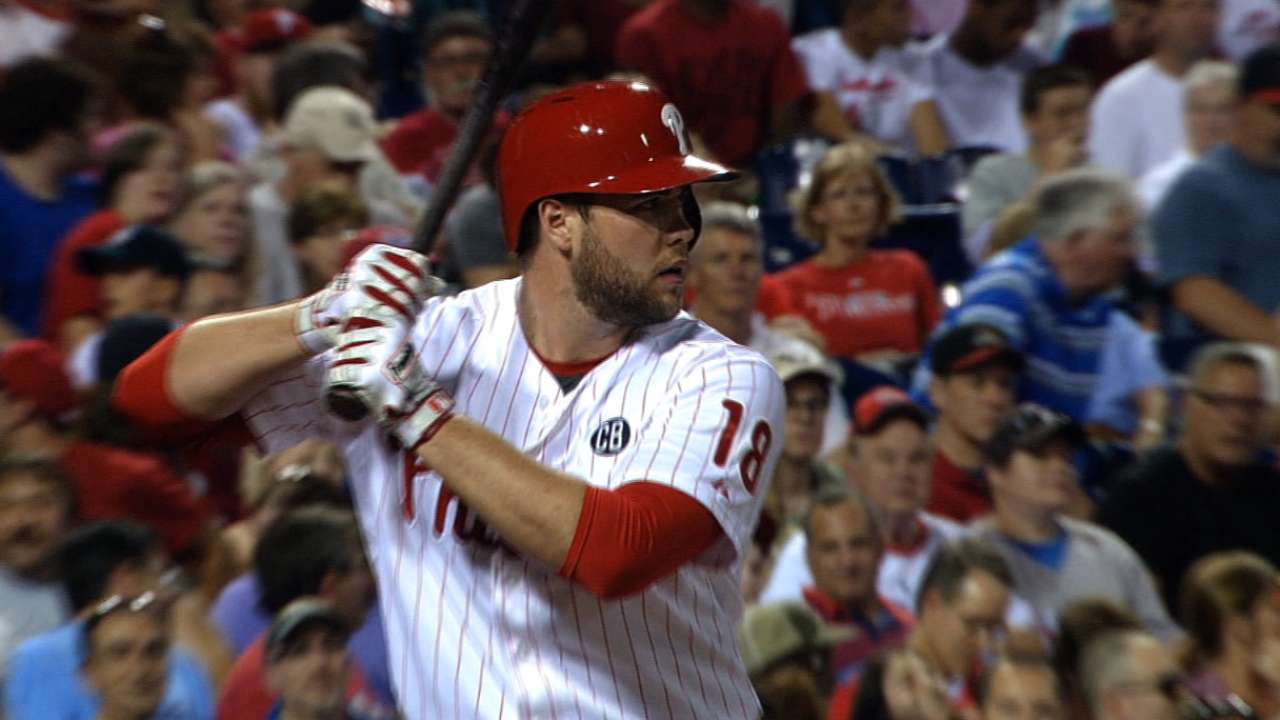 Outfielder Jeff Francoeur has hit just .184 (7-for-38), but he remains a favorite because the Phillies do not have many right-handed bats. Francoeur also has been a tremendous presence in the clubhouse this spring, and that is something the front office and coaching staff might want in what could be a challenging season.
Outfielder Jordan Danks and infielders Andres Blanco, Russ Canzler and Cord Phelps figure to be battling for the final two jobs, which becomes one job come April 12. Blanco might be fourth on that list. It is hard to read which way the Phillies are leaning with the other three, although Phelps has had the best spring, offensively, of the three.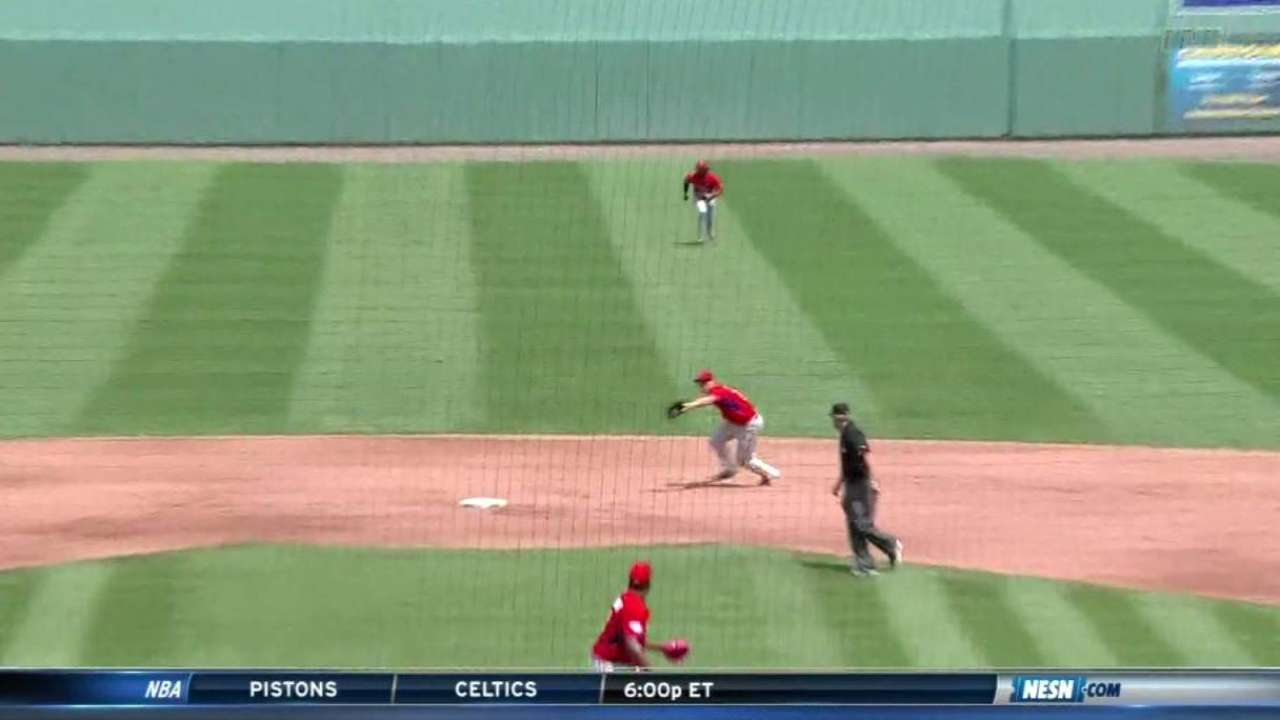 Phelps, who is a non-roster invitee, entered Thursday hitting .310 (13-for-42) with one double, one triple, one home run, six RBIs and nine walks. Canzler, who also is a non-roster invitee, is hitting .279 (12-for-43) with two doubles, one homer, four RBIs and one walk.
Danks, who is on the 40-man roster and has options remaining, is hitting .268 (11-for-41) with two doubles, one home run, five RBIs and six walks.
Todd Zolecki is a reporter for MLB.com. Read his Phillies blog The Zo Zone. Follow him on Twitter. This story was not subject to the approval of Major League Baseball or its clubs.