MLB.com Columnist
Bill Ladson
Status comes 2nd to winning for Scherzer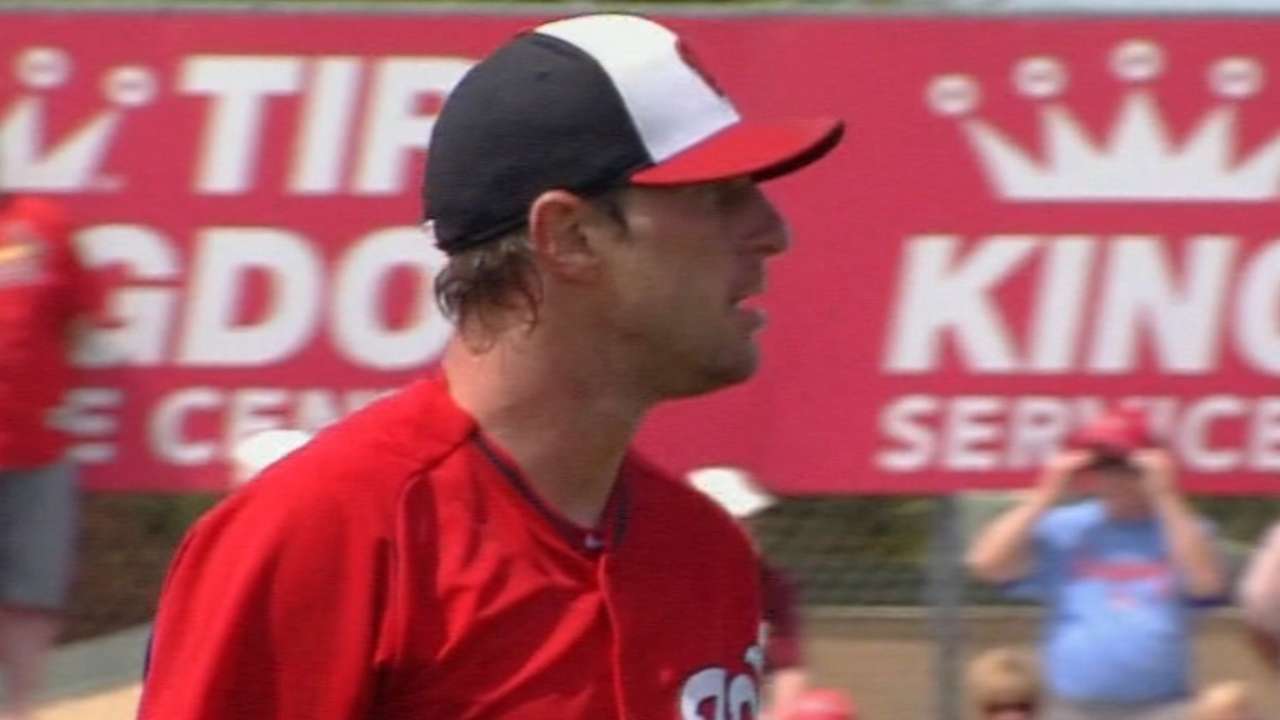 VIERA, Fla. -- After he was traded to Detroit, Max Scherzer became the pitcher everyone expected him to be when the D-backs made him the 11th overall pick in the 2006 Draft. He won 82 games over five seasons with the Tigers and captured the American League Cy Young Award in 2013, culminating with a seven-year, $210 million deal with the Nationals in January.
But if you talk to Scherzer, there's still a lot of work to be done on the mound, and he says that he's still learning on the job.
"You never stop learning, no matter how deep you go in your career. That's something you have to be willing to do," the 30-year-old Scherzer said. "It could be a pitch-selection type of pitch, even mechanical or how you attack a hitter. There are so many different things you can learn about your instincts, because when you are on the mound, you have to have good instincts on what you are trying to do and what the next pitch needs to be."
Take the time when Scherzer and right-hander Anibal Sanchez were teammates with the Tigers.
Scherzer said Sanchez was the best he saw at changing speeds with his changeup. Sanchez could throw his changeup between 84-88 mph, go down to 75 and then back to 88.
"I don't know how he does it, and you see hitters take stupid hacks at it," Scherzer said. "Something like that, you try to talk to him and figure out how you can add it to your game a little bit. There are constant conversations like that all the time."
While Scherzer aims to get better with every start, he'll be the Nationals' Opening Day starter against the Mets on Monday at Nationals Park. While he understands how significant it is to pitch that first game, Scherzer doesn't take stock of being the first member of the rotation to toe the rubber this season.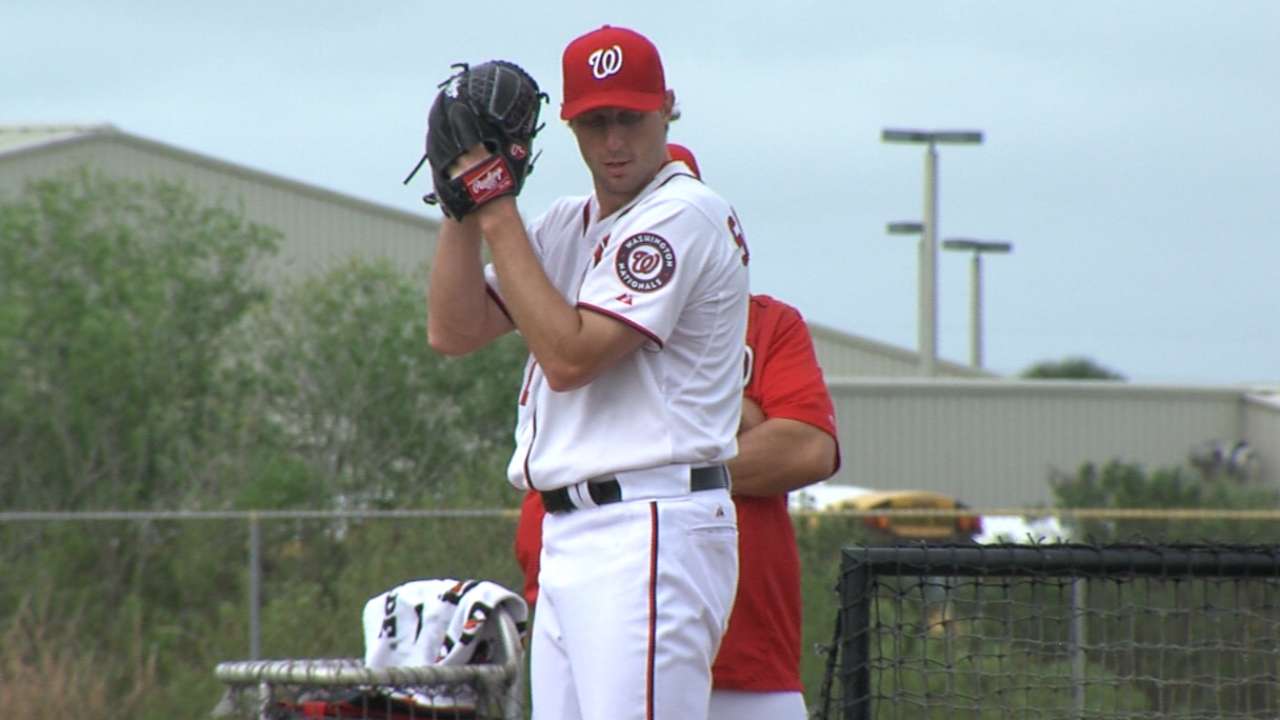 "We are all getting 30-plus starts. It's more about what you do about those starts than when you pitch," Scherzer said. "I'm going to attack this National League rather than [worry about] which place I am in the rotation."
Scherzer is returning to the NL after spending five years in the AL. There are going to be situations that he will handle differently than when he was with the Tigers.
"[I will be] talking to skipper [manager Matt Williams] and Cat [pitching coach Steve McCatty] about how I should handle different situations -- attack the hitter or pitch around him," Scherzer said. "Those will be things that will be tailored to the National League."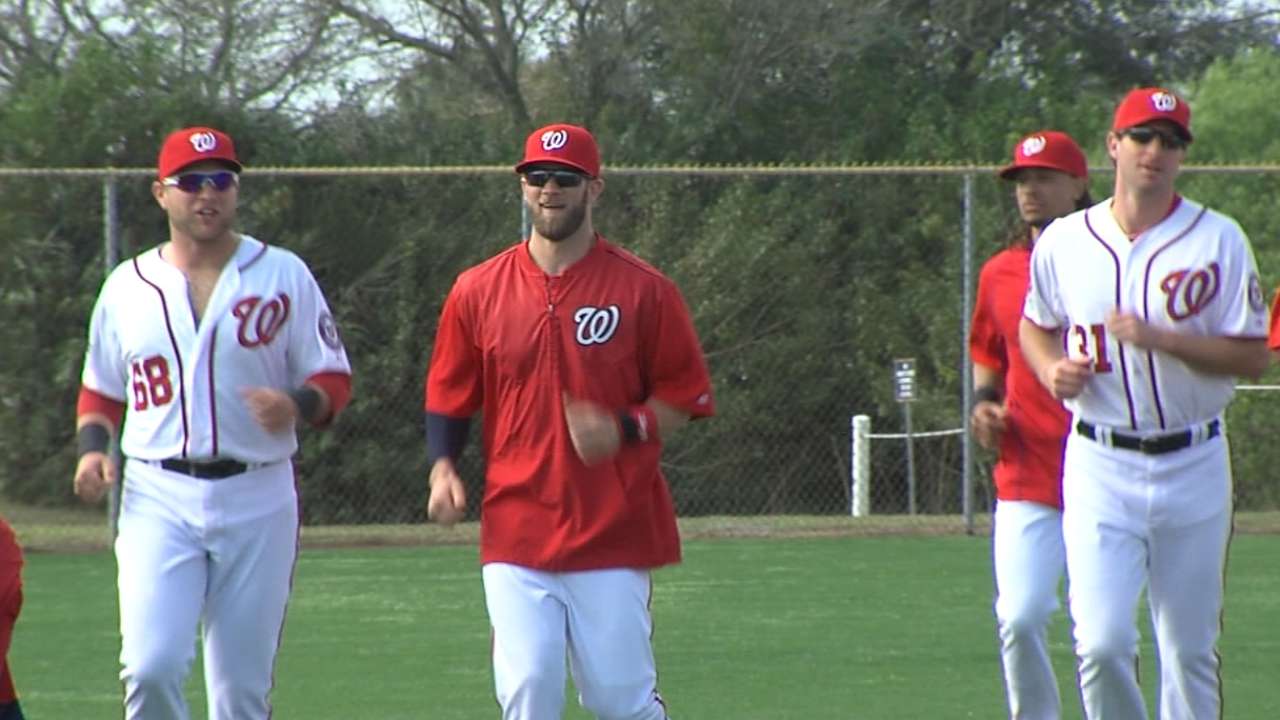 Scherzer is part of a staff that includes Stephen Strasburg, Jordan Zimmermann, Doug Fister and Gio Gonzalez, which is already being considered the game's best rotation. Not so fast, said Scherzer, who was part of some really good pitching staffs in Detroit and Arizona.
"On paper, we look great. We are as good as anybody in the league. I've seen these guys from afar and know who they are," Scherzer said. "But I need to see these guys every single day. I need to see all 30 starts and watch when they go on hot streaks, when they struggle. We all have great times and a little low times. It's a matter of how we handle each situation. I haven't had the experience with these guys. It would be unfair to my former rotation mates to sit here and try to compare."
Bill Ladson is a reporter for MLB.com and writes an MLBlog, All Nats All the Time. He also can be found on Twitter @WashingNats. This story was not subject to the approval of Major League Baseball or its clubs.