Tanaka unfazed by Pedro's 'hesitant' assessment
Former Red Sox hurler thinks righty is not healthy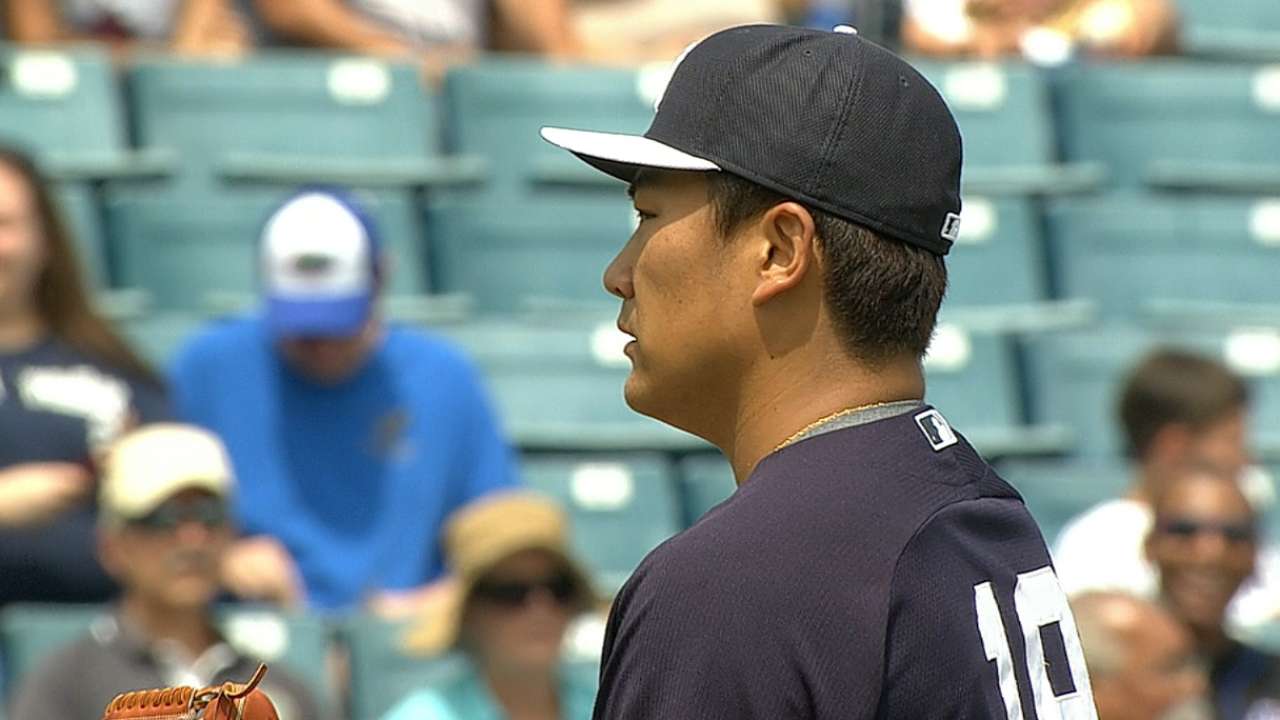 TAMPA, Fla. -- Masahiro Tanaka was pleased to get through his spring healthy and without incident, and so the right-hander did not seem bothered when some comments made by Hall of Fame hurler Pedro Martinez made their way back to his locker at George M. Steinbrenner Field.
Appearing on SiriusXM's Mad Dog Sports Radio on Wednesday, Martinez did not offer a positive scouting report of the Yankees ace. Martinez opined that he does not believe Tanaka is completely healthy and that he is hesitating to throw his fastball while hanging his breaking balls.
"First, I feel kind of honored because a player of that stature is talking about me," Tanaka said through an interpreter. "I was a little bit surprised by that and kind of feel honored by that. But I understand that everybody has their opinion about certain things, about the way I pitch.
"But for me, I know where I'm at, and I feel good, so I think that's the most important. I feel good."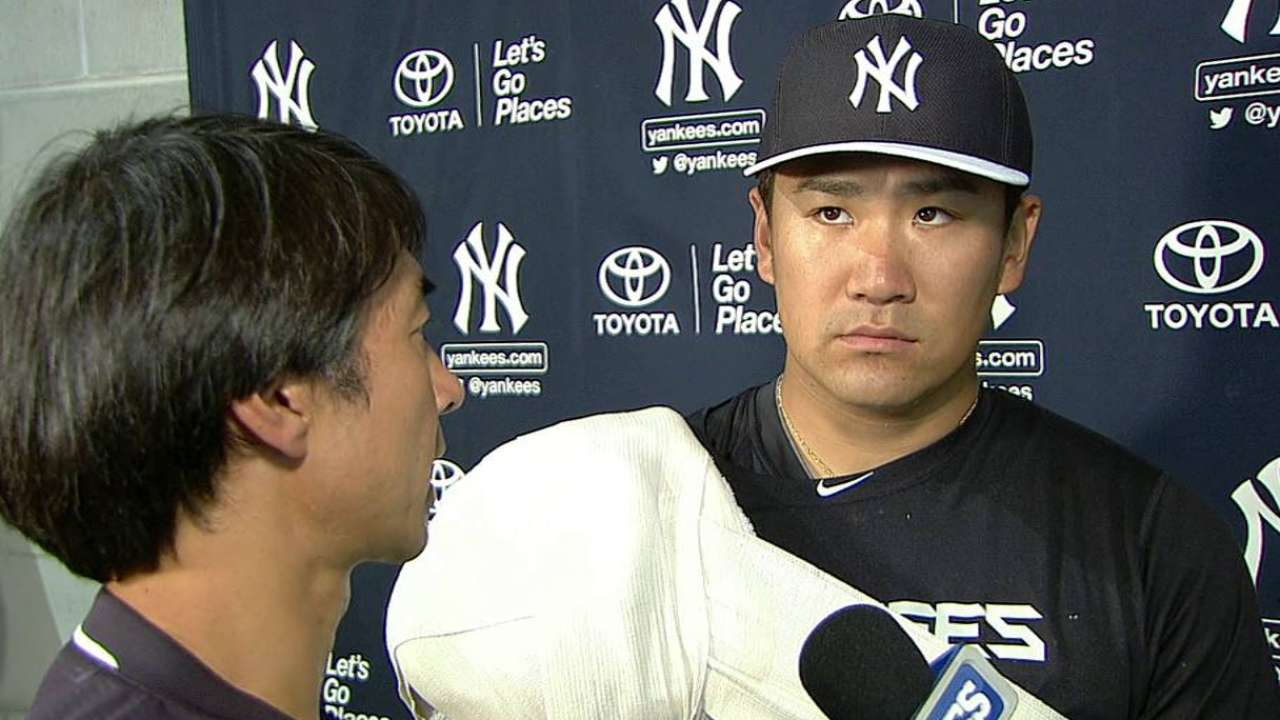 Tanaka, 26, is preparing to serve as the Yankees' Opening Day starter on Monday against the Blue Jays. Martinez said in the radio interview that, based upon what he has seen this spring, he does not believe that Tanaka will make it through the season without incident.
"Tanaka is not healthy right now, because I believe Tanaka is hesitant to let it go," Martinez said. "Tanaka is hanging all those breaking balls that he is throwing. The only pitch he is committing to is the split-finger, and his problems are actually in a place where you don't need to put any more stress, which is the elbow.
"And he's hesitant. He's hesitating to throw his fastball and he's hanging every breaking ball he's throwing out there. Plus, his velocity is not there yet."
Those comments were relayed to Tanaka, who was clocked mostly between 87-90 mph in his final spring start against the Twins in Fort Myers, Fla., and maxed at 92 mph. He has said that he is using his two-seam fastball more instead of his four-seam fastball, sacrificing some velocity to pick up sink.
"I was working on my two-seamer," Tanaka said. "As for my mechanics, I was trying to have my body, in a sense, relax a little bit more when I'm throwing. Maybe that is why it might look that way."
Tanaka said that he could throw harder if he wanted to, and general manager Brian Cashman said that he has been encouraged by Tanaka's healthy spring. Even so, Cashman said that there's no way to completely rule out Martinez's prediction.
"It's the easy position to take, and obviously Tanaka is going to be out there trying to prove otherwise," Cashman said.
As for the hanging breaking balls, if Martinez was judging by the start against the Twins, it was likely Tanaka's roughest outing of the spring. He finished the spring with a 3.07 ERA in 14 2/3 innings, walking one and striking out 13.
"I think Pedro was looking at specifically the last game that I was pitching, and obviously as you guys know, too, my stuff wasn't the sharpest that day," Tanaka said. "The games prior to that, I felt my breaking balls were there.
"In the bullpen, I've been throwing them pretty well, so I'm not really worried about that either. Also, I was being able to get some swings for misses too, so I'm pretty confident where I am with my breaking balls."
If Tanaka should cross paths with Martinez during the season, he was asked, is there anything he would like to say to the former star?
"Probably ask for a handshake," Tanaka said with a smile.
Bryan Hoch is a reporter for MLB.com. Follow him on Twitter @bryanhoch and read his MLBlog, Bombers Beat. This story was not subject to the approval of Major League Baseball or its clubs.