Stewart Q&A: KC has pieces to prove '14 was no fluke
Royals broadcaster sees this year's club hungry for even more success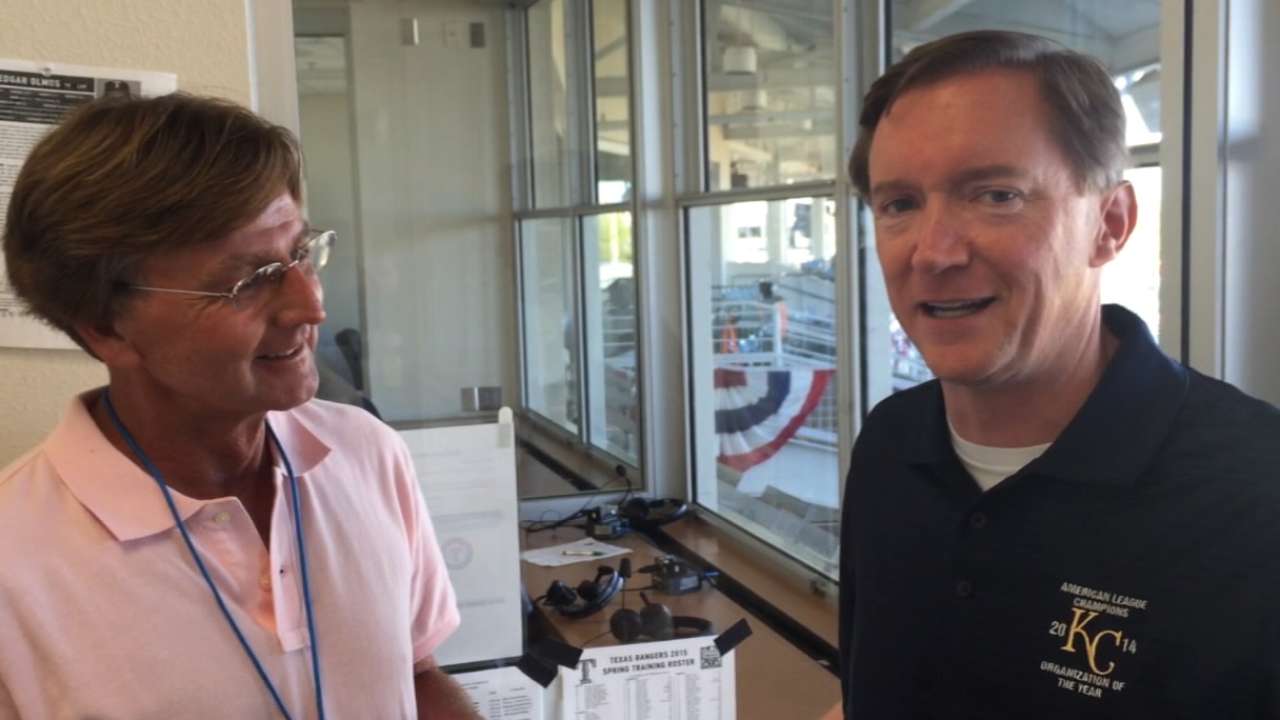 SURPRISE, Ariz. -- Royals radio announcer Steve Stewart, now in his eighth season with the club and in his 16th season in the Major Leagues, discussed the Royals' chances of getting back to the postseason in 2015.
MLB.com: With the additions the Royals made, is this team good enough to get back to the postseason?
Stewart: Like a lot of teams, they need to stay healthy. They lost Tim Collins -- that's one they can probably overcome. ... This bullpen can even be better. This rotation, they will miss James Shields, but Yordano Ventura took a big step forward, Danny Duffy took a big step forward, Edinson Volquez took a big step forward, and [Jeremy] Guthrie and [Jason] Vargas are very solid starting pieces.
Kendrys Morales
had a very down year. The Royals are counting on bounce-back years from Morales and [Alex] Rios. Rios is healthy, knock on wood. And Kendrys Morales is getting what he didn't get last year -- a Spring Training, with four at-bats a game. There's lot of chances for him to get comfortable in his new environment. The Royals are going to have a switch-hitting power DH who has been through the wars. I think his presence and Rios' presence will help [Mike] Moustakas stay out of the limelight a little bit. And hopefully Moose bounces back and has a good year.
MLB.com: Will they be as hungry this year?
Stewart: You know they will be hungry. They're going to get American League championship rings on Opening Day. I would imagine that some will wear them and some will not. Some will want to wait until they get World Series rings. Until you have been there and been that close to tasting the ultimate victory, your desire won't be as great. Until last year, they didn't even know what they were missing. Now they know the pain of watching the other team celebrate on their field.
MLB.com: It's a confident group, isn't it?
Stewart: They are. They're not cocky. They have confidence without arrogance. They are comfortable together. They grew up through the Minors together -- the Moustakas, the Perezes, the Hosmers -- the new guys can come in and feel a part of something. It's not just a mix of things.
MLB.com: Was the 2014 team a fluke?
Stewart: I don't think they were a fluke. There were little things that happened along the way that helped them. They won just one more game than Oakland that allowed them to host [the AL Wild Card Game]. But they earned it. ... I think as the year went along, the team's confidence grew and grew. The weight of 29 years hung over them, and they felt they had to get that off their back. But they're not a fluke. They're a good team. Last year won't help them do anything this year, but they're a good team.
Jeffrey Flanagan is a reporter for MLB.com. Follow him on Twitter at @jflanagankc. This story was not subject to the approval of Major League Baseball or its clubs.