Marlins' 'Entertainer' ready to step into spotlight
Alvarez tapped to start on Opening Day for new-look ballclub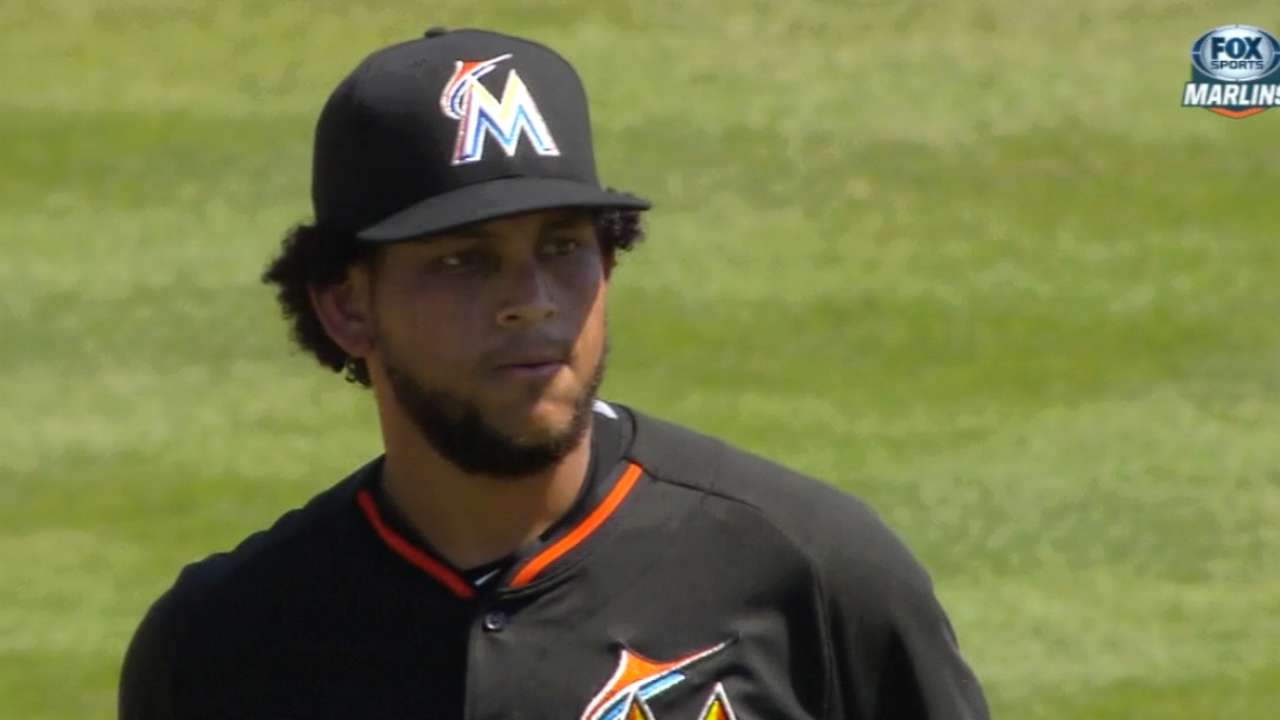 JUPITER, Fla. -- Opening Day is as much a big show as it is a ballgame, which makes it a perfect showcase for the man the Marlins affectionately call "The Entertainer."
Henderson Alvarez brings his own unique style every time he takes the mound. Miami fans will see it on Monday when the season gets underway against the Braves at Marlins Park.
Alvarez, 24, has already accomplished much since breaking in with the Blue Jays in 2011. The right-hander was acquired by the Marlins in '12, and two years later, he was an All-Star while assuming the ace role after Jose Fernandez underwent Tommy John surgery last May.
You never know what to expect when Alvarez is on the field, which is why he is called "The Entertainer." He has his signature first-pitch windup, where he takes an unusually long stride towards the plate. He only does it once, and then he settles into a more conventional delivery.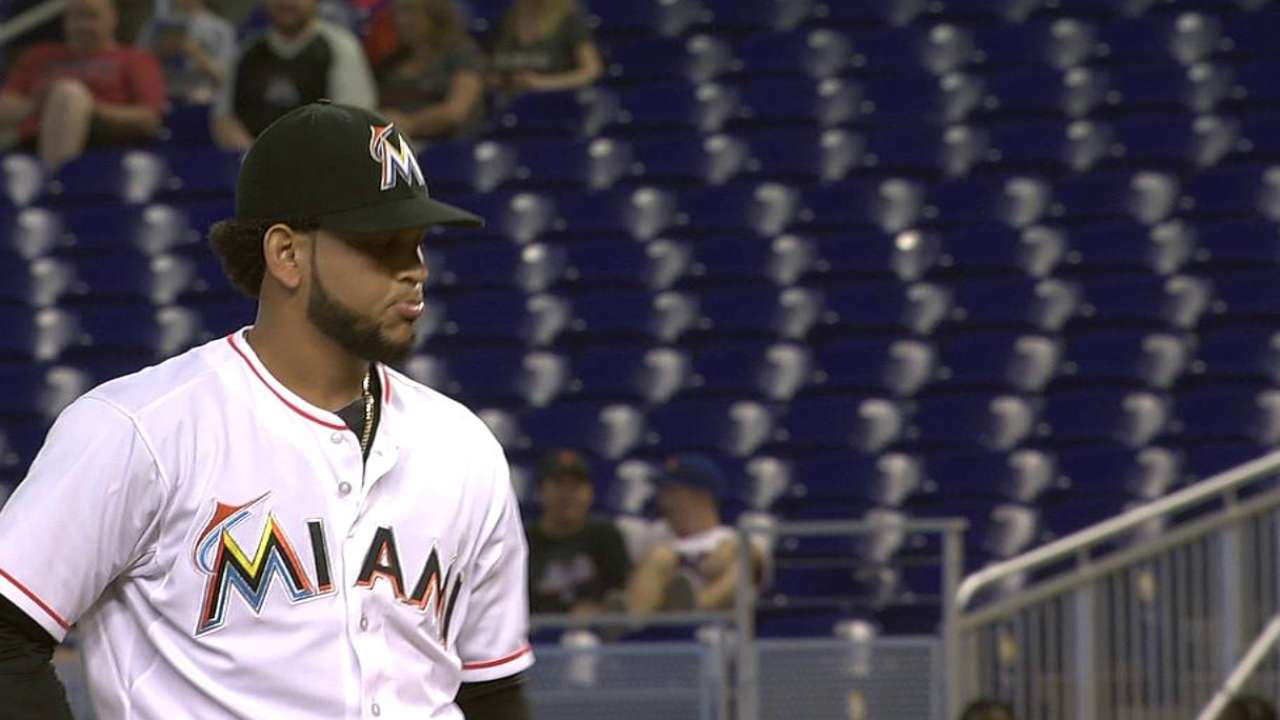 Alvarez also has a super-slow curveball, clocked at 65 mph, which he flutters to the plate at any given moment. Again, it's often a one-time deal during a game.
Alvarez has also been part of history in back-to-back closing days. He capped 2013 with a no-hitter against the Tigers in the season finale. But a year later, Alvarez was on the wrong side of history. At Washington in the '14 finale, Miami was no-hit by Jordan Zimmermann.
Alvarez has pitched in two All-Star Futures Games, and the right-hander has 47 starts witih the Marlins. Yet, there is a whole different anticipation level for him getting the nod on Opening Day.
"It's always been one of my goals to be an Opening Day starter in the big leagues," said Alvarez, a native of Venezuela. "I'll expect some nerves, but I'll be fine."
Miami's rotation will have Alvarez in Game 1, followed by Mat Latos and Tom Koehler in the second and third games against Atlanta. Dan Haren and Jarred Cosart hold the fourth and fifth spots.
In general, the Marlins been in good hands when Alvarez is on the mound. Last year, he was 12-7 with a 2.65 ERA.
"Hendu was our most consistent guy," pitching coach Chuck Hernandez said. "His biggest progress was his secondary stuff. He used his changeup and breaking ball some. Not as big a breaking-ball guy, but he pitched with changeup in big spots."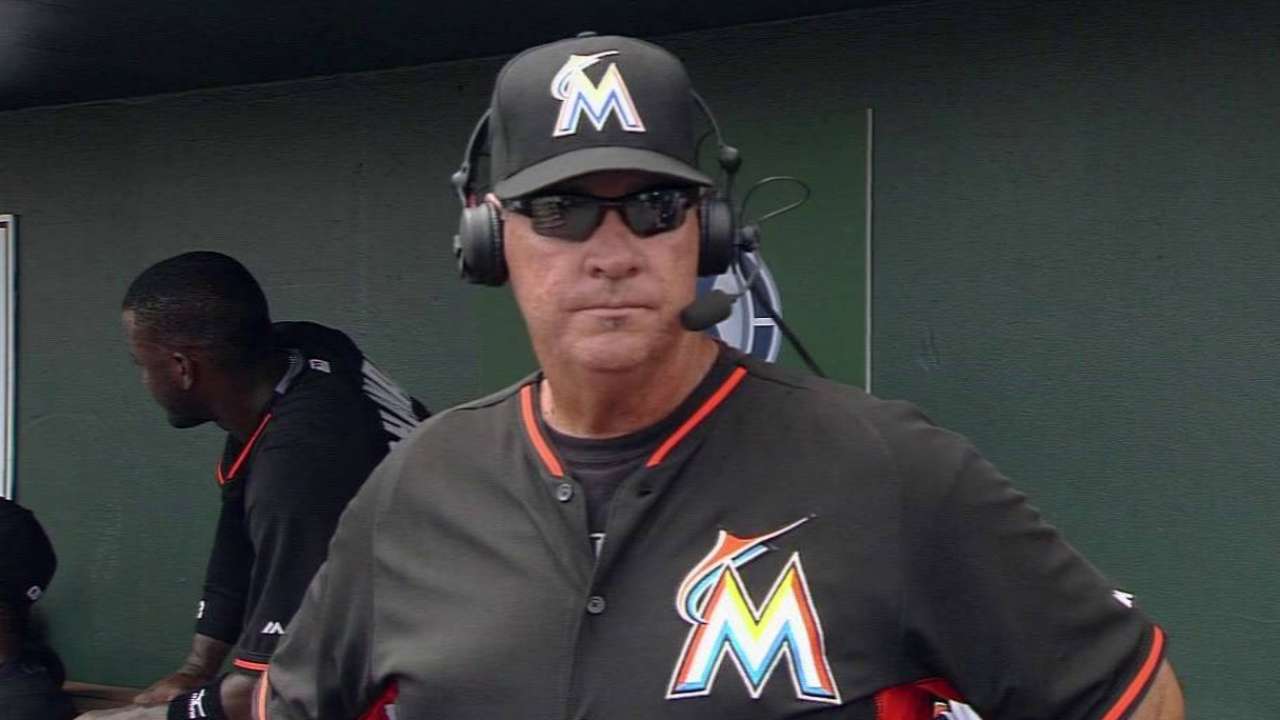 It wasn't a coincidence that Alvarez's career took off once he established his offspeed pitches. Along with a lively fastball that averaged 93.5 mph last season, according to Fangraphs, he mixed in an 83.3 mph slider and threw his changeup 23.2 percent of the time.
Usually around the plate, Alvarez entices plenty of early-and-often weak contact. One of the criticisms of the right-hander is he had a low career rate of 4.8 strikeouts per nine innings.
When in trouble, Alvarez has shown the knack to execute pitches to get out of jams. He also logs his share of innings and goes deep into games, posting three complete games (all shutouts) last year.
Alvarez is athletic, often sacrificing his body and making the organization hold its collective breath.
"I know I'm going to be out on that field at some point," manager Mike Redmond joked about checking on his quirky right-hander. "It's just a matter of what inning."
Fortunately for Miami, Alvarez usually dusts himself off and pushes onward.
"He's always been a good athlete," said catcher Jeff Mathis, a teammate of Alvarez with the Blue Jays and now the Marlins. "He was a shortstop coming up in [Toronto].
"It's pretty cool to see the maturation. The guy obviously had a great arm over there. He had good stuff, but to see it finally all come together, and the work he's put in, it's cool to see him rewarded for that."
Joe Frisaro is a reporter for MLB.com. He writes a blog, called The Fish Pond. Follow him on Twitter @JoeFrisaro. This story was not subject to the approval of Major League Baseball or its clubs.