Coming off epic postseason, Bumgarner aiming higher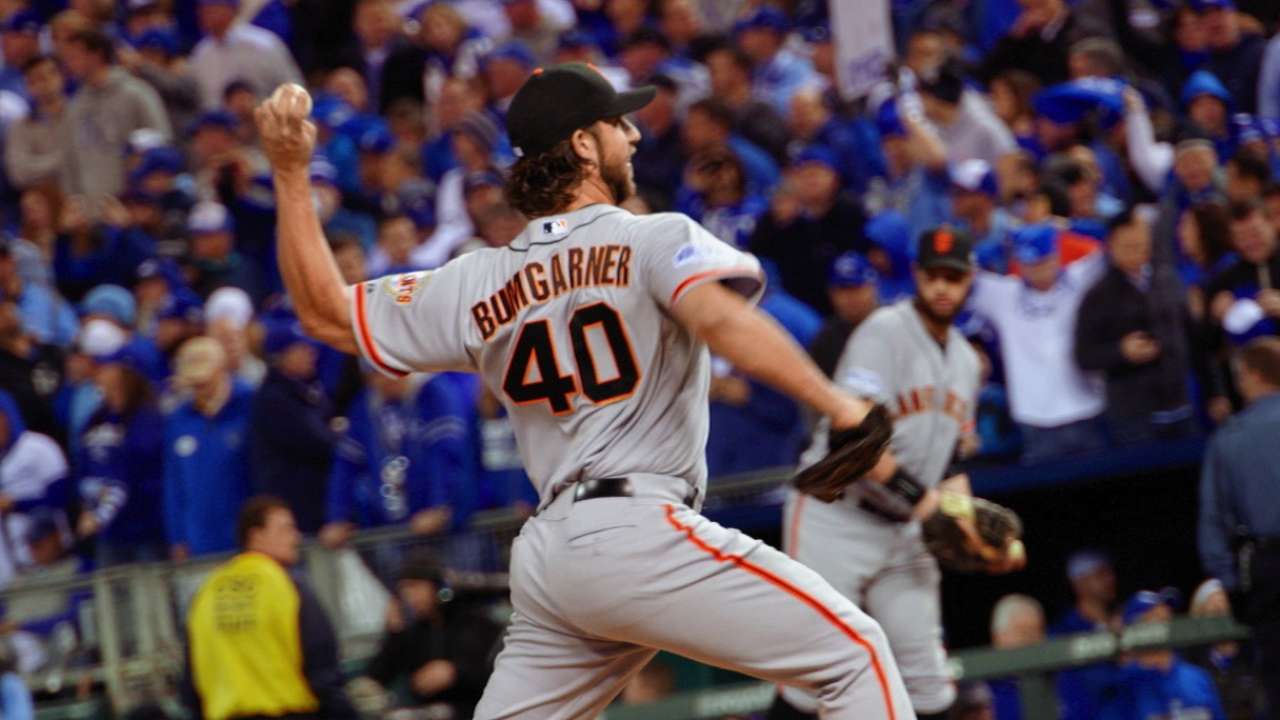 SCOTTSDALE, Ariz. -- Given his performance last October, Giants left-hander Madison Bumgarner seems capable of doing anything. Even improving.
So prodigious and dominant was Bumgarner's 2014 postseason -- which featured a 4-1 mark, a 1.03 ERA, a record 52 2/3 innings and the famous save against the Royals in Game 7 of the World Series -- that it's easy to forget he's still developing as a pitcher.
Bumgarner is approaching his fifth full Major League season, which he will officially begin Monday when he starts for San Francisco on Opening Day in Phoenix. Yet he's only 25.
Besides excelling in the postseason, Bumgarner has amassed a 67-49 regular-season record. He's coming off a year in which he established personal regular-season bests in wins (18), innings (217 1/3) and strikeouts (219). Receiving higher production from Bumgarner isn't out of the question for the Giants, who have seen him steadily progress since he made his Major League debut in 2009.
Asked if Bumgarner appeared capable of doing more, catcher Buster Posey said, "I think so. The fun part for all of us is we get to watch and see."
Few people see how Bumgarner pushes himself physically in hopes of constantly upgrading his game. He's acknowledged as one of the team's hardest workers, if not its hardest worker, period.
"You watch him in the weight room, and he doesn't back off," manager Bruce Bochy said. "He's really religious with his workouts and how he takes care of himself. That's how he could carry the [postseason] load that he did last year."
Posey confirmed the sincerity of Bumgarner's diligence.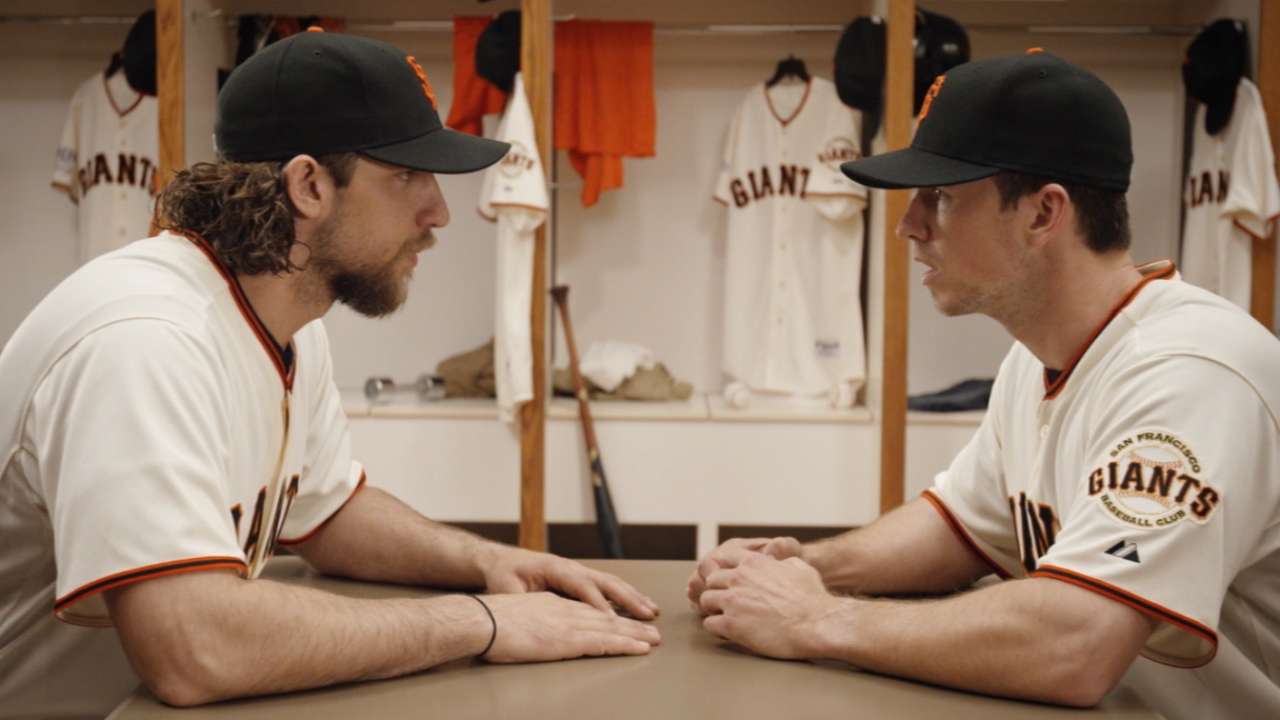 "I think there's a difference between having a plan and coming in and really focusing on what you're trying to accomplish that day, instead of just kind of checking a box off," Posey said. "I think that's a very strong, great attribute that he has. He doesn't do anything to go through the motions."
Bochy likes to observe that truly great athletes never believe they have "arrived" at a level of peak performance. Bumgarner shares this refusal to settle, which explains why he won't let last year's postseason erode his self-motivation.
"I could pitch better than that and have worse results or pitch not as good and have maybe as good of results," said Bumgarner, the MVP of the National League Championship Series and the World Series. "I'm not really trying to take one month in my career and go off of that. I was definitely blessed to have the opportunity to have things go my way like they did.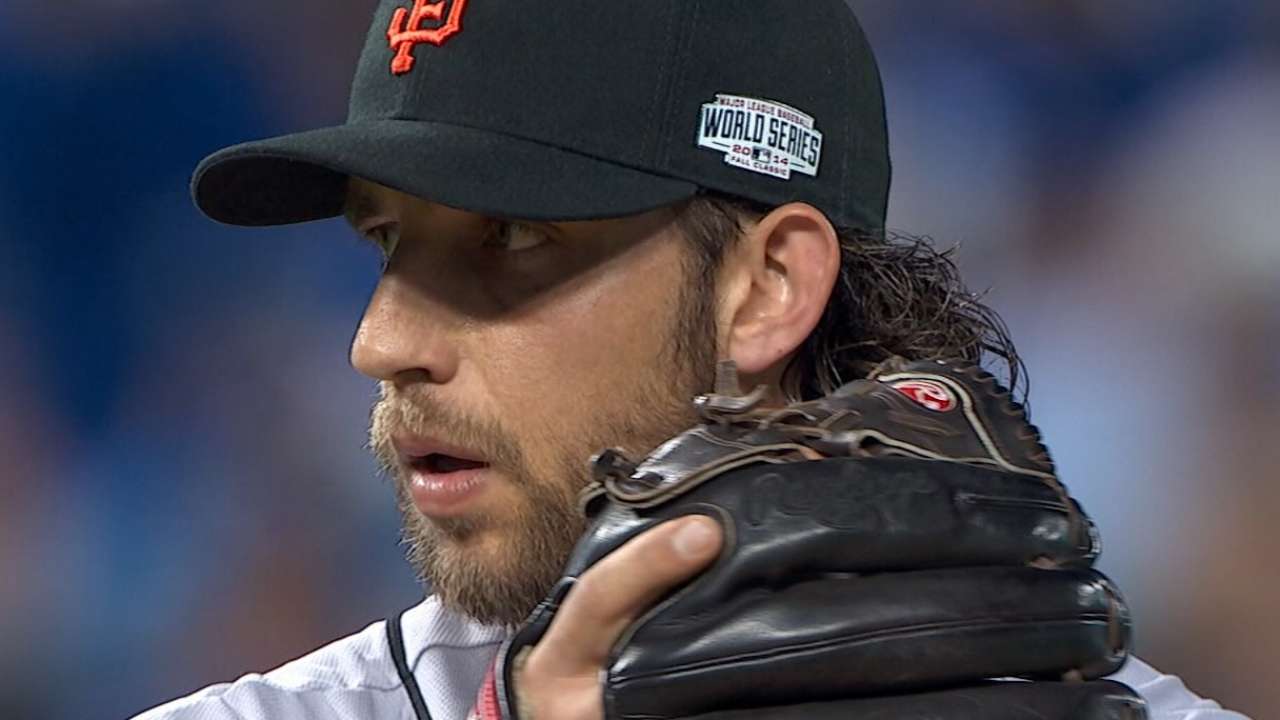 "But I want to build off the entire season, not just one month of the season. It's that way every year. I'm trying to get better every year, regardless of what the numbers have been year after year. It's nothing different from any other time."
Last year's brilliance didn't blind Bumgarner to the need to move forward.
"It was 'last year' the day after the World Series," he said. "As much as we enjoyed it and would like to relive that over and over, it's a new season. We're the defending World Series champs, only because there hasn't been another World Series yet. We have to get ready for this year and try to do it again. Last year's over with. It's gone."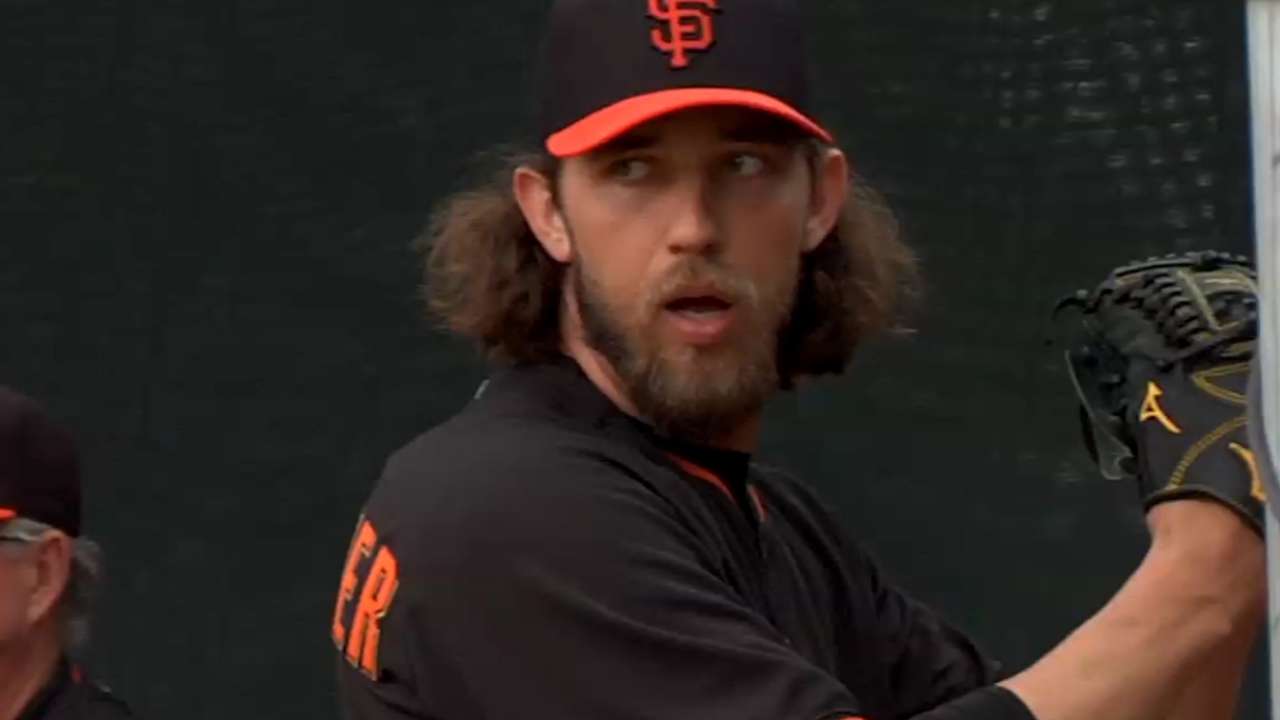 Bumgarner is unafraid of success, as his attitude toward Dodgers ace Clayton Kershaw reflects.
"I think it's pretty clear that he sets the bar for everybody," Bumgarner said. "He's so far ahead of most anyone else that I'm sure a lot of people would be OK with that."
And Bumgarner believes that Kershaw has no intention of yielding his status as baseball's premier pitcher: "I would just about bet anything that he wants to be better than he is."
That won't stop Bumgarner from striving to surpass Kershaw or any other pitcher who's more highly regarded -- though few are.
"I don't want to be just as good as anybody," Bumgarner said. "In the grand scheme of things, everybody's striving to be the best they can be."
Chris Haft is a reporter for MLB.com. Read his blog, Haft-Baked Ideas, and follow him on Twitter at @sfgiantsbeat. This story was not subject to the approval of Major League Baseball or its clubs.