Hernandez was vital to Cardinals' 1982 World Series title
First baseman is one of eight modern candidates on club's 2015 Hall ballot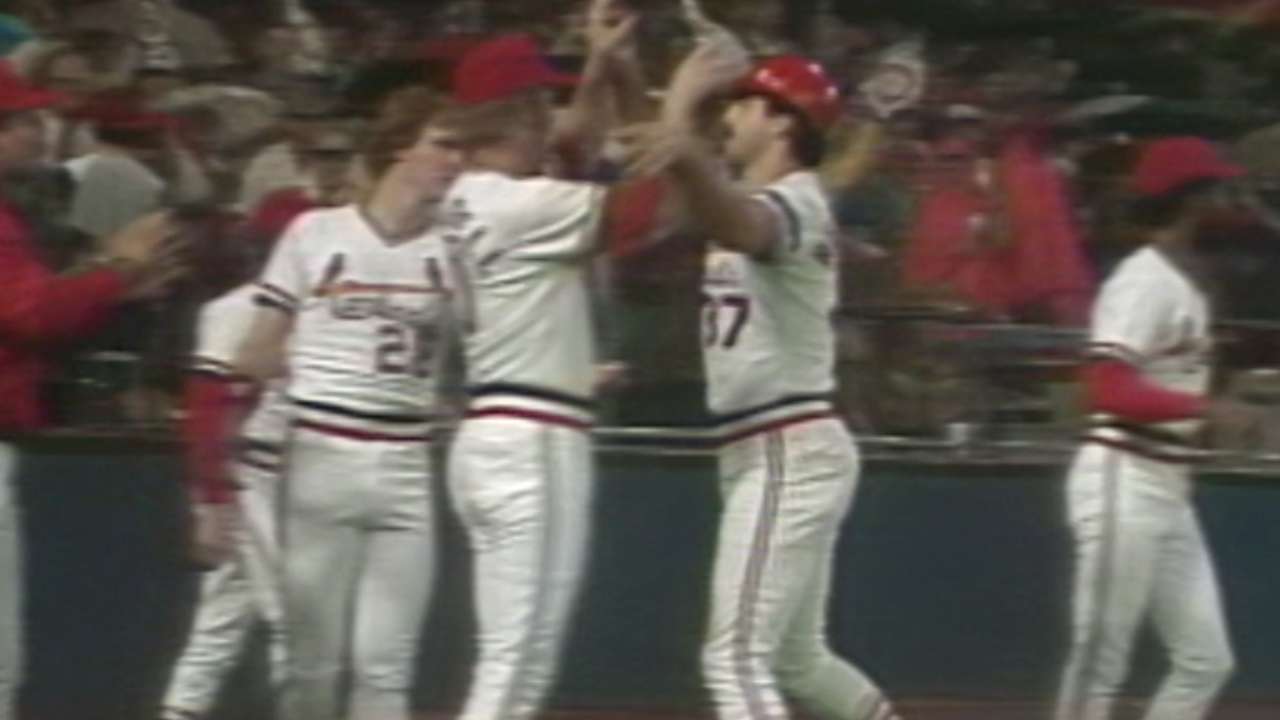 This is the fifth in a series of stories profiling the eight modern candidates on the Cardinals' 2015 Hall of Fame ballot.
On baseball's biggest stage, one of the fondest moments of Keith Hernandez's career went mostly unseen.
The Cardinals were up, 5-0, on the visiting Milwaukee Brewers, and they were poised to even the 1982 World Series at three games each. With rain starting to fall at Busch Stadium, Hernandez stepped into the box for what he remembers to be a 13- or 14-pitch at-bat against future Hall of Famer Don Sutton.
The mustachioed Cards first baseman smashed a two-run homer, except the viewers at home never saw it. The NBC telecast briefly cut away from the action to show the rain falling around the Gateway Arch in the distance before quickly cutting back just after contact. To this day, Hernandez has yet to track down any footage of the full sequence.
Thankfully, the rest of Hernandez's St. Louis accomplishments are well-documented. His 1979 National League Most Valuable Player Award plaque and his Silver Slugger Awards are proudly displayed in his home. And the two-time All-Star and five-time Gold Glove Award winner while with St. Louis will always have a place in Cardinals lore for his key role in the club's '82 World Series championship run.
And now, Hernandez, 61, is in the mix to add Cardinals Hall of Famer to his career accolades. The former first baseman returns as one of eight modern St. Louis legends up for induction into the second Cardinals Hall of Fame class.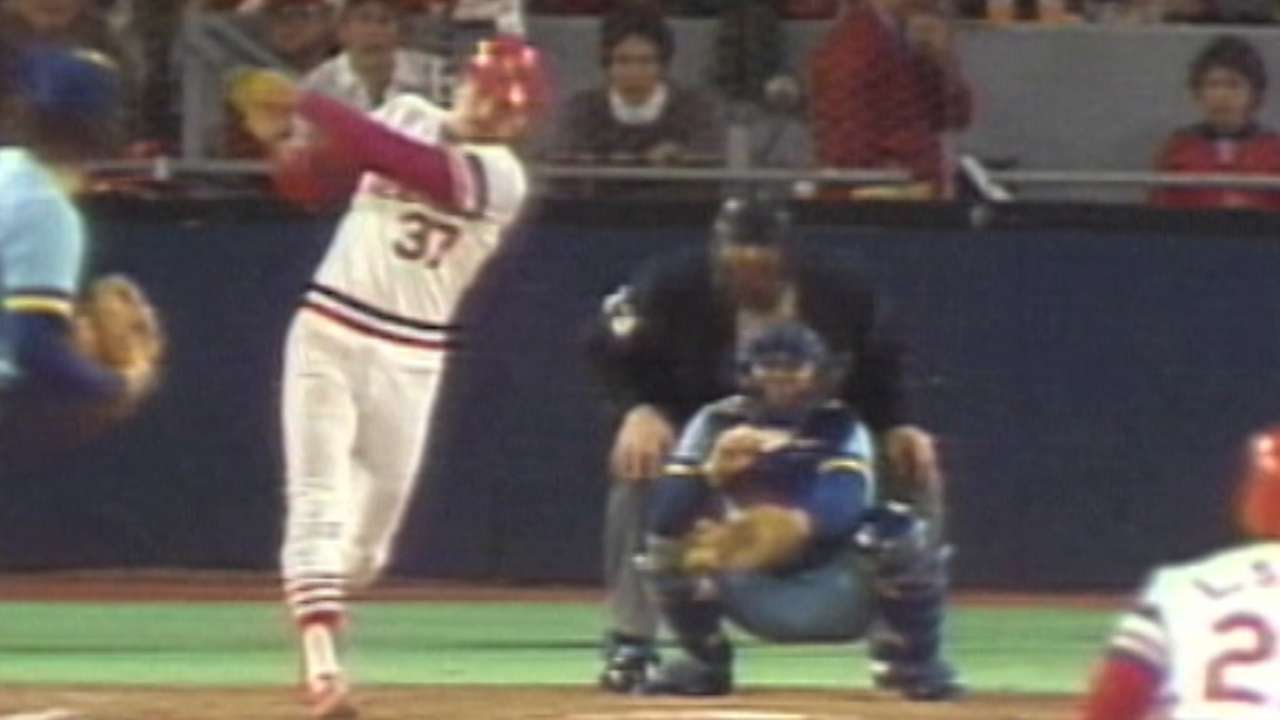 Until April 20, fans can vote for up to two of the eight candidates -- Hernandez, Steve Carlton, Bob Forsch, Edgar Renteria, Mark McGwire, Matt Morris, Ted Simmons and Joe Torre. The top two vote-getters will be enshrined during an Aug. 15 ceremony at Ballpark Village.
Drafted by the Cards in the 42nd round in 1971, Hernandez made his Major League debut in '74 at age 20.
It wasn't until 1977 that Hernandez broke out as a hitter -- batting .291 with 15 home runs and 91 RBIs. He then struggled through a down year, hitting just .255 in '78. When his slump spilled over into April 1979, a few words of encouragement from then-manager Ken Boyer were all Hernandez needed to put an end to his offensive woes.
"We were flying somewhere after I had an 0-for," Hernandez recalled. "And [Boyer] just sat down next to me and said, 'Keith, you're my first baseman. I will sink or swim with you at first base. You're in the lineup. You're my guy. You're my third hitter. I've seen you play; I know you've got it.' And that just took the weight of the world off my shoulders."
Hernandez's slow start -- he hit .232 in April -- was quickly forgotten, as he batted .362 from May through September, raising his season average to a league-best .344, with 105 RBIs, 11 homers and 48 doubles. The extraordinary turnaround earned him a share of the 1979 NL MVP Award with Pittsburgh's Willie Stargell.
Hernandez would bat .297 or higher in nine of his next 10 seasons with the Cardinals and Mets, and he won his first championship with St. Louis in 1982 on a team he calls the best group he's ever played with.
Chad Thornburg is a reporter for MLB.com. This story was not subject to the approval of Major League Baseball or its clubs.