Martin to live childhood 'dream' of playing in Montreal
Blue Jays set for two-game exhibition series vs. Reds at Olympic Stadium before regular season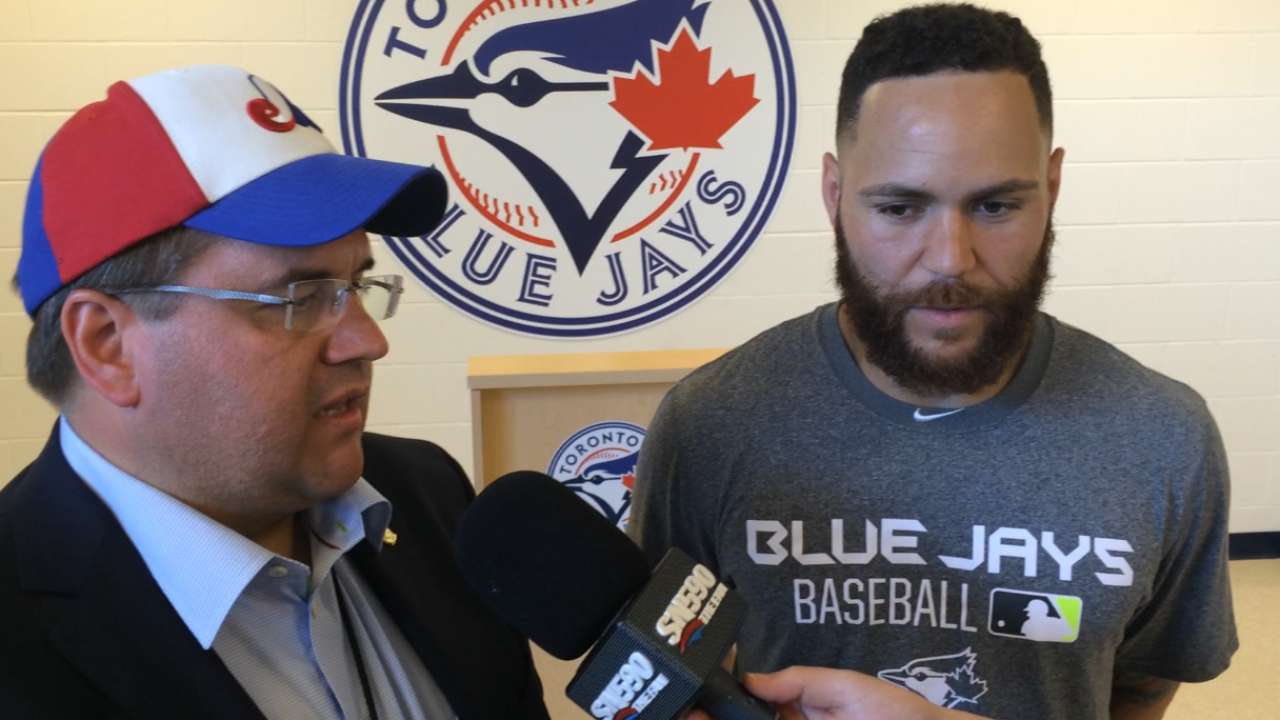 DUNEDIN, Fla. -- When the Blue Jays take the field at Olympic Stadium on Friday, one of Russell Martin's earliest childhood dreams will come true: playing professional baseball in Montreal.
Martin spent countless hours as a child fantasizing about putting on a big league uniform in front of the friends and family who supported him throughout his formative years as a teenager growing up in La Belle Province.
When the Expos left for Washington in 2005, the dream of playing in front of the home crowd died with it. That is, until the Blue Jays brought baseball back to the city last year with an exhibition series against the Mets. They will return again Friday, and this time, Martin is along for the ride.
"A lot of memories attached to that building over there," Martin said in reference to Olympic Stadium. "My first Major League game, going with my dad and seeing the Expos play, watching Marquis Grissom, Tim Wallach and so forth -- it was a lot of fun.
"I'm looking forward to the energy in the ballpark. I know when I go see the Montreal Canadiens play back home, the crowd can get pretty crazy and loud and energetic. That crowd times three or four is what I'm expecting. Hopefully we don't knock the roof off for getting too loud, but I think it's going to be close."
Martin was born in East York, Ontario, and he spent a couple of years with his mother in Paris, but most of his time was spent in Montreal. It's where his father played the saxophone in subway stations to help pay for his son's training. It's where the initial dream of playing baseball for a living was born.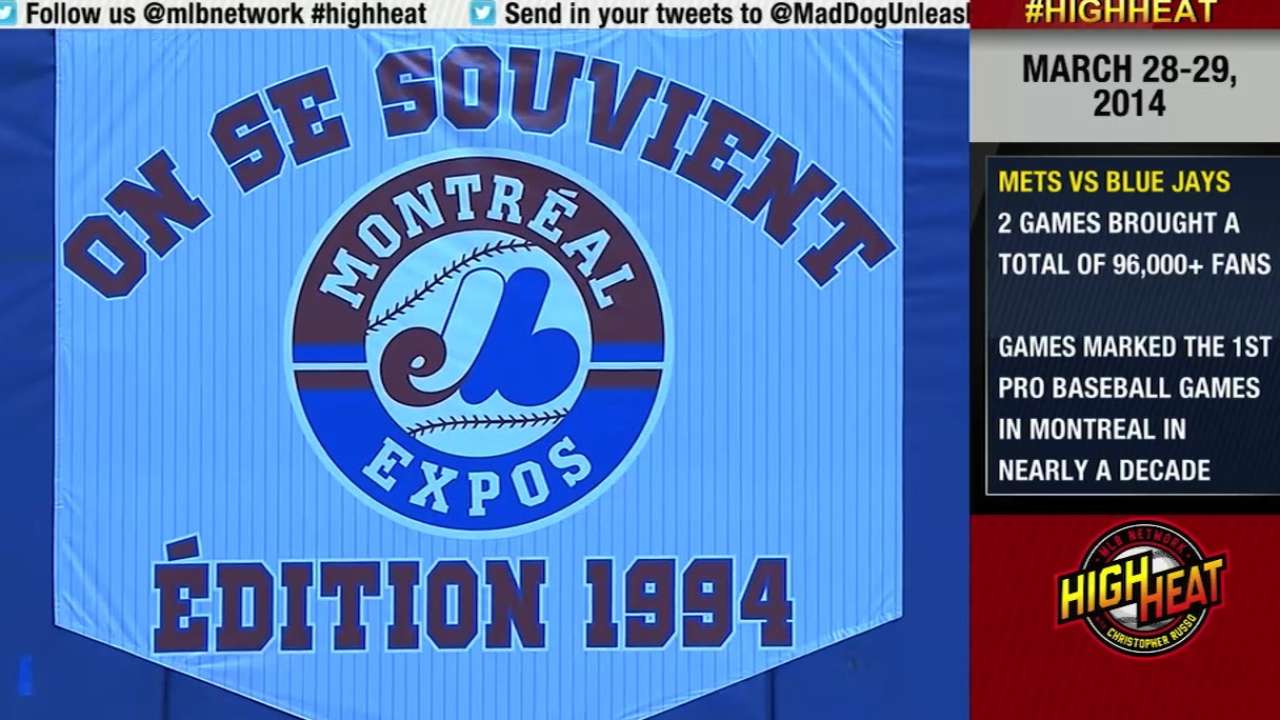 Last year, Martin was forced to watch from afar when the city hosted the inaugural two-game series. He saw the pictures and watched the video, and the entire time, Martin wished there was some way he could be a part of it.
When Toronto general manager Alex Anthopoulos and president Paul Beeston approached Martin about signing with their club as a free agent, the meeting happened in a Montreal cafe. Martin still owns a condo in the city. His father still resides there. To Martin, it will always be home.
Spring Training games normally don't hold much significance to anyone in the game, but that's not the case in this situation. Even before the ink was dry in November, Martin was thinking about that two-game series against the Reds.
"I knew about it even before I signed, even just the first year when they played," Martin said. "I was like, 'Can the Blue Jays borrow me for a game so I can go play over there?' I remember even talking during the season about the guys, because I remember seeing the pictures on Instagram, the whole park being filled up, and I'm like, 'Man I haven't seen that in a long time.' I thought it was pretty cool."
Last year's series between the Blue Jays and Mets was a resounding success for a city that hopes to bring Major League Baseball back one day. Both games sold out, with more than 95,000 fans piling through the gates and many of them wearing their old Expos paraphernalia and treating an exhibition series like it was Game 7 of the World Series.
On the surface, it seems almost impossible to top those two days. If it can be done, one of the main reasons why is that Martin will be a part of it, which could lead to an even bigger and better event -- not only in Montreal, but across the province of Quebec while the rest of the country watches.
"It's going to be even more fantastic because we're going to have one of the greatest ambassadors in baseball, Russell Martin," Montreal Mayor Denis Coderre said. "He's an icon. He's an inspiration for us all, and to have great people like Paul Beeston and his gang -- we will show that Montreal events are not about nostalgia, they are about DNA."
Even though Martin wasn't able to attend last year's event, it served as a point of pride. The baseball world centred around his city for a couple of days as people once again started reminiscing about the glory days of the Expos.
The exposure wasn't limited to north of the border, either. The two games got plenty of attention in the United States, both in the media and also in person, with officials from Major League Baseball in attendance to see how the weekend series unfolded.
Now the pressure will be on Martin to help one-up last year's spectacle. As Martin says, "pressure is opportunity," and that's something he hopes not only for himself but also his hometown.
"That was the dream -- playing at Olympic Stadium, playing in front of a packed house and then coming up and doing something good at the plate," Martin said. "Hopefully I can make it happen, but it's going to be something special for me."
Gregor Chisholm is a reporter for MLB.com. Read his blog, North of the Border, and follow him on Twitter @gregorMLB. This story was not subject to the approval of Major League Baseball or its clubs.