Rest, recover, reload: O's ahead of curve in injury prevention
Baltimore's toned-down approach between games keeps players healthy and on the field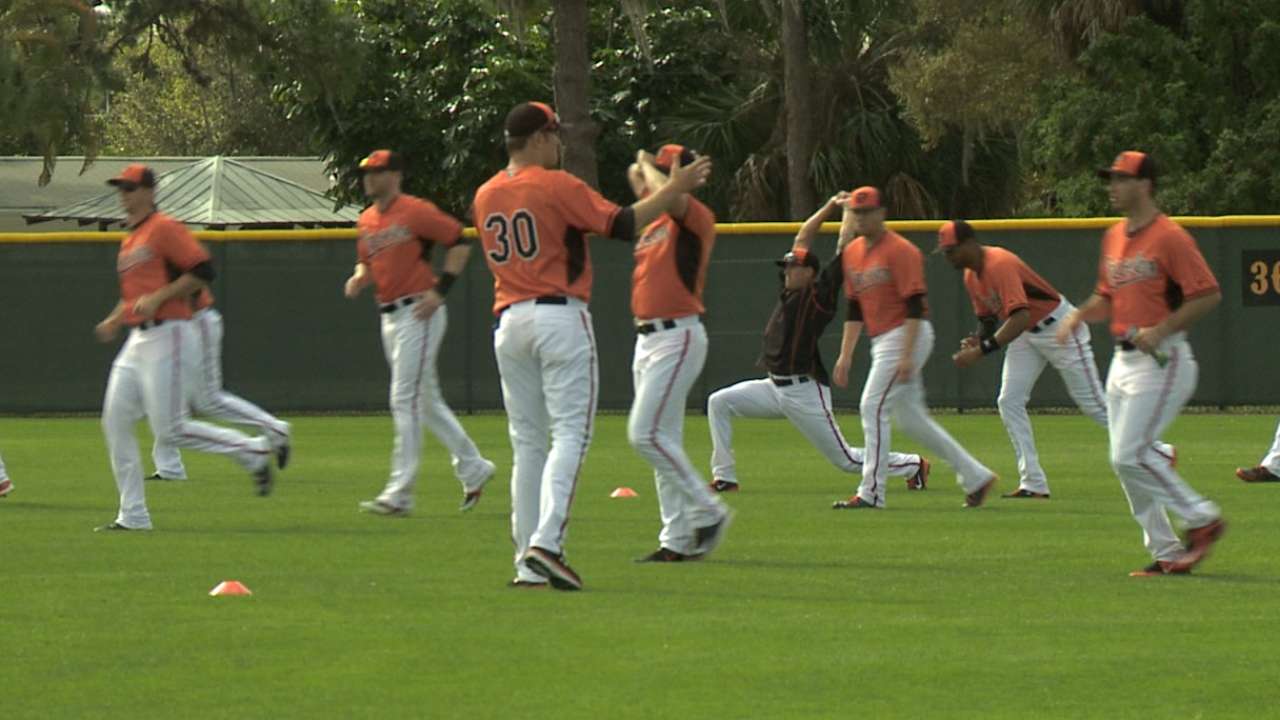 SARASOTA, Fla. -- About two years ago, Chris Tillman bought in. The right-hander, who is slated to make his second consecutive Opening Day start for the Orioles on Monday against the Rays, stopped throwing the day before and the day after a start. No long toss, no catch, nothing with his throwing arm.
"I did the math and talking to [fellow starters Wei-Yin] Chen and [Kevin] Gausman and [Miguel Gonzalez] Gonzo about it, I'm not throwing two days around my start," Tillman said. "Say I make 30 starts. That's 60 days of not throwing, that's two months of the season that I'm not throwing. And over your career, that's a big difference, that's a lot of recovery. So I think it makes all the sense in the world to do your work on the mound and try to save your bullets."
That's precisely the goal in the O's recovery program, the beginnings of which date back 15 years under head athletic trainer Richie Bancells. The program has really taken off recently as it's been accepted and implemented throughout the organization.
"The thing that boggles my mind is guys think they have to do something every day with their arm," said Bancells, who is in his 31st year as a trainer with Baltimore. "That's when the education process starts. It really has not been a hard sell [to pitchers new to the organization]. They see what our guys here do and they see that it's been successful. A lot of times, guys won't even wait to see me watch what they do. They'll just say, 'Tell me about your program, l want to do your program.'"
The Orioles, who haven't had a pitcher on the 25-man roster undergo Tommy John ligament-replacement surgery since manager Buck Showalter took the helm in late 2010, aren't on to anything new. But perhaps what sets them apart from other organizations is that they are unrelenting in keeping their guys out of harm's way. The biggest complaint Showalter heard while serving as an ESPN analyst was about the way bullpen guys were managed. To that end, every pitch an O's reliever throws -- be it in warmups or in the game -- is tracked by the team, their workouts and exercises adjusted by the trainers based off of that.
"Are you going to back off a guy when you could really use him that night? We may not put our best foot forward Monday, so that we can win Tuesday, Wednesday, Thursday," Showalter said. "We may go with a guy that the situation may not call for, but we look at the big picture here. The conviction to who we are and how we have to do it. We can't afford to have certain guys go down [due to overuse injuries]. If it happens with a line drive or a twist of the ankle, so be it.
"We just can't afford to play like that. Say anything you want to about our last three years, it's because our pitching has gotten better. Gotten healthier. I'm watching all these velocities go up this spring and usually you have that dead arm period here."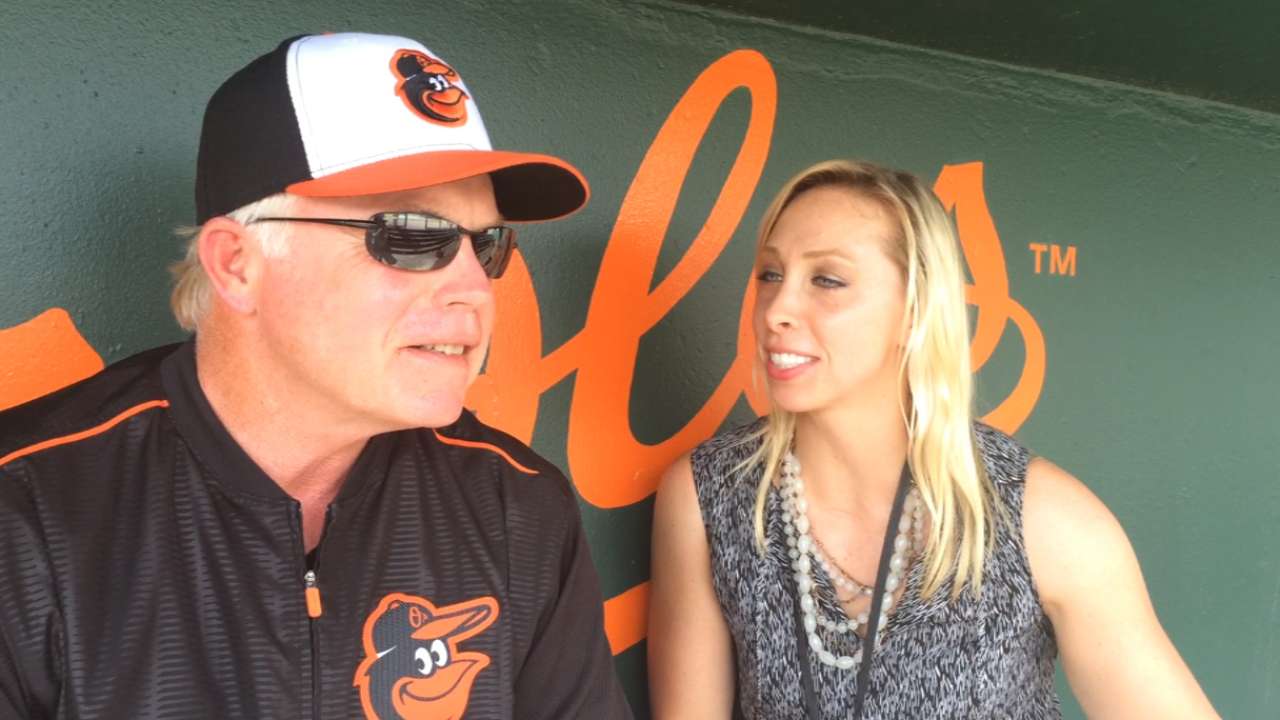 Not everyone follows Tillman's strict no-throwing regimen for the days before and after, but all of the Orioles' starters have developed some sort of recovery program centered around specific days off. Wei-Yin Chen, who likes to play light catch days before he pitches, has two rest days and has cut out a lot of the throwing he did while playing in Japan. Miguel Gonzalez, who started taking a total rest day the day after he pitched the year before he came to Baltimore, also pushed his bullpen session from the second to the third day in between starts.
"As you get older, you got to either work a lot harder or take a step back," said Gonzalez, who will pick up an extra month of rest the way his recovery is set up. "I think less, for us, throwing right now is better."
"The good thing here is these guys have a bond," pitching coach Dave Wallace said. "I remember Tilly and some of those guys talking to Kevin [Gausman] about what he was doing before the game, and he has certainly made the adjustment. It's just a constant, constant process."
But it's not a one-size-fits-all program. Jimenez, who is working on a new delivery, was taken out of the rotation down the stretch and was not told -- like the O's other starters -- to put off throwing as long as possible this offseason. Since he's working on things and had a lighter workload last season, his spring has been different than a guy like Tillman -- who didn't make his first spring start until March 9 -- or Bud Norris.
"A lot of times you get the old-timers who say, 'We used to do it this way.' And then you get the baseball people who say, 'This is our way, this is the way we do it.' The good thing here is this is not the Baltimore Orioles' way," Wallace said of the recovery program. "This is a way for each individual guy, and it's our responsibility to figure out what works for him in what particular situation. We are trying to encourage that throughout the organization."
"I know it's helped me," Tillman said of being able to take extra rest days. "And it's going to help these other guys, too, as they start doing it. I think it's smart."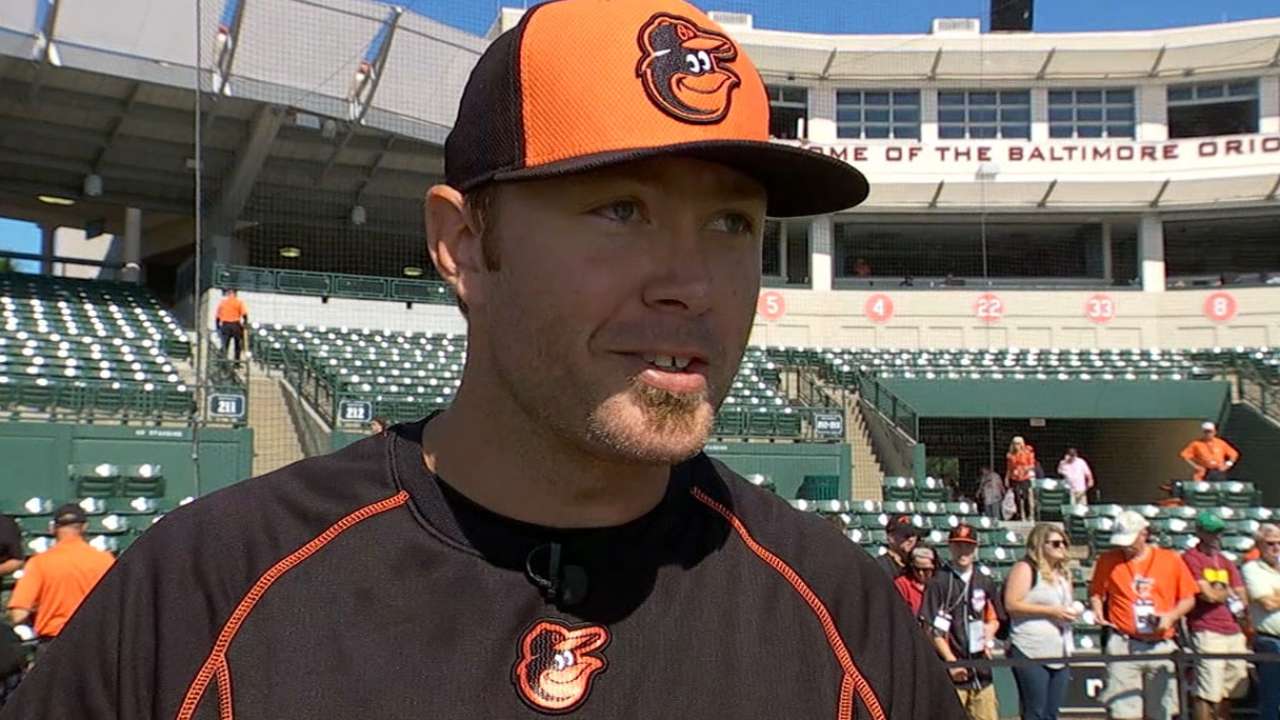 Recovery, of course, doesn't extend to just the pitchers. Considering the grueling nature of a 162-game season and the staggering amount of money teams around baseball have committed to players on the disabled list, pre-hab isn't just a cute catchphrase. It's essential.
Among the newer modalities used by the Orioles are laser therapy and the Marc Pro device, which is used by about 80 percent of Major League teams. The Marc Pro unit, which uses electric stimulation pads, enhances recovery through the lymphatic system, allowing fresh blood and nutrients to reach the desired area. It's also portable, meaning the O's can give it to reliever Ryan Webb after he tweaks his knee or to shortstop J.J. Hardy (shoulder strain) for overnight treatment to speed the healing.
"It's one of the things that a lot of people don't know about -- the recovery process. Even if I'm feeling good [after a game], I definitely need to get in the [ice] tank, because I don't want to take anything for granted," Steve Pearce said. "Another thing I've started to do, if something doesn't feel right, I'm going to take care of it before it turns into something big."
Pearce learned the hard way about recovery, suffering tendinitis in his wrist in 2013 because -- as a bench player that season -- he was hitting nonstop, trying to always make sure he was ready.
"I was the one who would take it too far," Pearce said. "You're like, 'OK I need to pull back, but how is it going to look to other people if I'm not continuing to work hard? Because I'm not playing, I can't look like I'm slacking off.' It's almost like a double-edged sword sometimes."
It can be just as hard for the everyday guys. A few years ago, at the suggestion of first-base coach Wayne Kirby, Adam Jones stopped taking batting practice before the first game of a road series. Taking a cue from former teammate Nick Markakis -- who played 155 games or more in six of his last seven years -- Jones also cuts back his swings on long homestands in the middle of the season. As for his workout regimen, gone are the days of heavy lifting. Jones, who will stick with his offseason kettlebells but lower the weight, uses a lot of bands during the season and spends many a night after a game in his hotel stretching.
"Small things like that have helped me keep my energy level high," Jones said. "I don't try to overexert myself anymore. I try to do what I need for that day and save it for the game."
Brittany Ghiroli is a reporter for MLB.com. Read her blog, Britt's Bird Watch, and follow her on Facebook and Twitter @britt_ghiroli. This story was not subject to the approval of Major League Baseball or its clubs.