Venditte has the support of MLB's last switch-pitcher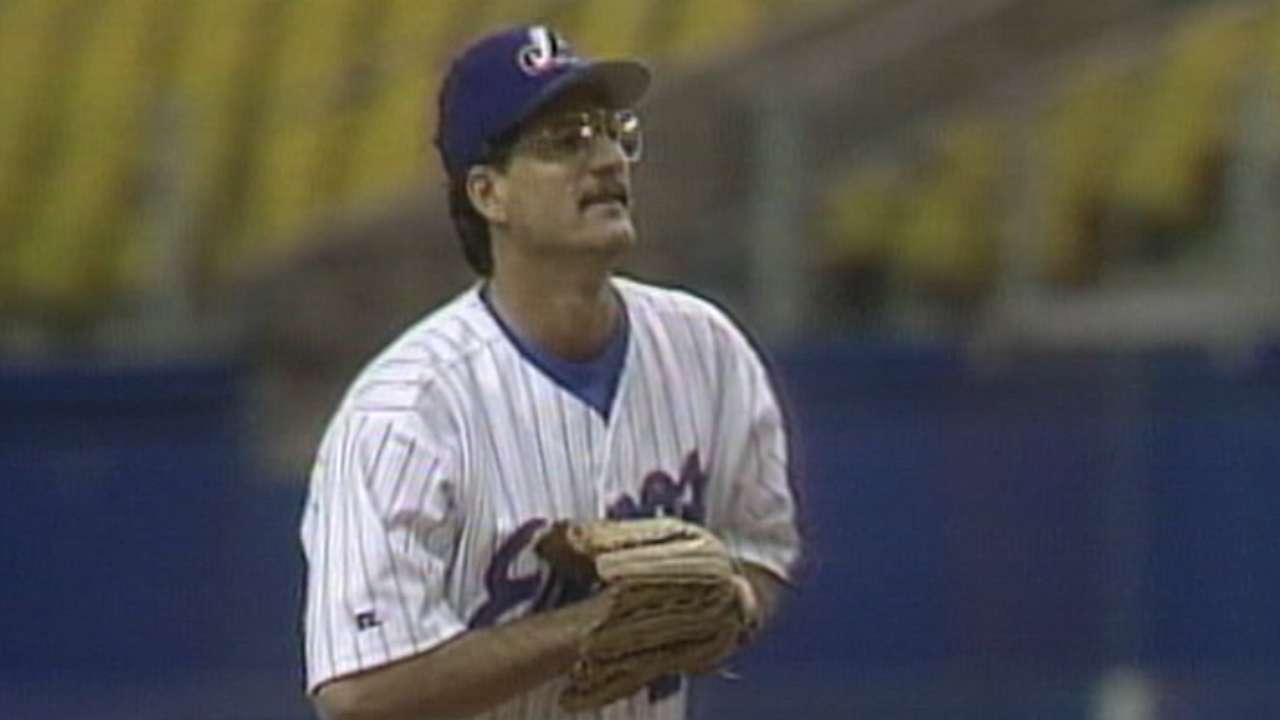 At some point this season, a crowd at a Major League Baseball game might witness a feat that hasn't occurred in almost 20 years.
Pat Venditte, a relief pitcher in the Oakland A's organization, could be called up from the Minors to replace an injured or underperforming player. He could jog onto the field from the bullpen. And after taking his warmup tosses, Venditte could pitch. With both arms.
You can be sure that if and when it does happen, Greg A. Harris will be paying attention.
Harris, now 59, was the last Major League pitcher to do it, and it happened Sept. 28, 1995, in the final week of what would end up being the final year of his 15-year big league career.
Harris had been employed as a fine right-handed middle reliever, but for almost 10 years, he had been messing on the side with ambidextrous pitching, or, as he laughingly cites an old magazine article, "the ability to relieve oneself."
That day in Montreal, Harris' Expos manager, Felipe Alou, let him try it.
And even though it was viewed as a one-time lark, even though one of the batters he faced, Bret Boone, said 10 years later that he thought Harris "was turning this place into a circus," Harris faced two right-handed hitters (Reggie Sanders and Boone) and two lefties (Hal Morris and Eddie Taubensee) and got three outs without allowing any runs.
Better yet, Harris did something nobody in the Majors had done in more than 100 years.
"It's one thing to play catch with both hands, which I think a lot of people probably can do," Harris said. "But to get on a mound and actually do it, it's a whole different world. It's very difficult.
"It seems like everything else in this game has been mastered, but not this."
Venditte and his father, Pat Venditte Sr., have long agreed. The dad thought it would be a good idea for the baseball-obsessed 7-year-old son to be able to throw with both arms, so he had Mizuno design a special six-fingered glove, not too much different from the one Harris had gotten the Japanese equipment company to first create for him in 1986.
As a fourth-grader and Little Leaguer, Pat Jr. watched televised highlights of Harris' historic accomplishment with awe. Twenty years later, as Pat nears the cusp of big league achievement, Harris uses the Internet to keep up with Venditte's appearances. Even though the two kindred spirits haven't yet met in person, they've traded texts for months. They're hopeful together.
"I knew about him long before he knew about me," Venditte said of Harris. "I was 9 years old, and I thought it was cool. And any time you have someone of his caliber contact you, someone with 10-plus years in the big leagues, it's pretty special."
Harris said he thinks Venditte is special and that he couldn't have found a better, more forward-thinking organization to break in with than the one run by general manager Billy Beane and skipper Bob Melvin.
Melvin was a big league catcher when he played with Harris on the 1993 Red Sox. He watched Harris warming up with both arms. Melvin couldn't not consider the strategic advantage a bona fide switch-pitcher could bring to the game.
Now Melvin sees it with Venditte, full-on. It's been hard-earned and it's 100 percent legit.
"With Greg, it didn't surprise me that he did it in a game, because I had been around him enough to know he could do it," Melvin said. "Now, [Venditte] actually is as good from either side. There's no big discrepancy. So he's unique in what you're seeing right now.
"He's very well aware of how he has to prepare and what he has to do for each and every outing, and he's impressed us."
Venditte has switch-pitched this spring to a 4.50 ERA through Wednesday, enough to make him a solid candidate for callup if the need arises this year.
Harris, who lives near Anaheim, said he'll try as hard as he can to see Venditte pitch in person on the A's first road trip to Angel Stadium if everything lines up right. He also said he won't be upset in the slightest if Venditte replaces him in the history books as MLB's most recent switch-pitcher.
"I think I'll just be proud of him," Harris said. "I'm proud that somebody got the opportunity to do it, and it's not viewed as a joke. It's a serious thing, like switch-hitting. The idea is strategy. And he's pretty darn good at it."
And pretty darn appreciative that the last switch-pitcher is waiting eagerly to see the next one.
"That's special to me, that he is in my corner like that," Venditte said. "I think that the biggest difference between Greg and me is that he didn't need the switch-pitching aspect. He was able to sustain a long career at this level with just one arm, and that's special in and of itself.
"For me, it's what it took for me to get here. The six years I spent in the Minor Leagues, it wasn't me as a one-handed pitcher. It was me being a guy who could go left on left and right on right. I've had to prove myself against righties and lefties.
"I have to prove myself every day."
Doug Miller is a reporter for MLB.com. Follow him on Twitter @DougMillerMLB. This story was not subject to the approval of Major League Baseball or its clubs.