'It's really special': Collmenter relishes first Opening Day start
After time in 'pen, D-backs righty eager to cement rotation role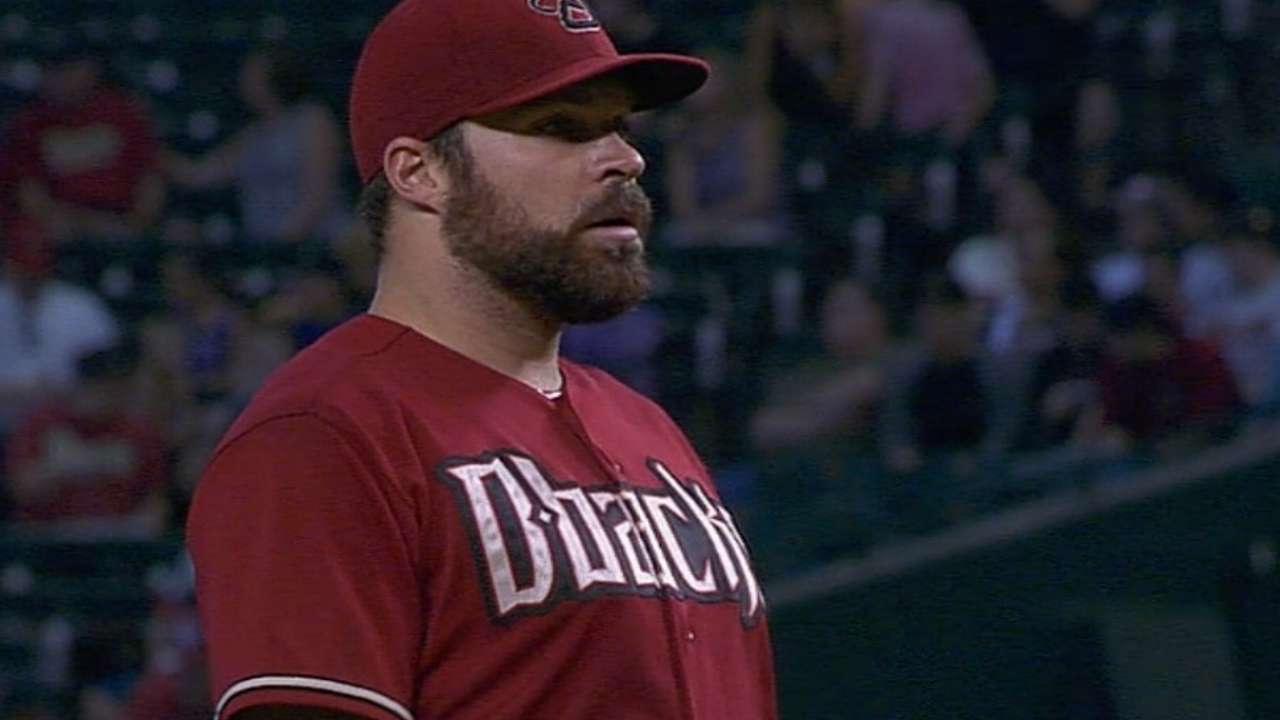 SCOTTSDALE, Ariz. -- You can point out that he doesn't have the pure stuff of a typical Opening Day starter and you can say he's not the prototypical ace of a staff, but you're not going to be able take away the pride and joy that Josh Collmenter will feel when he throws the first pitch of the 2015 season for the D-backs on Monday.
"It's really special, just to see all the guys that have done it in years past," Collmenter said. "For me, not knowing if I was going to be really a legitimate starter ever again -- you know, maybe just a spot start here and there -- and then to go from bullpen last year to now being the Opening Day starter is pretty special. It helps cement the fact that I can be a starter in this league and be successful."
As a 15th-round pick in 2007, Collmenter has always had to prove himself. His fastball can get into the low 90s, but more often than not resides in the upper 80s and he has an over-the-top throwing motion that is unique in the Majors.
Yet in his four years in the big leagues, all Collmenter has done is be successful, never compiling an ERA higher than 3.69.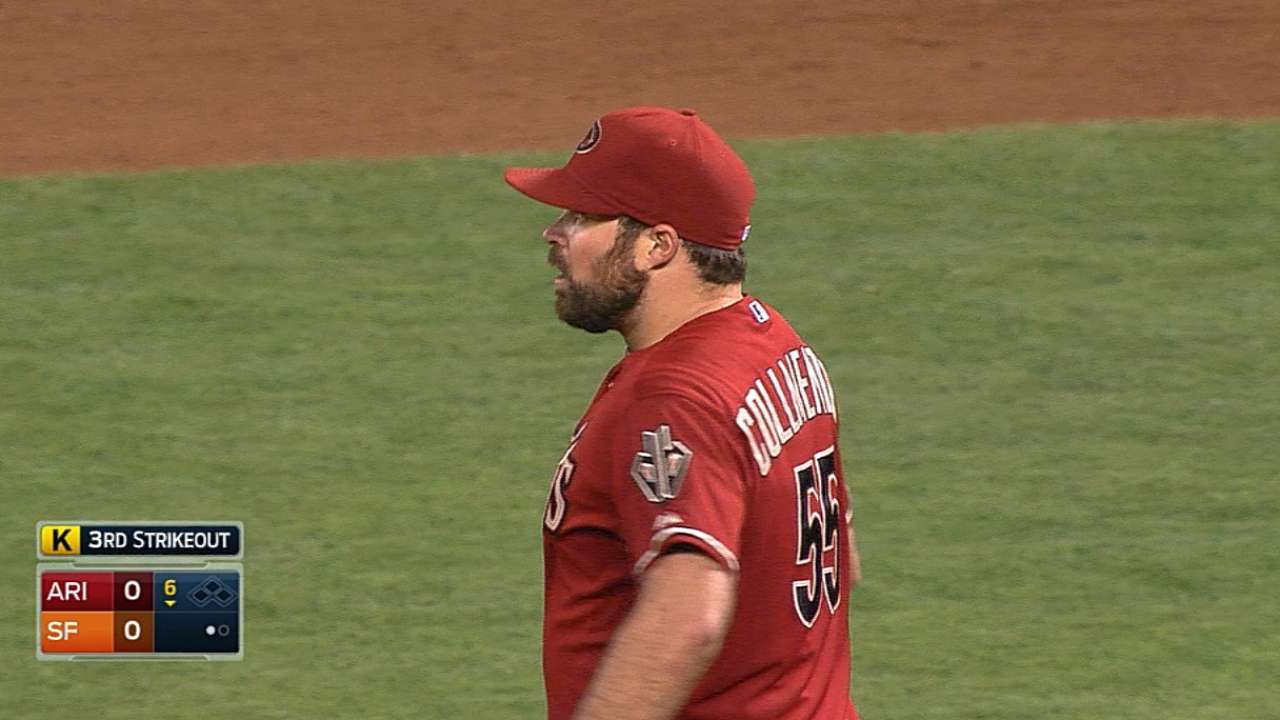 "If you get outs they're usually going to find a place for you to pitch," Collmenter said. "There's always been all kinds of stuff said, because the way I do it is unconventional. They say I don't throw hard enough, but I figure if I pay attention to that then I'm worried about the wrong stuff. All I try to focus on is continuing to get better and better and perfecting what it is that I do. I have to be pretty fine with my pitches. I can get away with some stuff because of deception, but at the same time my game is hitting spots and not just throwing it by guys."
A starter throughout his Minor League career, Collmenter pitched in relief when he was first called up to the big leagues in 2011, but eventually found his way into the starting rotation and made 24 starts.
After struggling as a starter in 2012, Collmenter was shifted to the bullpen where he proved to be a valuable long reliever in 2013 and the first part of 2014 until the D-backs needed him in the rotation.
"A lot of times the move to the bullpen becomes a one-way street, but for me it was more like a revolving door," said Collmenter, who made 28 starts last year.
A voracious reader of everything from philosophy to the speeches of famous figures, Collmenter enjoys the mental part of the cat-and-mouse game with hitters.
This spring, knowing that he already had a rotation spot locked up, he spent his outings throwing pitches he might not normally throw in certain counts to judge hitters' reactions, making mental notes for future matchups.
Collmenter will have several family members and friends in attendance Monday and there will likely be a sellout crowd and all the pomp and circumstance that accompanies Opening Day. Throw in the fact that it's against the defending World Series champion Giants with World Series hero Madison Bumgarner pitching and it would be easy to get overwhelmed by the moment.
But as he showed when he pitched -- and won -- a must-win Game 3 in the 2011 NL Division Series against the Brewers, Collmenter can handle the pressure.
"That's what's fun," Collmenter said. "Anytime there are special days or special occasions it's fun and you should enjoy it and soak it in a little bit. When you strip everything away it's still a baseball game and you've been doing this for so long that really all you have to do is go out and pitch. You don't have to do anything different because it's Opening Day. Just go play and enjoy what goes with it."
Hopefully for Collmenter what comes with it is the respect he should have earned by now.
Steve Gilbert is a reporter for MLB.com. Read his blog, Inside the D-backs, and follow him on Twitter @SteveGilbertMLB. This story was not subject to the approval of Major League Baseball or its clubs.