Years of experience, adversity help prepare Lohse
Brewers' Opening Day starter unfazed by pressure of big game
In the days leading up to Opening Day, MLB.com is examining various aspects of each team's roster. Today, the time has come to focus on the Opening Day starter. For the Brewers, that's right-hander Kyle Lohse.
PHOENIX -- The long, winding scar on the underside of Kyle Lohse's right forearm is a daily reminder of his evolution from a hard-throwing, hard-headed 20-something to a 36-year-old pitcher poised to start for the Brewers on Opening Day. The scar winds from his elbow toward his wrist, the result of the risky surgery in 2010 that threatened to knock Lohse out of baseball just as he was beginning to figure it out.
"I didn't know how, exactly, I was going to come out the other side," Lohse said. "When you fillet your arm open, you don't know what's going to happen."
What happened was the beginning of the latest stage of Lohse's career, which began with the Cubs, Twins, Reds and Phillies from 1997-07, when he touched 95 mph, but never found the results to match the premium velocity. Stage 2 began in 2008, when Lohse was joined in St. Louis with pitching coach Dave Duncan and learned a two-seam fastball. Stage 3 came post-surgery, as Lohse re-trained the fine muscles in his right arm and learned how to attack Major League hitters at 88-90 mph.
The third stage of his career has been the most fun.
"It's a lot more of a mental game for me out there," Lohse said. "Before, I would just get the ball and throw it, without much purpose behind each pitch. As I've gotten older, and hopefully wiser, I've figured out my strengths and been able to pick apart the other hitters' weaknesses.
"It's definitely a lot more fun now, going out there with a purpose. It's like playing a whole new game now."
Duncan gets a lot of the credit. In '08, armed with a sinker, Lohse had his finest season to date, going 15-6 for the Cardinals with a 3.78 ERA in 33 starts and 200 innings. But the following season, he was struck on the right forearm while trying to bunt. While doctors struggled to isolate the issue, Lohse struggled to pitch with diminished feeling in his right hand. He went 6-10 with a 4.74 ERA, then went 4-8 with a 6.55 ERA in 2010.
Eventually, there was a diagnosis. Lohse had "exertional compartment syndrome," a swelling of the sheath around a muscle in his forearm that was cutting off blood flow. Had it gone untreated much longer, Lohse said, "my arm basically could have exploded."
He exposes both arms to show the result of surgery. When he flexes his left forearm, the muscles tighten like normal. When Lohse does the same to his right arm, the muscles move around like jelly.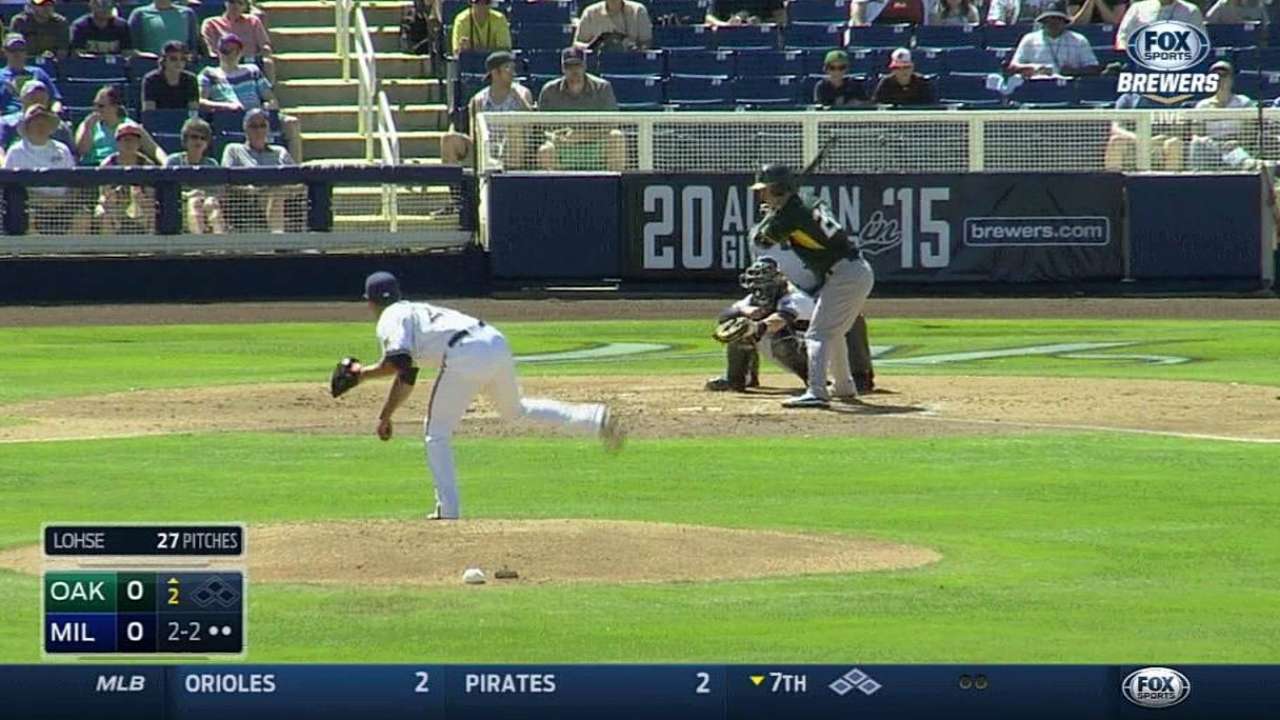 But it works.
Since the start of 2011, Lohse is 54-30 with a 3.28 ERA, logging double-digit wins and 30-plus starts each season. In March 2013, the Brewers forfeited a Draft pick to sign Lohse for three years and $33 million, a deal set to expire later this year.
Lohse has repaid that investment by going 24-19 with a 3.45 ERA in his first two seasons. He's made 63 starts, 41 of them quality starts. It's what Lohse does on the other days, pitching coach Rick Kranitz said, that makes the righty worthy of No. 1 starter status.
"I will tell you this, he is No. 1 in terms of being willing to help and do some things that I need done on the side," Kranitz said. "Talking to guys, there's no one better than that."
An example: Lohse imported a tradition from St. Louis in which the other members of the starting rotation attend a pitcher's between-starts bullpen session. Beyond promoting camaraderie, Kranitz said, it elevates each session because the pitcher is working with an audience. If someone is going through the motions, four voices will tell him so.
Kranitz liked the idea so much that he instituted it in the Brewers' Minor League system beginning last season.
"You can do it two ways," Kranitz said. "You can lead by example by the way you perform, or you can lead by talking to somebody and really caring. When you do both, you've got a special person."
This will be Lohse's third career Opening Day start. In 2008, Adam Wainwright's outing was rained out after three innings, so Lohse started the next day. In 2012, Lohse started for the Cardinals in the first-ever game at Marlins Park.
"I've been through some pretty crazy ones," he said. "The first one was completely unexpected. Wainwright got all the Clydesdales and that stuff, but I let him know I got the real one. ... Then, I don't know if you saw or heard anything about the one in Miami. That was quite a show. You're down there warming up and they're being walked out by dancers."
He laughs.
"Nothing can faze me," Lohse said.
Adam McCalvy is a reporter for MLB.com. Follow him on Twitter at @AdamMcCalvy. This story was not subject to the approval of Major League Baseball or its clubs.