Brothers, Barnes optioned to Triple-A Albuquerque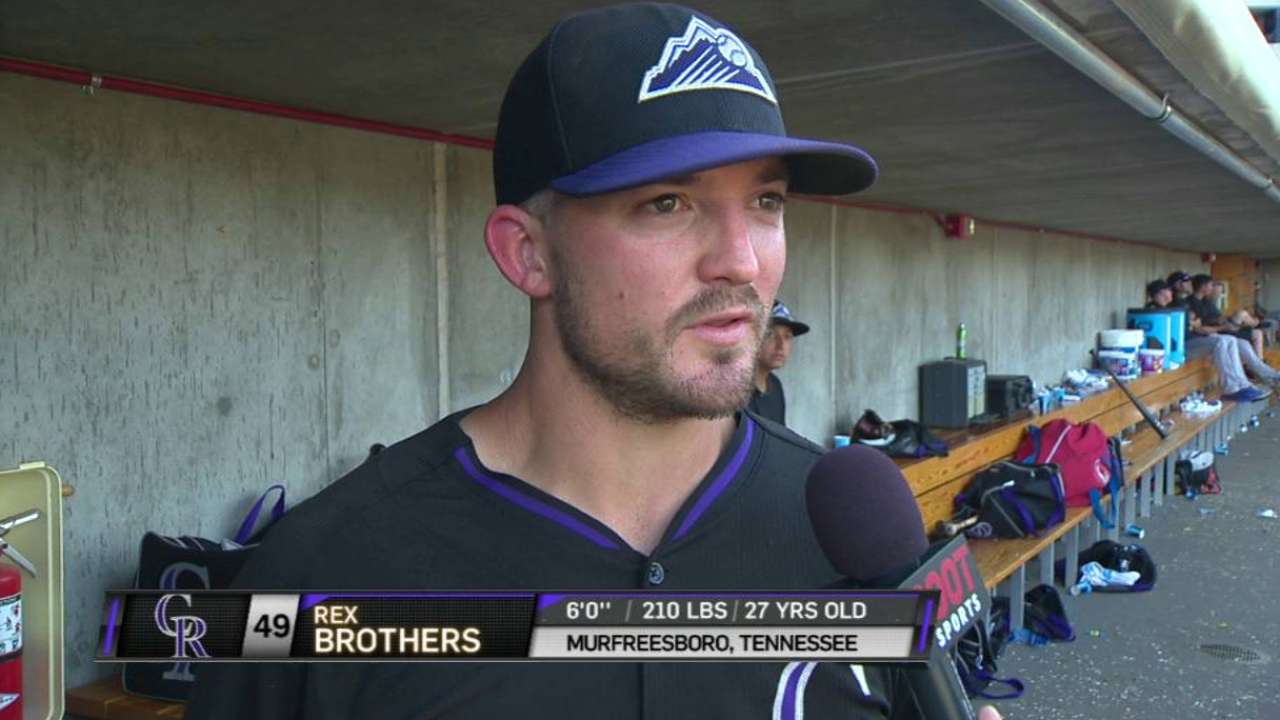 SCOTTSDALE, Ariz. -- Believing lefty reliever Rex Brothers needs more time to harness the mental game so he can be more consistent, the Rockies optioned Brothers to the Minors on Wednesday. Seen entering camp as a possible primary left-handed setup man, Brothers will begin the regular year at Triple-A Albuquerque.
Also, feeling the team needed more protection in the infield than the outfield, the Rockies optioned outfielder Brandon Barnes to the Minors and kept switch-hitting infielder Rafael Ynoa. The club also purchased the contract of veteran right-hander Rafael Betancourt, who has made a successful comeback from Tommy John surgery in 2013.
The Rockies also reassigned non-roster outfielder Matt McBride and righty reliever Scott Oberg to Minor League camp.
Brothers went from a 1.74 ERA in 72 games in 2013 to a 5.59 in 74 games last season, when his control and pitch location went into a downward spiral after some bad outings. The Rockies have seen both versions of Brothers this spring.
In his first five Cactus League games, Brothers gave up one run on one hit and a walk, with a strikeout in each game. But since then, Brothers has yielded six runs, six hits and five walks in three appearances covering 2 2/3 innings. It started when he gave up four runs on four hits and two walks in two-thirds of an inning against the Rangers last Thursday.
"Bottom line is we're trying to get the best version of Rex," Rockies manager Walt Weiss said. "We've seen that and it's elite. The best environment to do that in would be in a Minor League environment."
Barnes has hit .229 this spring while making changes to his swing. Weiss said the decision to option Barnes had more to do with the need, especially early, to periodically rest shortstop Troy Tulowitzki, who has dealt with injuries much of his career. Daniel Descalso is the primary utility infielder.
"On those days where 'Tulo' inevitably is going to have to have a day off, with one extra infielder, we are hamstrung that day, and we felt we needed a little more depth on the infield side right now," Weiss said.
• The Rockies awarded the 12th annual Abby Greer Award to Matt McBride, an outfielder, catcher and first baseman. McBride, who has appeared in the 2013 and 2014 seasons and is a non-roster invitee, celebrated the designation by going 2-for-5 with an RBI in the Rockies' 10-4 victory over the Rangers on Wednesday afternoon.
In 26 games, McBride is hitting .315 with four home runs, 12 RBIs with a .630 slugging percentage and a .356 on-base percentage.
• Left fielder Corey Dickerson was removed from the starting lineup just before Wednesday's game for the second straight game. Dickerson has been dealing with back stiffness since Saturday. He said Wednesday morning he was feeling good, but the decision was made just before first pitch.
"It's a precaution," Weiss said. "I feel like he's had enough at-bats. I'd like for him to play in another game before we leave here. If he doesn't, that's OK, too, but ideally you'd rather not have that much time between at-bats. But all the feedback is positive."
Thomas Harding is a reporter for MLB.com. Read his blog, Hardball in the Rockies, follow him on Twitter @harding_at_mlb, and like his Facebook page, Thomas Harding and Friends at www.Rockies.com This story was not subject to the approval of Major League Baseball or its clubs.