Colon earns Opening Day nod with experience, respect
Mets pitcher will be oldest in franchise history to start season on mound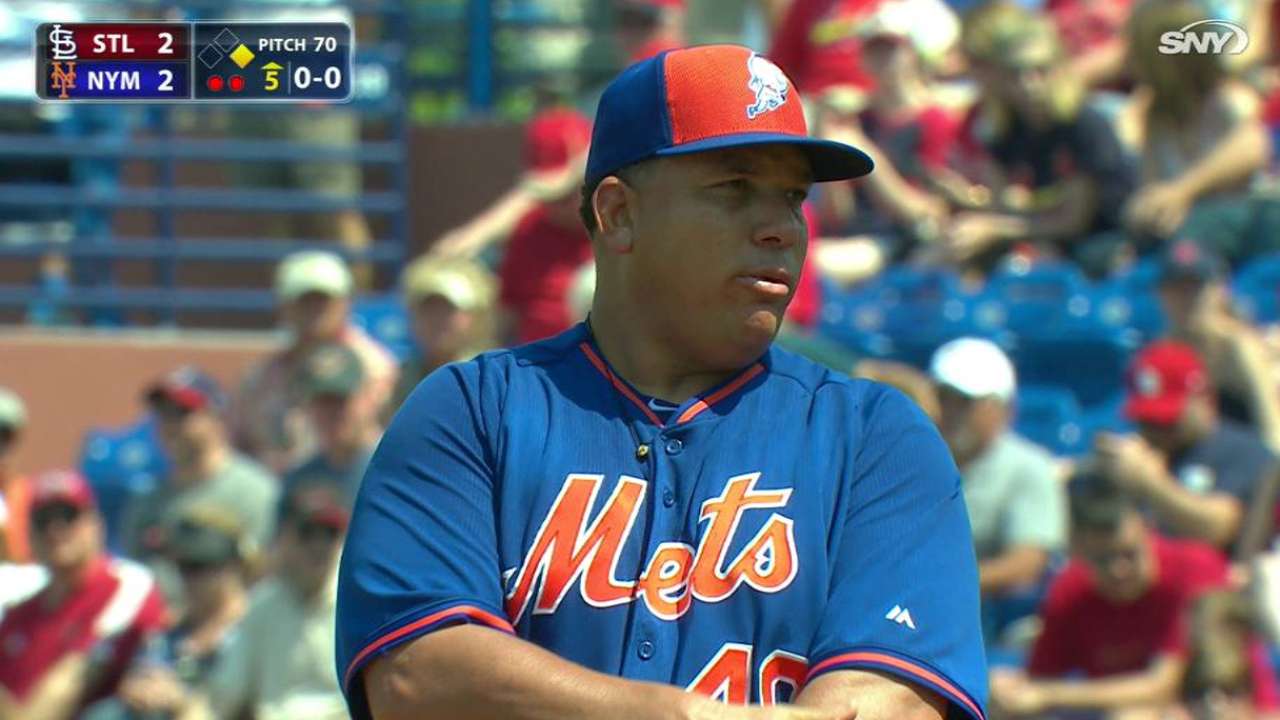 Part 4 of MLB.com's team-by-team season preview takes a look at the Opening Day starter for each club. The Mets' choice may have surprised many within the baseball world, but with 41-year-old Bartolo Colon on the mound, the club likes its chances.
PORT ST. LUCIE, Fla. -- Of the 26 players who took part in the Opening Day 2000 game between the Indians and Orioles, 25 are retired. One is in the Hall of Fame. A few others are on the ballot. Several are coaches. Many have children who are now adults. One has a son fighting for a big league roster spot.
Then there is Bartolo Colon, who walked six batters that day in a win over Baltimore, also striking out six over five innings of one-run ball. Then 26 years old, Colon would go on to start five more Opening Days for the Indians and Angels, before arm injuries and a suspension for performance-enhancing drugs derailed his career in the late 2000s and early 2010s.
The realities of professional sports suggest that Colon should not still be here. Yet when the Mets take the field for the first time this season, on Monday afternoon in Washington, Colon will be standing on the mound.
"I feel really proud and really thankful to the Mets and the staff to put the honor on me to start," Colon said through an interpreter. "At my age, I'm really looking forward to doing it."
It was a matter of circumstance that brought Colon to this point. The Mets gave serious consideration to starting Zack Wheeler on Opening Day, but that became impossible when Wheeler tore the ulnar collateral ligament in his right elbow. They never really considered Matt Harvey, not wanting to pile too much on his plate coming off Tommy John surgery. And while Jacob deGrom may have deserved the honor from a statistical standpoint, the Mets have long valued experience in Game 1.
Colon has plenty of that. At 41 years and 317 days old, he will be the league's oldest Opening Day starter since Randy Johnson (43 years, 136 days) and Jamie Moyer (42 years, 205 days) in 2006. He will be the oldest Opening Day starter in franchise history, period, passing Tom Glavine.
He will also be the butt of more than a few jokes. The Mets list Colon at 5-foot-11 and 285 pounds. The Internet titters when his helmet flies off during another misguided plate appearance. But teammates and coaches call him one of the best athletes they've seen, marveling at his work in the weight room. Others point to the fact that last year, at ages 40 and 41, Colon was above average in several advanced defensive metrics.
It doesn't seem to fit -- a player maligned because of his weight and outward appearance, but who takes excellent care of himself and remains a top athlete. Yet that contradiction is what allows Colon to succeed at an age when most of his peers are retired. Only six players in their 40s threw a big league pitch last season. Only three came close to throwing 200 innings. Only one, Colon, won 15 games -- and that despite pitching for a team with a losing record.
"When you have a guy like that with so many years in the Major Leagues, you have to have something," Mets reliever Jeurys Familia said. "He's got everything. He's got experience. It doesn't matter if you're 43, 44. You can pitch."
Colon actually said it's easier to prepare for games these days, knowing exactly what he needs to do and exactly what he doesn't. In his spare time, he has assumed an active role in clubhouse life, taking fellow Dominicans Familia and Jenrry Mejia, in particular, under his wing.
"He works extremely hard," Mejia said. "He's the guy who comes here early, goes to the weight room, does some bicycle work, does some stuff to be ready. I think this guy works harder than people half his age. Players who are 42, 41 years old like Bartolo, I don't see many of them. I think the reason that he's still here is because he's working hard."
Anthony DiComo is a reporter for MLB.com. Follow him on Twitter @AnthonyDicomo. This story was not subject to the approval of Major League Baseball or its clubs.